I've read less this year than I have since 2006. Currently, my total is sitting at 92 books, less than half of what I read in 2010.
I blame my children. But I wouldn't trade them for all the young adult romances in the world.
Here are the titles that made my list of the best books of 2013. Putting together this list is a completely unscientific process – I reviewed my list of titles read this year and picked the ones that stood out to me, even nearly a year later.
Surprisingly, four of these ten are ones I never wrote about here. In some cases, they were books I wasn't sure about recommending; in other cases, I waited too long to write about them and couldn't recall QUITE enough detail to write a true review.
Either way, here are my ten favorite books I read in 2013. Unless I finish my advance copy of We Were Liars before the end of the year. In that case, I reserve the right to slip in an eleventh favorite book.
Also, a perfect split between fiction and non-fiction. And, slightly more adult books than juvenile titles.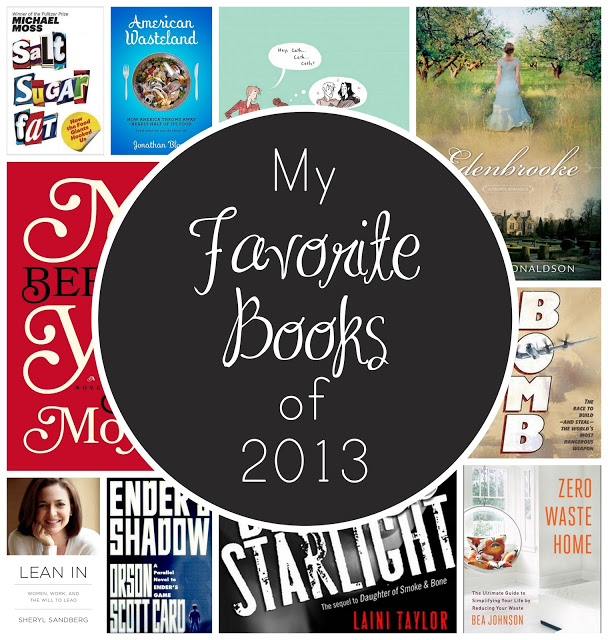 best books of 2013
Bomb by Steve Sheinkin– As usual, this list isn't really in any sort of order, except Bomb. Nothing is so amazing to me as an author who takes a well-known, highly-written-about subject and makes it new and fresh again. (Full review here)
Days of Blood and Starlight
by Laini Taylor
– I have zero aspirations of writing a novel, but every now and again, I read something that makes me say, "I wish I could imagine and then write something as incredible as this." I think this book is even better than
Daughter of Smoke and Bone
. It has the killer combination of amazing story and even better writing. And I don't particularly love fantasy. (
Full review here
)
American Wasteland
by Jonathan Bloom
– I never wrote about this one, but I think about it on a nearly daily basis. The amount of food we throw away in America is astonishing and horrifying. I'm really trying to reduce how much we throw away, but holy cow, it is an uphill battle. I was fascinated by every page of this book.
Zero Waste Home
by Bea Johnson
– I guess I was really interested in waste this year. Wow, do I sound like a fascinating individual or what? Still never going to make my own eyeliner with burnt almonds. (
Full review here
).
Me Before You
by Jojo Moyes
– I can't remember where I saw this recommended, but I checked it out from the library and accidentally read it in one day. It's about a young British woman in a small town who takes a job as a caretaker for a very wealthy quadriplegic, who was extremely successful before a freak car accident a couple of years earlier. It's a romance, but that's selling the whole book really short – there are some significant moral dilemmas in this book that I thought about for weeks and months afterward. I'll probably read it again sometime.
Lean In
by Sheryl Sandberg
– I'd be glad I read this book, no matter how I felt about it, just because it's so widely referenced, but I also found it absolutely fascinating and as someone trying to achieve some sort of work-life balance (you know, like every single other person out there), and also raising girls, there was just so much that I found worth contemplating. (
Full review here
).
Fangirl
by Rainbow Rowell
– I read the insanely popular
Eleanor & Park
on our
Galveston beach trip
this summer, and I liked it, but I didn't love it. It was just a bit too depressing for me. But then, I read
Fangirl
on
my way to New York City
and, despite having a bag full of other books, reread nearly the whole thing on the flight home. I liked it MUCH more than
Eleanor & Park
, and . . .writing this makes me want to go reread some favorite passages right this minute. I don't know if it is a book for everyone, but I really really enjoyed it.
Edenbrooke
by Julianne Donaldson
– Sometimes, you just need fluffy, delightful romance in your life. This one was perfect. (I read her second book,
Blackmoore
, which I also liked, but not as much). (
Full review here
).
Ender's Shadow
by Orson Scott Card
– It was a serious toss-up between this one and
Ender's Game
, both of which I absolutely love. I listened to them this year (I'd read them years ago) and fell in love all over again with each of them. Seriously, if you haven't read these, you should.
(
P.S.
You can see my favorite books from
2012
,
2011
 (I think this was the best list/year),
2010
and
2009
).
And if you'd like a printable copy of this list that you can take to your library or screenshot on your phone for easy access, just pop in your email address below and it'll come right to your inbox!
if you liked this post about my best books of 2013, you might like these past posts: