You won't be surprised to hear that, as a book blogger, I get asked for book light recommendations all the time.
But embarrassingly, until this summer, I have NO recommendations.
We didn't own a single book light!
Finally, I decided that it was time to test some out and I asked for your best book light recommendations.
And you guys DELIVERED.
I ordered a WHOLE lot of book lights from the brands that were most frequently suggested and we spent the summer testing them out (happily, my girls were delighted to give them a spin too).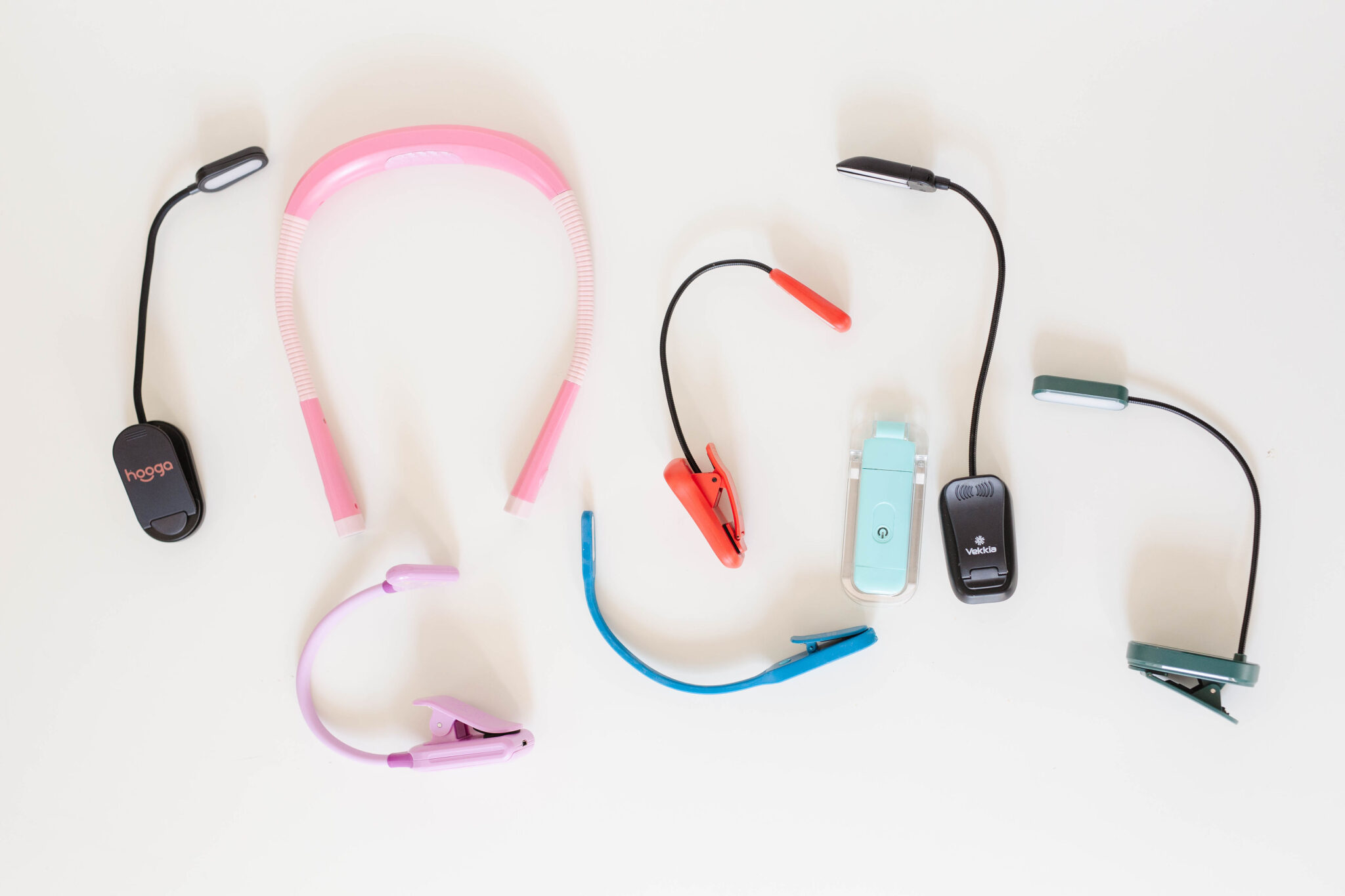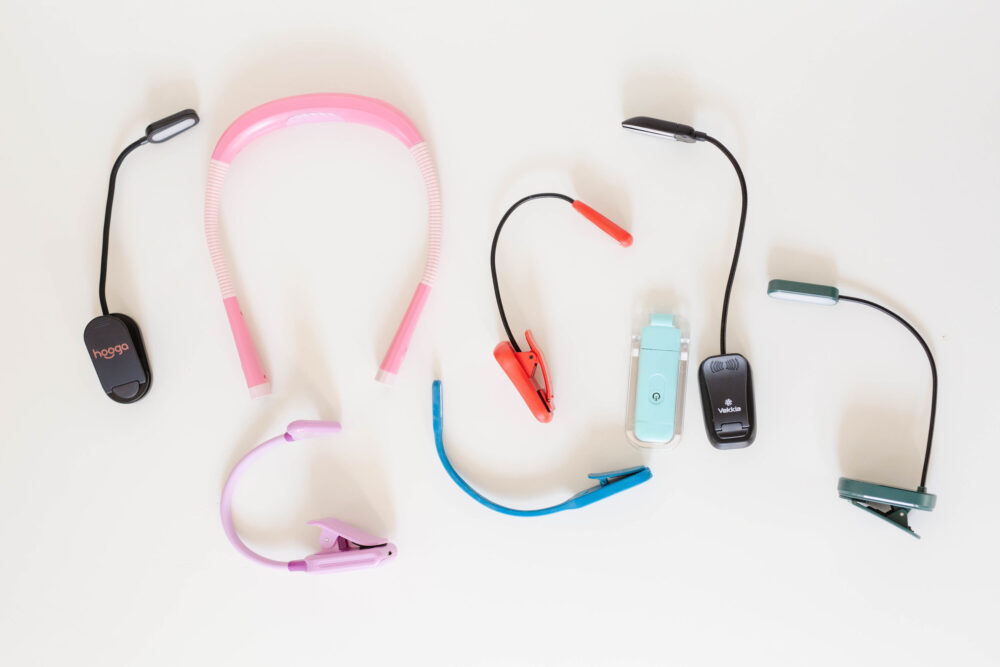 Here are my favorites:
(Note that all of these are rechargeable book lights – over and over again people said this was a must because otherwise you're going through batteries like water. So I didn't even bother with ones that you can't recharge).
The Best Book Lights

My Top Book Light Pick:
THE GLOCUSENT LED NECK READING LIGHT
No one is more surprised than I am that this is my favorite book light.
Lots of people recommended it with the kind of gushing you reserve usually for engagements, but I just couldn't really wrap my mind around a book light that went around your neck instead of clipping to your book, but everyone was right – this is the best.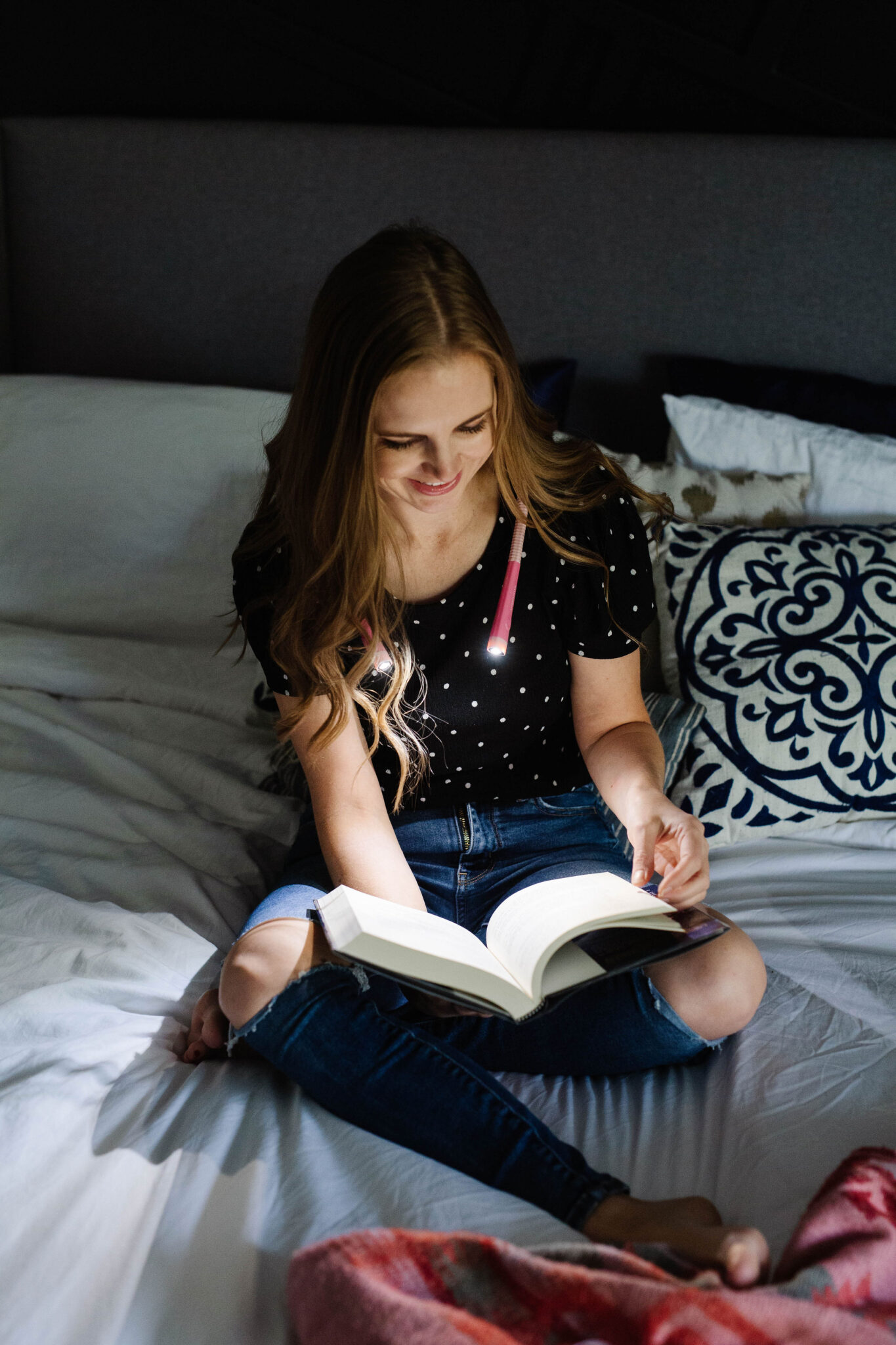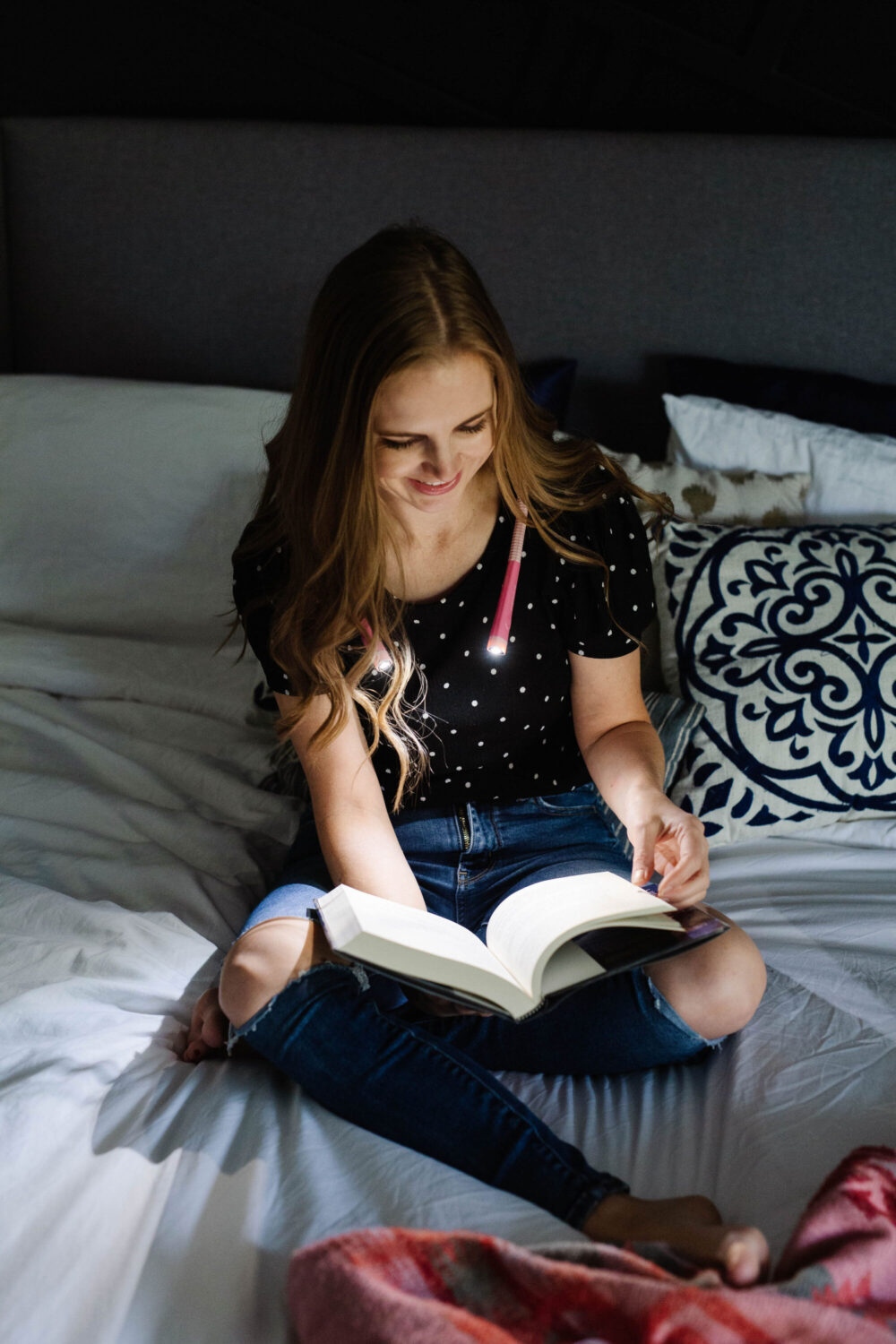 It has three different brightness levels, you can adjust them to point right at your book, and it holds its shape well, so even if you're lying on your back or stomach or side, it doesn't flop all around. Plus, two light sources instead of one is basically unbeatable.
I had several friends try it out and Bart and all of them agreed that it was an exceptional design. Many people said they also love it for embroidery, knitting, puzzles and other close-up kind of work. It comes in few different colors and it's under $20.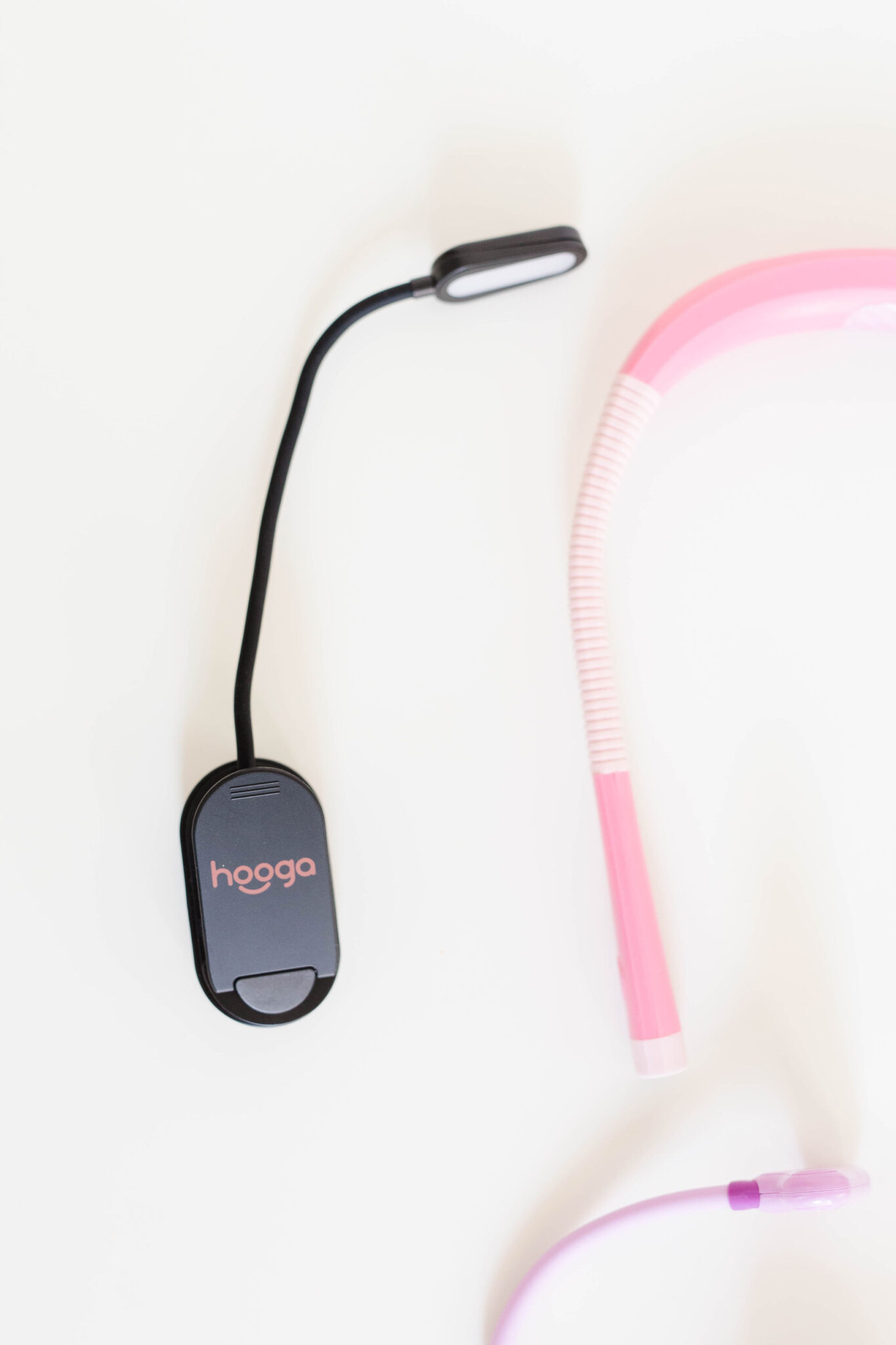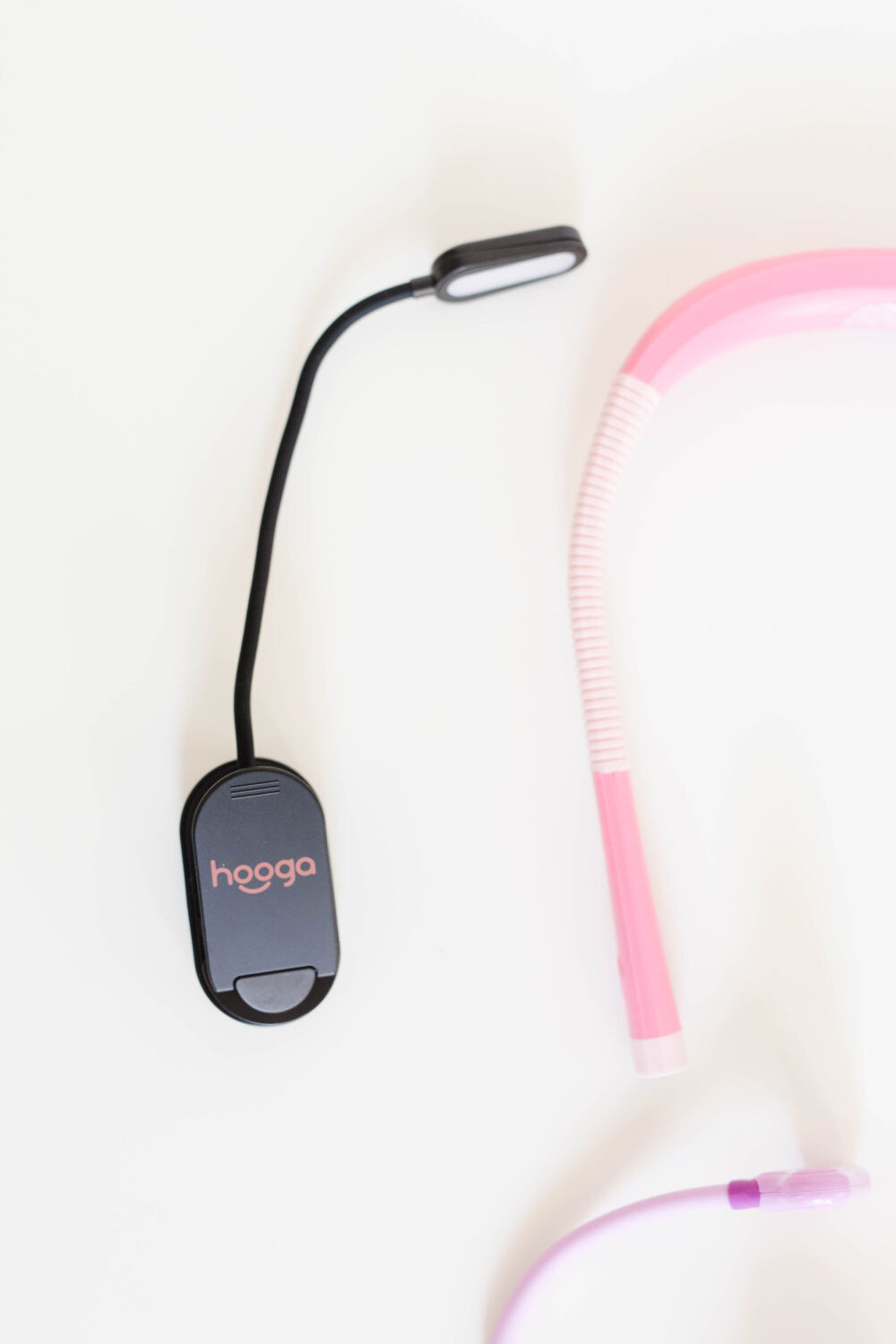 IF YOU WANT TO AVOID BLUE LIGHT:
THE HOOGA AMBER RECHARGEABLE BOOK LIGHT
My two middle girls, who share a room, both have one of these and they clip on their book ledges so they can act as a night light or they use them as a reading light and they are GREAT. They have such a warm, amber light that doesn't light up the whole room and they are 99.94% free of blue spectrum light. If you have trouble with blue light, this is for sure the one to get. They have three levels of brightness and the reviews are incredible, so it's not just our family who is loving them.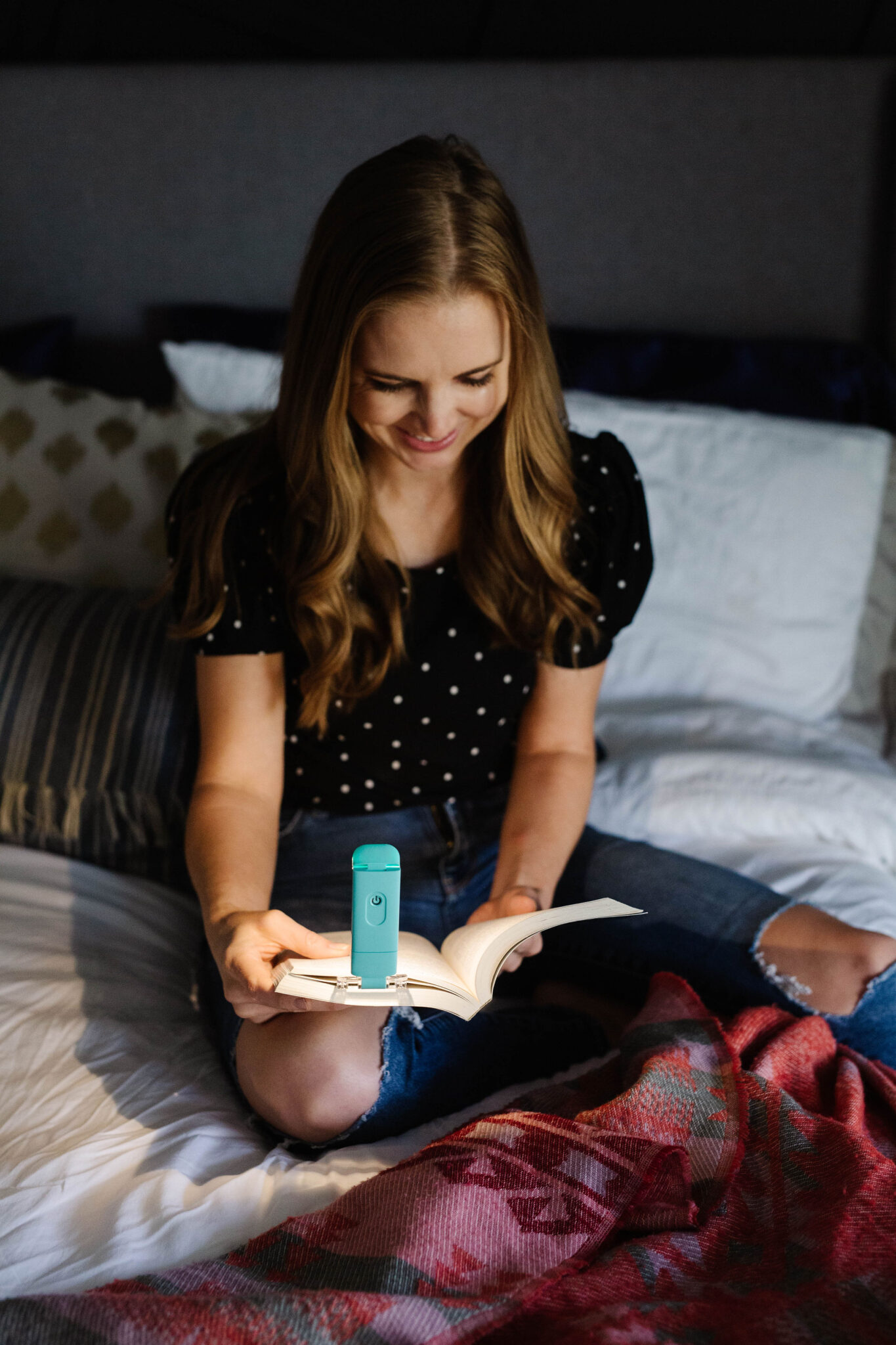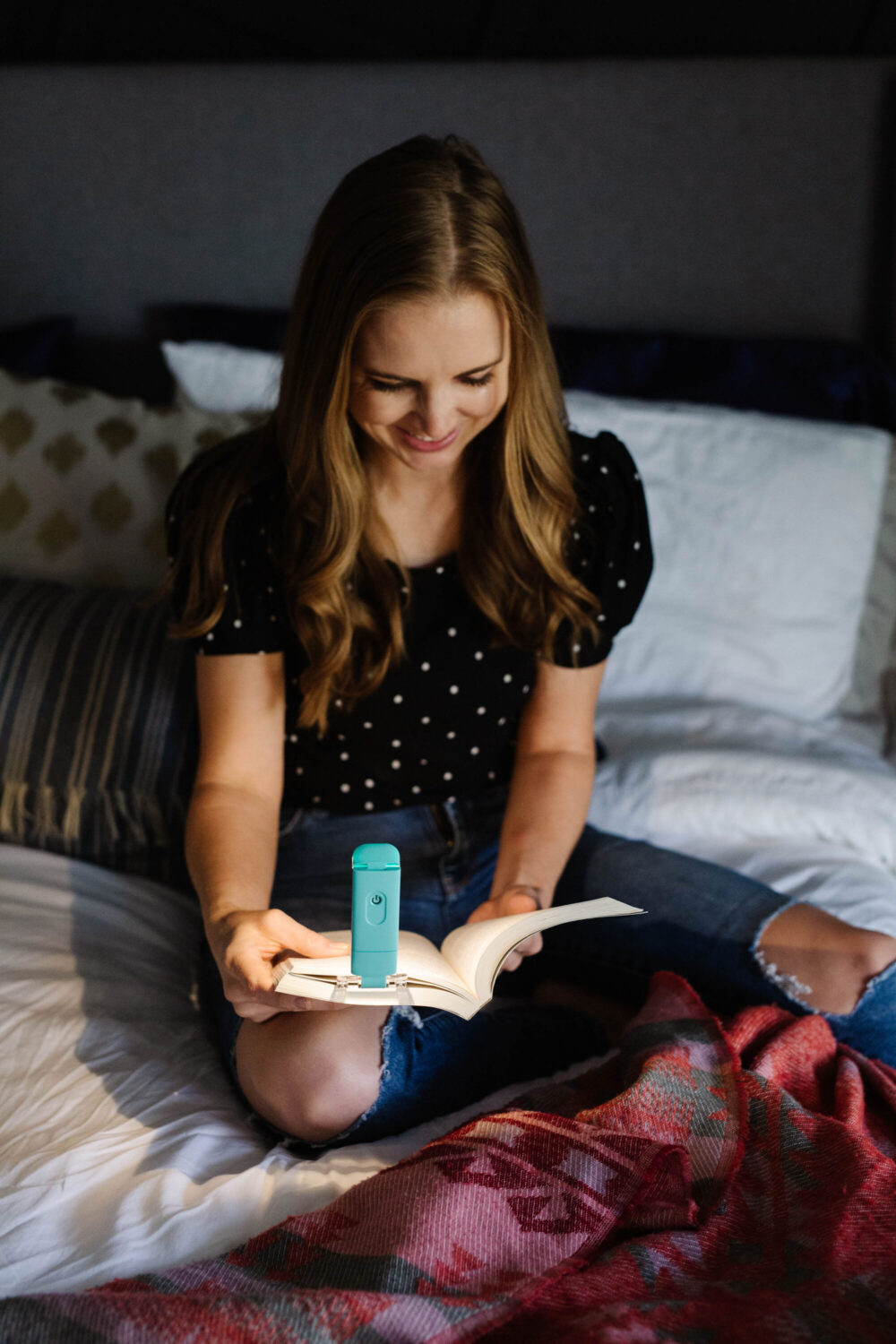 If you want the most compact Book Light:
THE DEWENWILS RECHARGEABLE BOOK LIGHT
We gave this to Ella for her birthday – she was sharing a room with all her sisters over the summer while we lived with Bart's parents so she needed a way to be able to read without keeping everyone awake – and this little book light has been a hit!
It weights just over an ounce, comes in a ton of different colors, has a swivel head so you can point it anywhere, and folds up small and flat, so you can pop it in your pocket or bag, unlike many of the more bulky versions of book lights.

If you want the most adjustable book light:
MIGHTY BRIGHT BOOK LIGHTS
Mighty Bright makes a whole bunch of different styles of book lights and they are a fan favorite for a reason. My two favorites were the Recharge – it's super small and light and you can twist the neck as much as you want and it'll hold its shape. This one isn't super bright, so if you like a soft light, this is a great choice, but if you want something brighter, this isn't the one for you.

Their NuFlex is more than three times as bright as the Recharge and the lights spread out horizontally so you get better light coverage on your page. The clamp is a little bit bulky, which I don't love, especially if you're reading a paperback.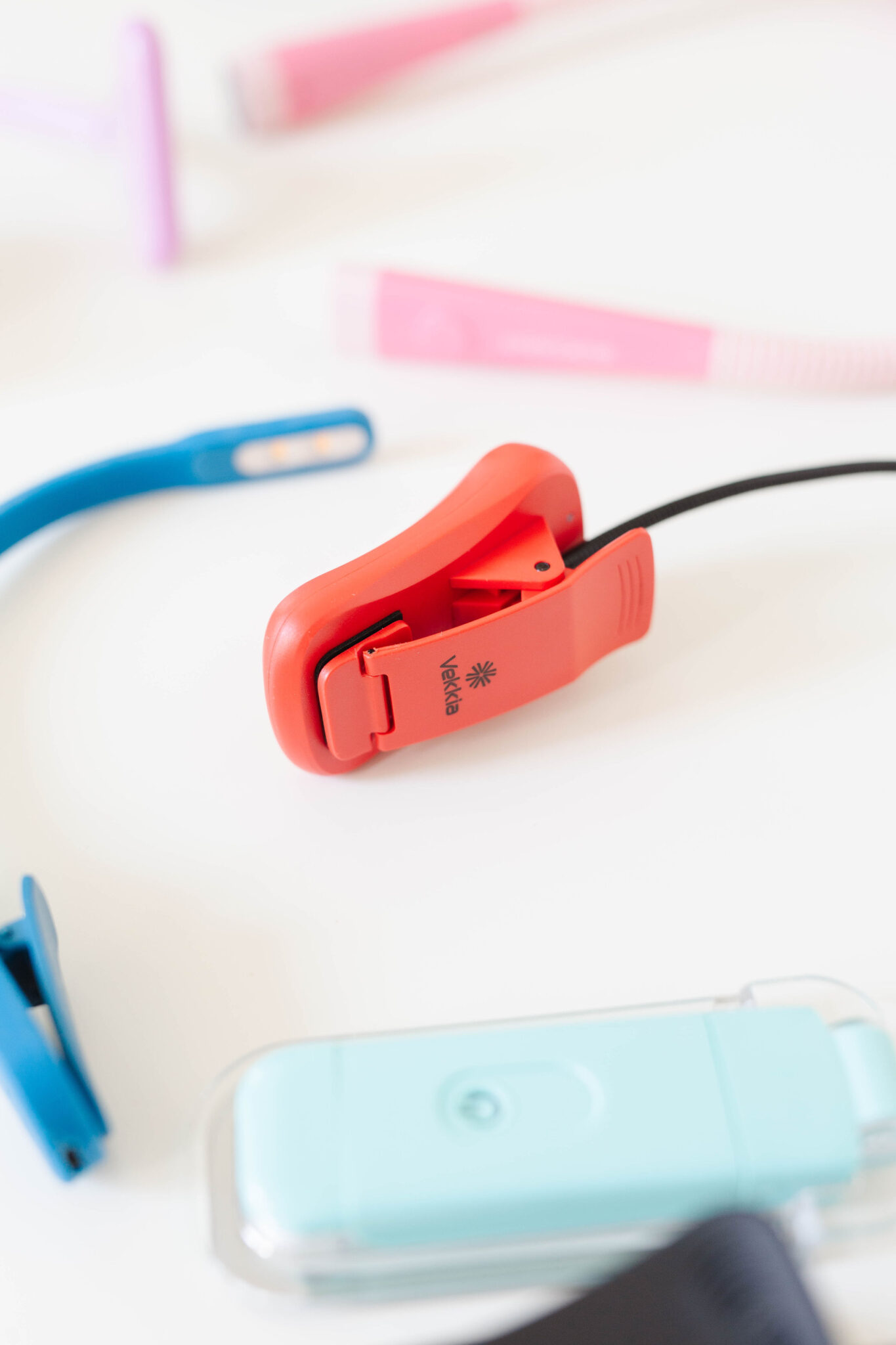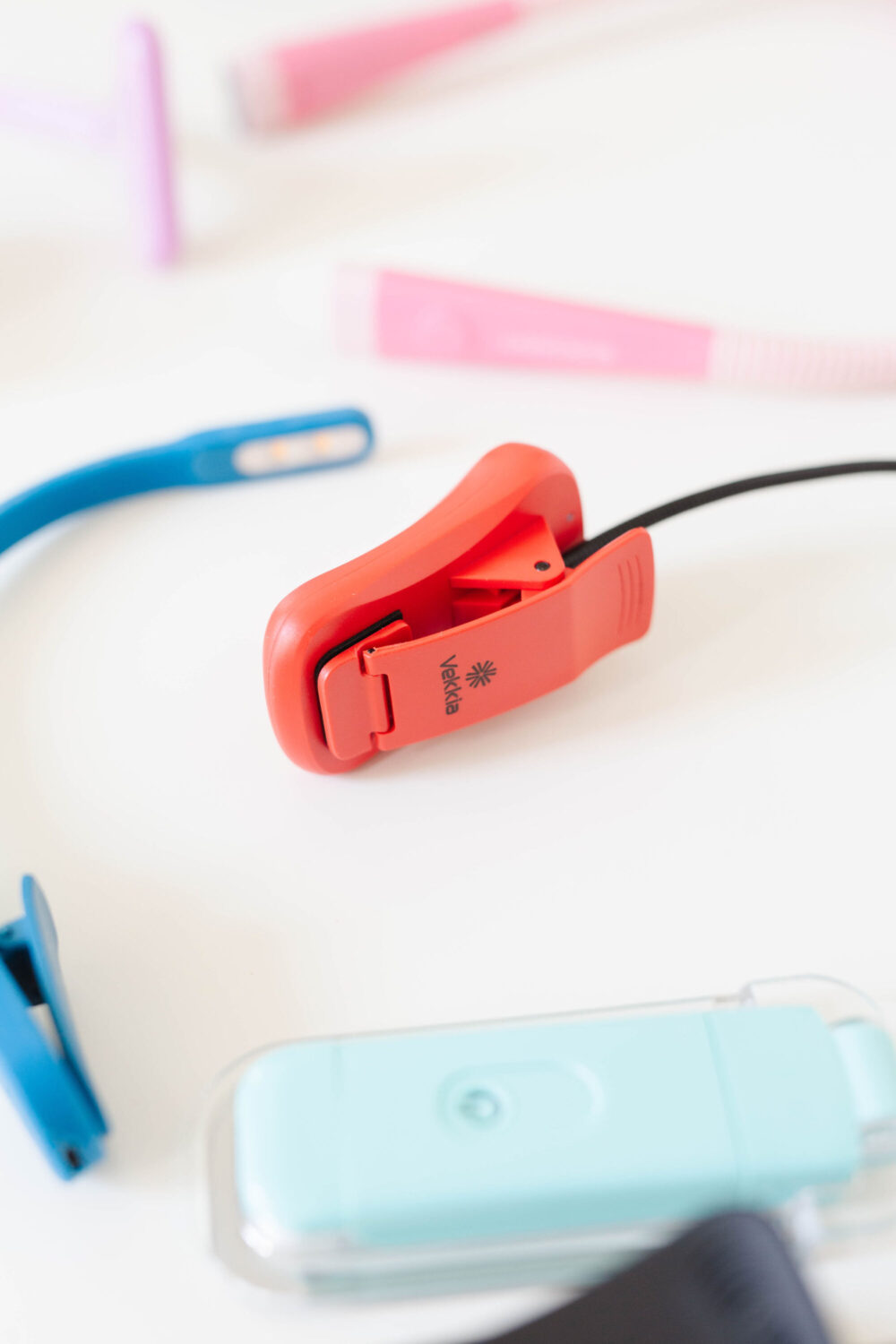 If you want a classic book light
THE VEKKIA RECHARGEABLE BOOK LIGHT
If you're looking for a classic book light design, you just can't beat the Vekkia. It has three levels of brightness, killer battery life, and the reviews are through the roof. I also tried out their book light that spreads open with 14 LED lights and it is awesome – it gives you a nice long bar of light across the page and also has the same great battery life.
If you have one of these book lights (or another one!), I'd love to hear what you do and don't love about it. And if you have questions about any of these book lights, I'm happy to answer!
If you liked these book light options, you might like these posts too: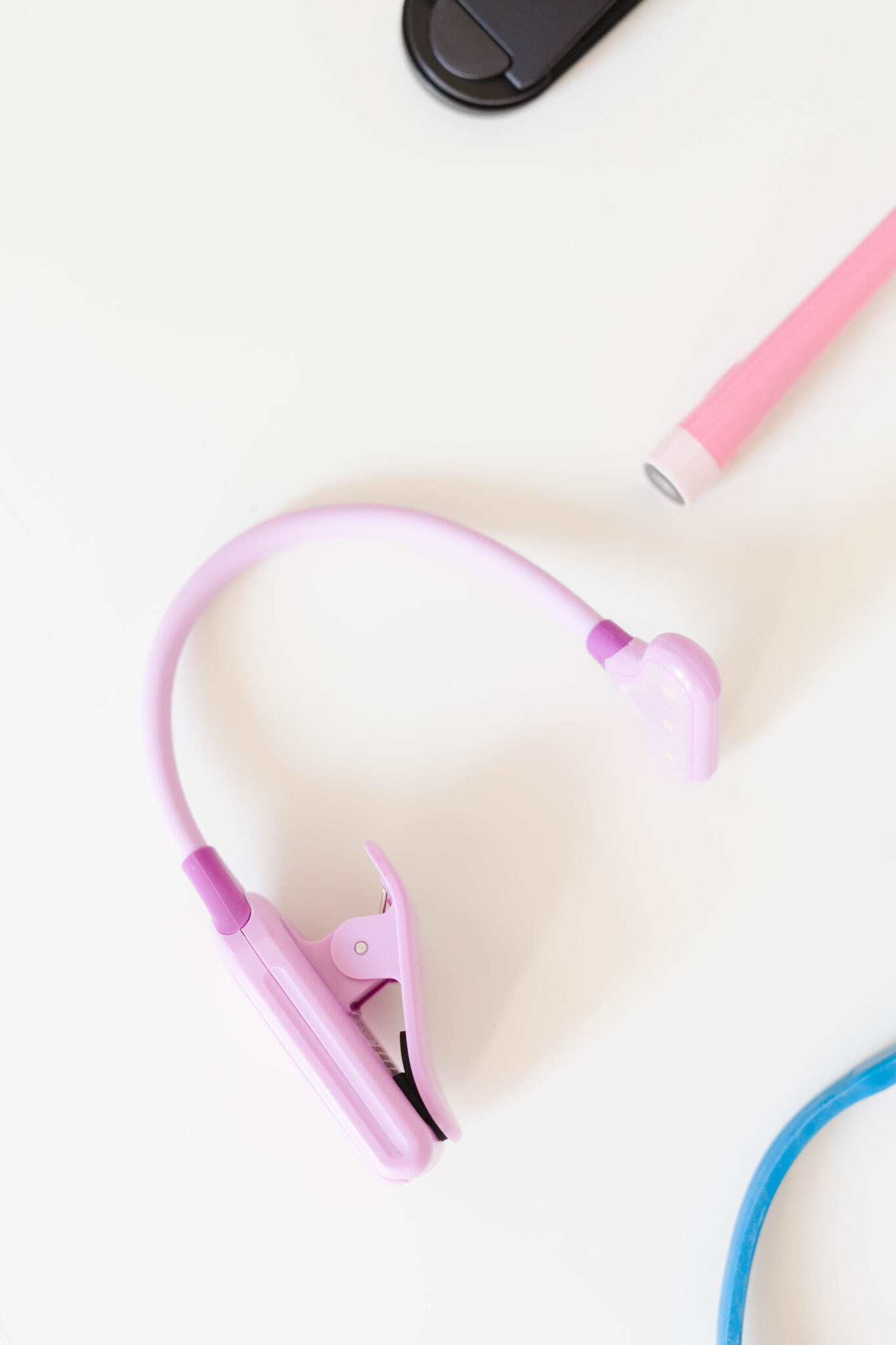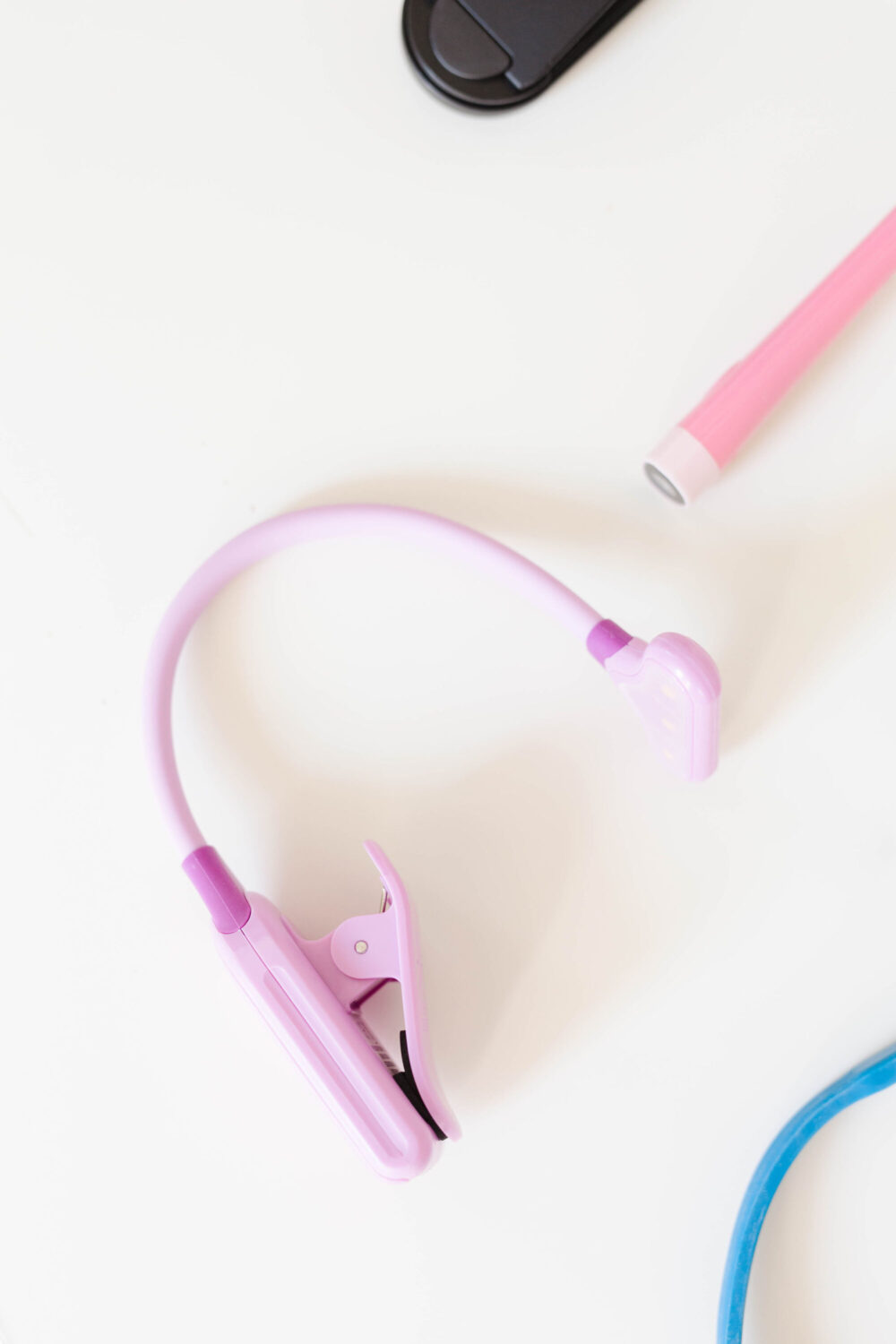 Photos by Heather Mildenstein