Yes, I could, potentially, read something in the next two weeks that becomes a favorite, but I'm not inclined to think this will happen. If it does, though, you will be the first to know.
I have read many, many many mediocre books this year. But there have also been standouts and several good middle grade books and a lot of excellent non-fiction. Frankly, the adult titles have been fantastic this year – SIX of my top books in 2011 are published for the adult market.
Just looking at this list makes me happy. These are books that transported me, that I couldn't put down, that opened my eyes to all sort of things I knew nothing about, that made me fall desperately in love with fictional characters.
Ack, the gushing is making me feel a little nauseous (or that could be the cookies I pretended were dinner. Either way. . . ). Here is my list of top books in 2011: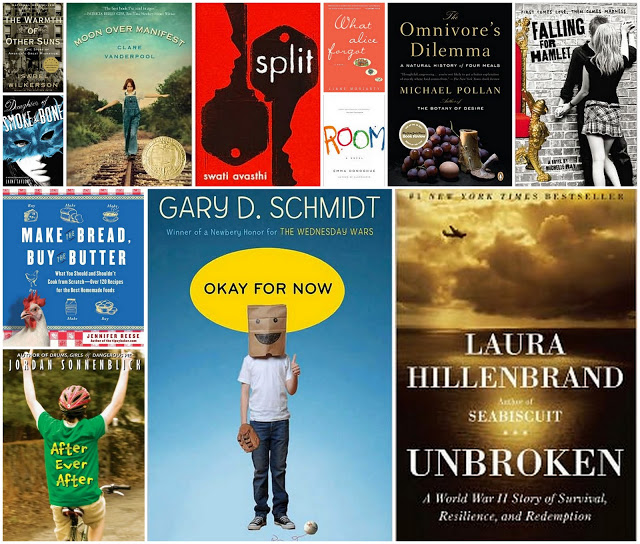 top books in 2011
Unbroken by Laura Hillenbrand – These generally aren't in any order, except Unbroken? Absolutely my number one book of the year. This is just the most amazing non-fiction. I love this book so very very much. You can read more wild-eyed ranting about it here, in my regular review.
Okay for Now by Gary D. Schmidt – Alright, alright, this list might be a tiny bit in order, at least with these first two. I thought I couldn't love any middle grade/young adult fiction like I loved The Wednesday Wars. But this one is neck and neck with it. I laughed, I cried, it shot to the top of my favorite books list. I am holding out hope that this one will get a Newbery nod in January. Full review here.
What Alice Forgot by Liane Moriarty – The bright spot of chick-lit in 2011. Funny, romantic, and amnesia – a perfect book for me. Full review here.
Daughter of Smoke and Bone by Laini Taylor – More people would like fantasy if more fantasy was written like this one. This one is so tightly plotted, funny, and heart-wrenching. I fear that they'll make a movie of it and ruin everything. Full review here.
Falling for Hamlet by Michelle Ray – I love a retelling and this one was fantastically done. This one earned it's place on my bookshelf. Full review here.
Make the Bread, Buy the Butterby Jennifer Reese – Everyone I have recommended this book to has loved it. And nothing makes me happier than that. Full review here.
The Warmth of Other Suns by Isabel Wilkerson – This was a book club read (chosen by Julie), about the huge numbers of black Americans who left the South between 1920s and 1970s to find new lives in northern cities (or in the West). It follows three people who left in different decades for different places for different reasons, and the whole book is just really fascinating. I wish I hadn't procrastinated reading it so much that I had to zip through it in three days.
Room by Emma Donoghue – I still think about this book often – the whole thing is so horrifying and yet full of hope and promise. It really is as good as everyone says. Full review here.
Split by Swati Avasthi – This was the third book I read in 2011, and yet my love for it has not been dimmed at all by the number of books I've read since then. In fact, it might have increased my devotion since most of the YA books I read over the course of the year failed to come even close to competing with how masterfully written this one was. I cannot wait for her next book. Full review here.
After Ever After by Jordan Sonnenblick – This book is a great example of why I love realistic fiction – I love a book that is all about the character and the storyline is really not the point (not that this book doesn't have a great storyline too).  Full review here.
Moon Over Manifest by Clare Vanderpool – I find Newbery winners to be so hit or miss. This one was a bulls-eye. Wonderful, wonderful historical fiction, set in both WWI and the Great Depression. I'd give this to any kid. Full review here.
The Omnivore's Dilemma by Michael Pollen – We read this for book club and it really has changed my life – I joined the CSA because of this book and we've made a lot of other changes in our diet as well. My nerdy self loved almost every page of this book (the mushroom chapter was . . . a little too lengthy).
And if you'd like a printable copy of this list that you can take to your library or screenshot on your phone for easy access, just pop in your email address below and it'll come right to your inbox!
if you liked this post of my top books in 2011, you might also like these posts: