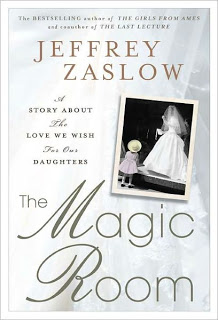 The subtitle of The Magic Room is "A Story about the Love We Wish for Our Daughters." I almost ignored it based on that cheese-ball sentence alone, but I was intrigued enough by the idea of a bridal store owned by the same family since the Great Depression to make me pick it up.
And then I ended up reading the whole thing in about three days. I loved this book. It really came within a stone's throw of being on my list of top books for 2011.
the magic room by jeffrey zaslow
The Magic Room is a non-fiction title about a bridal dress store (converted from a bank that went under during the Great Depression) in a tiny town in Michigan. It's been owned by the same family since its inception and it's always been the female members of the family who've run the store.
The chapters alternate between the family that owns the store and their story, and a series of brides who have bought their dresses at Becker's and their individual journeys to the alter. I loved both parts of the story and felt like it created a great balance of the excitement of a wedding for a family and also the stress of running a business behind the "everything is magical" scenes in the bridal store.
The brides highlighted are a wonderful variety. One woman was getting married just after her 40th birthday for the first time. She'd thought she might never marry. Another girl is one of four sisters, all of whom have waited to kiss anyone until they got engaged (not to mention waited to have sex until they're married). One woman lost her much-loved high-school-sweetheart husband to sudden and completely unexpected heart-failure. A year later, she's remarrying, much to the loud displeasure of her teenage children. Another girl is planning her wedding with her grandmother – after a couple of trips to the dress store, the salespeople discover that the girl's mother died when she was quite young and her grandmother has been the one to raise her.
Watching all these different journeys is so interesting. For the family whose daughter is in a car accident that completely mangles one of her hands and scars her face, the parents get to see first-hand how loving and committed their daughter's fiance is to her, even now that she doesn't look or function quite like she did when he proposed.  For the woman remarrying against the wishes of her children, they see their grandmother leap to her daughter's defense, which shocks them – they felt certain she would side with them – and reminds them that first and foremost she is their mother's mom, not just their grandmother.
Equally fascinating to me was the changes that the Becker family has seen over the generations of brides they serve. Decades ago, the girls who came to pick out dresses felt deep gratitude toward their parents for buying them a new dress, no matter how plain. Today, they see lots of bride-zillas, who are determined that everything must be perfect and, if it is not, that it's time to throw a fit. They see women getting married after having a few children out of wedlock (something they would have almost never have seen fifty years ago) or women getting married for the third and fourth times. They figure out how to fit dresses for pregnant brides. They deal with the knowledge that some of these brides will try on dresses, using up hours of saleswomens' time, only to go home and order the dress off the Internet to save fifty bucks.
And they also feel the pressure of running a store that takes up such an incredible amount of time, at the cost of time with their own families. They see other bridal stores folding and fight to keep theirs from being another casualty. And they carry the weight of knowing that their store almost single-handedly keeps the town afloat, with the steady stream of brides, their mothers, and the bridal parties who come to buy dresses and stay to eat, buy gas, and shop elsewhere.
There are so many people in The Magic Room and so many different angles to the story, and yet it's a very cohesive book. I didn't have trouble keeping the brides or the Becker family members straight and I didn't feel like there wasn't enough backstory on anyone (or, conversely, that there was too much information about something I didn't care about). This was just fascinating, fun non-fiction.
I read this book for the BlogHer Book Club and you can read other reviews and discussions at BlogHer. I am paid for my participation in the BlogHer Book Club, but I choose which books to read and my reviews are strictly my own opinions. If I think a book is terrible, I'll say so. If I rave about a book, it's because it's one I'd give to Kayla or my mom.
If you liked this review of the magic room, you might also like these books: