It's a tricky thing for middle grade readers (middle grade usually refers to readers between the ages of about 8-12 or the second half of elementary school) when the books they're seeing all start to be big enough to use as a doorstop.
When you've been reading books around 80-120 pages, it's a big jump to be handed a 300-400 page book!
And if you're a reluctant reader?
Those 400+ page books just are so discouraging.
If you're looking for some great short books for your middle grade reader (or to read aloud to younger kids), these are some of my favorites, all clocking in at under 200 pages.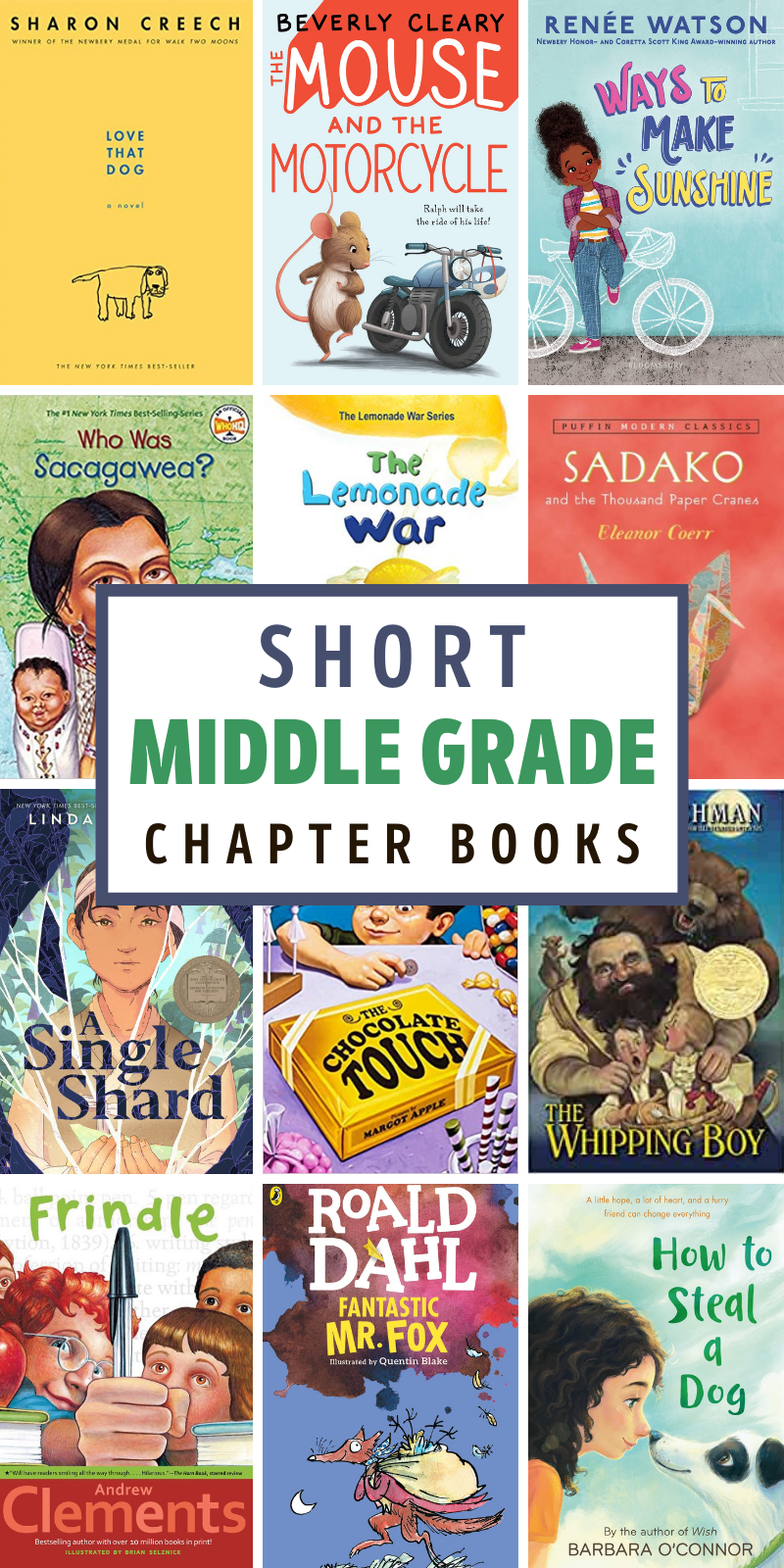 25+ Short Books for Middle Grade Readers 
The Chocolate Touch by Patrick Skene Catling, illustrated by Margot Apple
128 pages
I read this when I was little and I still remember it so clearly – the idea of everything you touched turning into chocolate is so exciting. This is a fun, fast paced book that's a perfect read aloud or solo read for middle grade readers. 

Ways to Make Sunshine by Renée Watson
208 pages
This one has been compared a million times to the Ramona books and it's an accurate comparison. We all LOVED this delightful novel about a little girl and her family in Portland Oregon. The sequel, How to Grow Love, is one of the 16 Books On My Read Aloud List This Year.
Frindle by Andrew Clements, illustrated by Brian Selznick
112 pages
Andrew Clements is just a master of the school story, and this is his most popular one, about a boy who wants to get his whole school calling pens "frindles." Andrew Clements is just a MASTER of the short middle grade novel.
The Mouse and the Motorcycle by Beverly Cleary, illustrated by Jacqueline Rogers
176 pages
Have I mentioned before that I love Beverly Cleary? This one is just as good as any of her other books, but totally different, with a little mouse who meets a boy staying at his hotel and starts riding his toy motorcycle. This is the first of three book in the Ralph S. Mouse series.
I Survived series by Laura Tarshis and Scholastic
112 pages
If you have a non-fiction lover, these short middle grade books about big historical events are really fun and high action. They're a perfect fit for reluctant readers, especially those with low patience for made up stories. 

Bridge to Terabithia by Katherine Paterson, illustrated by Donna Diamond
144 pages
I mean, get your kleenex ready because this one is a tear-jerker. But it's also SO fantastically written and has so many wonderful things to talk about with your children. (Full review here)
From the Mixed-Up Files of Mrs. Basil E. Frankweiler by E.L. Konigsburg
168 pages
This was one we listened to in the car and I was just completely overwhelmed by how GOOD this story about siblings that run away from home and live in the Metropolitan Museum of Art is. This woman is a master writer.

Who Was…? series by Who HQ
112 pages
This series of short biographies cover famous people living and dead and famous for all sorts of reasons – politics, sports, music, movies, and more. There are over 200 books in the series, so if your reader is a fan, this will keep them going for a nice long time. There are also the related "What Was. . . ?" series about historical events. 
The Best Christmas Pageant Ever by Barbara Robinson
128 pages
You'll get a huge kick out of the Herdman siblings, dubbed "the worst kids in the history of the world" who show up at church because of the free snacks and somehow take over the whole Christmas pageant.
American Girl series by Valerie Tripp, illustrated by Dan Andreasen
88 pages
The American Girl series is a long-standing favorite for historical fiction lovers and short book lovers alike. I'm pretty sure I had them all memorized when I was 7-10!
Fantastic Mr. Fox by Roald Dahl, illustrated by Quentin Blake
81 pages
I find many of Roald Dahl's books just too weird or creepy, but this one never fails to delight me. There's just something so satisfying about a fox outwitting the three farmers.
The Hundred Dresses by Eleanor Estes, illustrated by Louis Slobodkin
96 pages
This beloved Newbery Honor book is about a girl named Wanda who is mocked at school for wearing the same old blue dress every day. She claims that at home she has 100 beautiful dresses, but her classmates know she's lying.
Tuck Everlasting by Natalie Babbit
160 pages
Winnie Foster is shocked to discover that the spring on her family's property is magical and grants immortality to the drinker, and even more shocked to meet a family that's drunk from the spring and now will keep living forever.
Wayside School series by Louis Sachar
128 pages
I have to admit that I found these a little too wacky as a child (I was basically born 50 years old), but my sisters were obsessed with them, and my girls have loved them too, about a school where instead of being one story with 30 classrooms, it's 30 stories high with one classroom on each level. Of course, on the 13th level, things are always pretty crazy!
The Lemonade War by Jacqueline Davies
192 pages
I read this one years ago when I was a school librarian and it was SO popular with my students. Two siblings, Evan and Jessie, are both smart, but in different ways – one is people smart, while one is more math smart. When they each bring their talents to a competition to sell the most lemonade, it's going to be an all-out battle.
Love that Dog by Sharon Creech
128 pages
I LOVE this book and it was fun to revisit it with my girls last year and share some of my favorite poems with them. We read it in about three days, so it was a nice in-between book as a break from longer novels. (Full review here)
Number the Stars by Lois Lowry
160 pages
This historical fiction book about WWII was the first chapter book I read on my own and I still love it all these years later.

A Single Shard by Linda Sue Park
176 pages
I didn't know I had any interest in 12th century Korea until I read this. Then I made everyone I know read it. It's beautifully written and such a great story. (Full Review here) 
Sarah, Plain, and Tall by Patricia MacLachlan
112 pages
This beloved Newbery winner is the story of Sarah Elisabeth Wheaton who comes out to the prairies from her home in Maine when Papa advertises for someone to come join their family as a wife and mother.
Sadako and the Thousand Paper Cranes by Eleanor Coerr, by Ronald Himler
80 pages
Sadako is the star of her school's running team and then she begins having dizzy spells which are eventually diagnosed as due to leukemia. Leukemia caused by the dropping of the atomic bombs on Japan before she was born.
The Whipping Boy by Sid Fleischman, illustrated by Peter Sis
96 pages
Prince Brat lives up to his name, which means his whipping boy is always getting brought in to take the prince's whippings. But things go sideways when they accidentally trade places and get caught by some dangerous criminals. Now they'll have to work together to keep themselves alive.
How to Steal a Dog by Barbara O'Connor
208 pages
Things aren't great for Georgina Hayes. Her father has left them and now they've been evicted, forcing Georgina, her brother and her mother to live in their car. When Georgina sees a missing dog poster with a sizable reward, it occurs to her that if she steals a wealthy family's dog, they'll offer a reward to get it back!
Clubhouse Mysteries series by Sharon M. Draper, illustrated by Jesse Joshua Watson
112 pages
When four boys build a clubhouse, they name themselves the Black Dinosaurs and begin solving mysteries in their town. Perfect for young mystery lovers who enjoyed The Boxcar Children or the A to Z Mysteries.
Shiloh by Phyllis Reynolds Naylor
144 pages
This Newbery-winning book about Marty Preston who finds a beagle in the hills falls immediately in love with the dog he names Shiloh. It seems like a match made in heaven until he discovers that the dog belongs to Judd Travers, a local alcoholic who abuses the multiple dogs he owns. The idea of letting Shiloh go back to Judd is unthinkable, but. . . .can he keep a dog a secret forever?
The Ordinary Princess by M.M. Kaye

128 pages
Princess Amy and her six sisters receive special fairy gifts, and Princess Amy's gift? Ordinariness. When her parents try to marry her off, she decides to run away instead and takes a job as the fourteenth assistant kitchen maid at a nearby palace. Where, naturally, she meets a very ordinary prince.
A Long Way from Chicago by Richard Peck
148 pages
I love this book and it's sequel, A Year Down Yonder, about a brother and sister that go to spend the summer and then a full year with their unusual grandmother in the country. (Full review here)

Any other favorite short books for middle grade readers? I'd love to hear – please leave them in the comments because it helps make this post more helpful for other readers!
And if you'd like a printable copy of this list of short books that you can take to your library or screenshot on your phone for easy access, just pop in your email address below and it'll come right to your inbox!
If you liked this post about short chapter books for middle grade readers, you might like these posts too: