It took me years to get in a good bedtime read-aloud groove. For many years, it was just too exhausting at the end of the day to read aloud and I mostly read to the girls during the day, but for the last four or five years, it's been a delightful part of our (almost) nightly routine and such a special time of day.
The girls work on LEGO projects, color, or do gymnastics while I read aloud and they know that if one of them offers to do my hair, they can almost always coax an extra chapter out of me.
Last year, I read 17 books aloud to the girls and this year we didn't get through quite as many. In part, this is because last year we added in some shorter reads for my younger children, and this year we pretty much only read 200+ page books.
Here are the 13 books we read all together this year: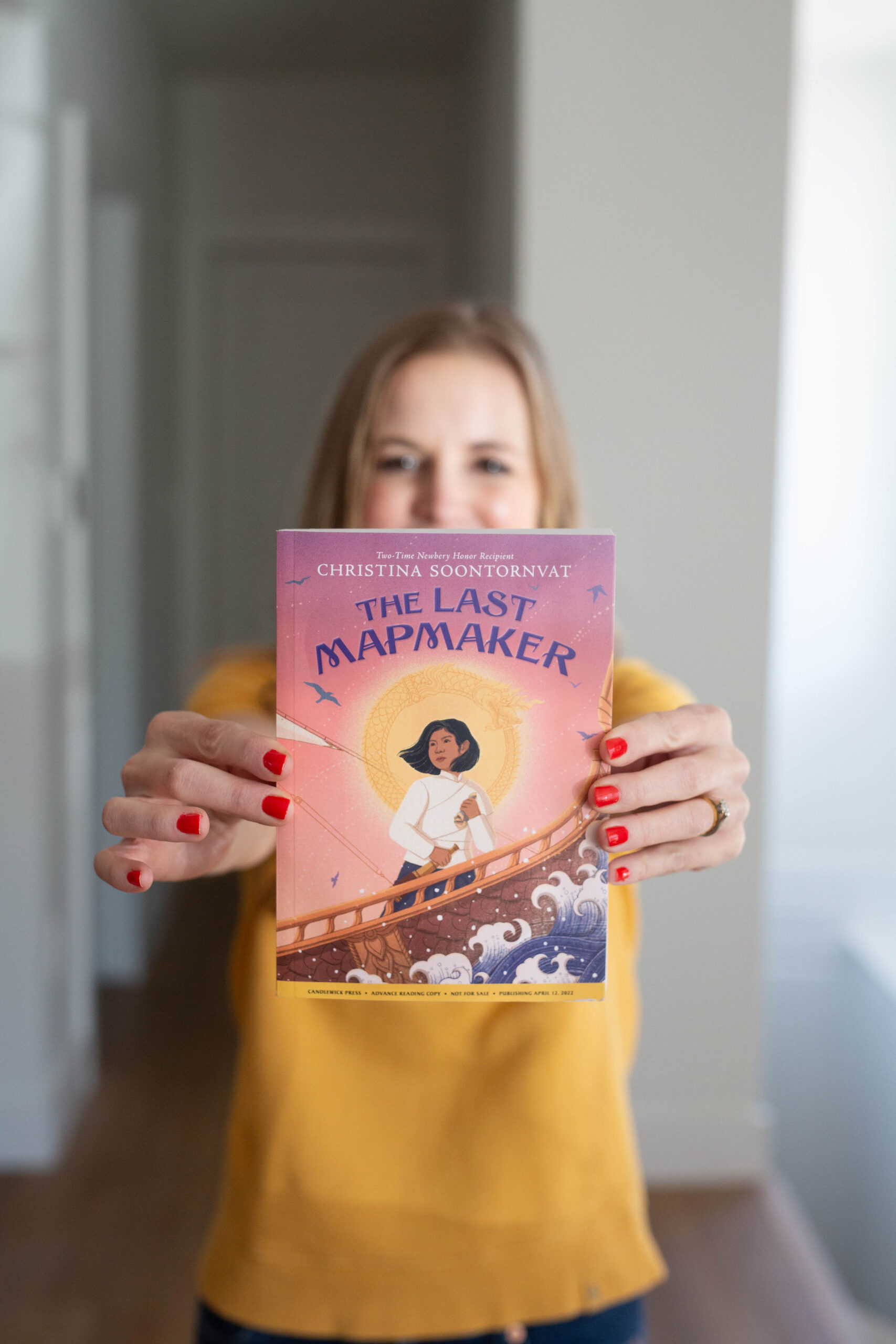 The 13 Books I Read Aloud to My Girls This Year
The Bookwanderers by Anna James
SO many people recommended this one and the concept – a family of booksellers who can pop in and out of books or bring the book characters into the real world – is really fun, but I have to say this one fell a little flat for me. None of us felt inclined to keep going with the series.
Birdie's Billions by Edith Cohn
This was a really fun middle grade novel about a girl who finds an enormous stack of money in an abandoned house. She and her mom are struggling financially so she's thrilled at this windfall but it soon becomes clear someone is looking for their missing money.
The Adventures of Nanny Piggins by R. A. Spratt, illustrated by Dan Santat
Ella has LONG loved Nanny Piggins and begged me to read it aloud to everyone. These books are just so fun and wacky – we blew through it so fast!
A Place to Hang the Moon by Kate Albus
This was probably my favorite read-aloud of the year. It was just so charming and sweet about three orphaned siblings who go to the English countryside during the WWII German Blitz in hopes of finding a forever family.
Amari and the Night Brothers by B. B. Alston
We were all SO into this fantasy novel about a girl who finds out there is a magical world she's never known about it and her missing brother was part of it too. She's determined to find her place at the magic academy so she can find out what happened to her beloved brother. So many books claim to be great for Harry Potter lovers, but this one actually lives up to the promise.
Nanny Piggins and the Wicked Plan by R. A. Spratt, illustrated by Dan Santat
Another silly story of Nanny Piggins. We all just laughed our faces off at the absolute ridiculousness of the whole thing.
The Last Mapmaker by Christina Soontornvat 
This is the other stand-out on this year's read-aloud list. Sai works for the most celebrated mapmaker in the kingdom, but she lives in fear of someone discovering that she isn't of the proper rank. Luck is on her side, though, when the mapmaker is invited on a discovery voyage to find a mysterious new land and he asks her to accompany her. High adventures and lots of clever twists and turns. (Full review here)
The Rembrandt Conspiracy by Deron R. Hicks 
This is actually the second book in the series but they pretty much stand alone, so it makes very little difference. Two kids are convinced that there is going to be an art heist in DC and they'll do whatever it takes to stop it. I learned a lot about art in this fun mystery book!
Where the Red Fern Grows by Wilson Rawls
Ani begged me to read this one again (I read it about three years ago to them) and it was just as good as it always was. Naturally, I cried my eyes out at the end. (Let's be honest. . . I was crying my eyes out by the end of the first chapter).
Amari & the Great Game by B. B. Alston
Sadly, this sequel didn't live up to the first one for me – it felt like it dragged along for a long long time.
Sir Charlie: Chaplin, the Funniest Man in the World by Sid Fleischman
I didn't know much about Charlie Chaplin but this had been sitting on my shelf for years after I read and loved Sid Fleischman's Houdini biography. This was a little dense for the two little girls but the big girls and I really loved it.
A Taste of Magic by J. Elle
This was a delightful magical book about a young girl who finds out she has magical abilities and starts attending the magic school in her neighborhood. But quickly, it becomes obvious that keeping it a secret from her best friend is not going to be easy. And when the school is threatened with closure, things really start getting tricky.
Top Elf by Caleb Huett
I love a Christmas read-aloud in December and this one about a contest to find a replacement Santa had lots of good reviews. We've all enjoyed it (and I bought the audio copy also so that we could finish it in time for Christmas by listening when we were in the car or working on puzzles).
What read alouds did you get through this year? I'd love to hear what was a hit and what was a miss.
if you liked this post about our read alouds from this year, you might also like these other posts: