This might be the most fun post I do all year long!
I love going to Goodreads, pulling up all the books I read that year, sorting them by star rating and then choosing my 10 favorites.
It's such a fun way to look back on the year and remember my 2022 in books.
Here are the ten that made the cut for my list of the best books of 2022!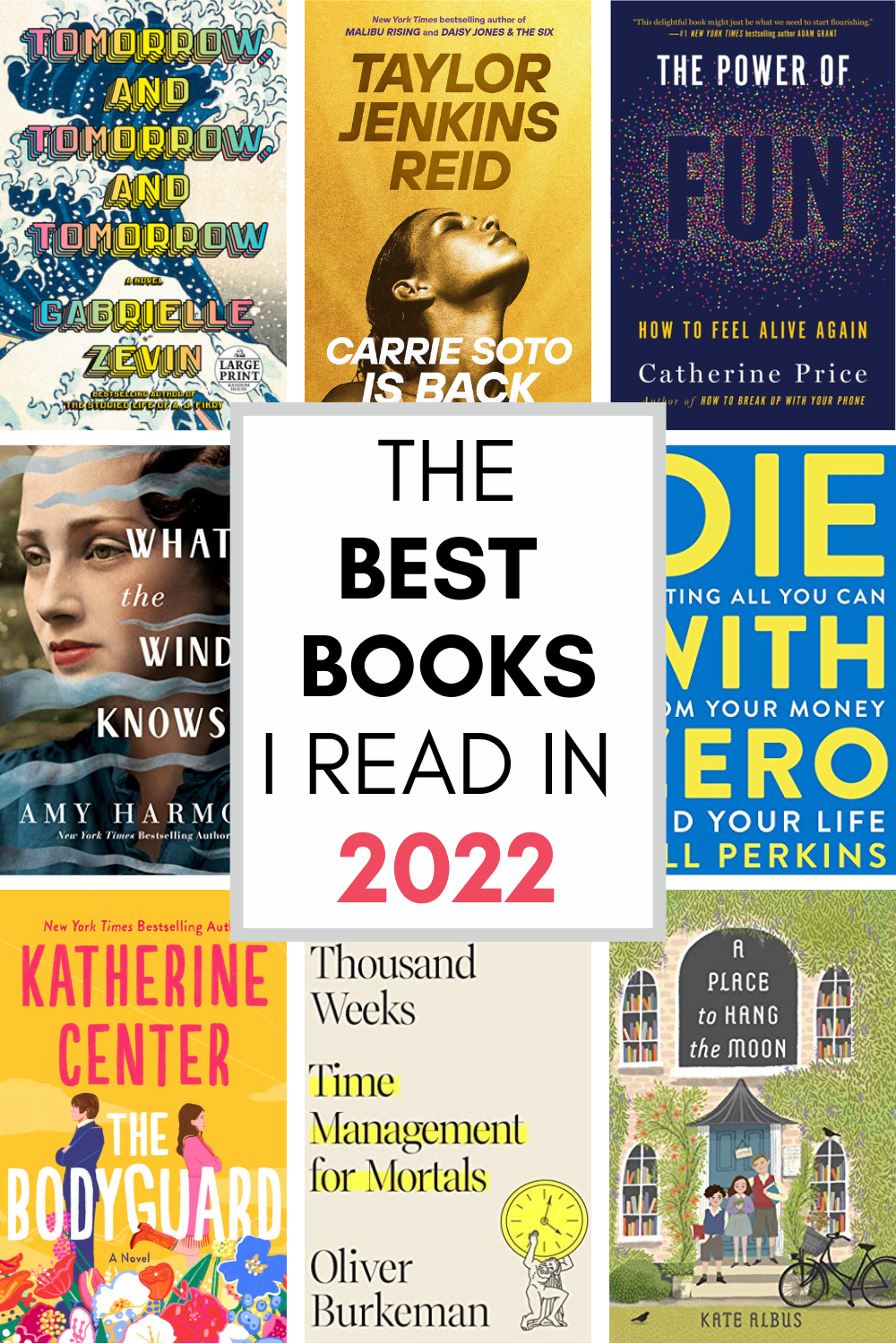 The 10 Best Books I Read in 2022
Four Thousand Weeks by Oliver Burkeman
I've read plenty of time management books but never one quite like this which is NOT all about tips and tricks for squishing more things into your day and instead steps back and acknowledges that we all have finite amount of time and no productivity hacks will ever give us more of it. Instead, what we have to do is make choices about how we're going to spend that time and prioritize the things that really matter to us. I'm pretty sure I highlighted 80% of this book, which is a sure sign of one of the best books I read in 2022!
A Place to Hang the Moon by Kate Albus
This historical fiction title absolutely charmed me and it's been one of my favorite read-alouds in the past couple of years. Three young children lose their grandmother, leaving them orphans and no place to go. Her lawyer suggests that, since so many children are being shipped out to the English countryside during the bombings, they might join the exodus and conveniently not mention that they don't actually have a family. And just maybe the family that temporarily takes them in will want to keep them forever. This book has all the feelings of a classic and I definitely shed some tears at the end.

Carrie Soto is Back by Taylor Jenkins Reid
This is Taylor Jenkins Reid's newest book. I've read every book she's written and I think this is her best one. I do not have words for how excellent this book is. Carrie Soto is the best tennis star tennis has ever seen. She's been retired for six years and now someone young and up and coming is gunning for her title. Well, Carrie Soto is not about to let that happen, so she comes out of retirement, asks her dad to coach her again, and she is going to do everything in her power to try and keep that title (even though being a 35 year old tennis star is not the same as being a tennis star in your twenties). I blew through this book in a single sitting in one afternoon. I LOVED it so much!
Amari & the Night Brothers by B.B. Alston
I've read about a million books with comparisons to Harry Potter or Percy Jackson and this was one of the first that really lived up to the hype – I read this aloud to my children and we were all completely sucked in! Amari's mourning the disappearance of her beloved older brother (the police say he's almost certainly dead), but when she gets a pre-recorded message from him, she discovers that there is a supernatural world she's known nothing about and that her brother was heavily involved before his disappearance. Joining this world isn't going to be easy, but she's willing to do whatever it takes to find out what happened to her brother. And she better mean it, because "whatever it takes" turns out to be a LOT.
The Power of Fun by Catherine Price
The Power of Fun is broken into two parts – the first part is basically a breakdown of what IS fun (hint: it's not mindlessly scrolling on TikTok or watching Netflix until all hours of the night) and why we're so bad at having real fun. The second part of the book is called "How to Have Fun" and it's PACKED with useful ideas for how to actually make true fun a part of your life. It starts with the Fun Audit and goes through chapters like Find Your Fun and Make Space. The Power of Fun is one of those books where I kind of want to force copies on everyone I know – it's just SO good and so useful and truly the perfect book to make sure your life includes enjoyment, true fun, and connection. (Full review here)
Die with Zero: Getting All You Can from Your Money and Your Life by Bill Perkins
I started this book about six months ago and then put it down until December. Then I flew through the rest of it in a few days and Bart started reading it too and we've talked about it NON-STOP. It's been such a fascinating and useful way to think about how I spend my life and what I want out of the money I make. It feels like one of those books that almost everyone would get something out of!
What the Wind Knows by Amy Harmon
This was an Everyday Reading Book Club book back in February and it's definitely one of the most popular books I've ever done in book club – I got a FLOOD of messages from people who were absolutely obsessed with this time travel book about a woman from America raised by her Irish grandfather who, after his death, returns to Ireland to spread his ashes and finds herself back nearly a hundred years earlier, meeting her grandfather who is a little boy. This one is full of history and romance and read by two terrific narrators, who really bring it to life. The first couple of chapters are a bit slow, so be willing to be a little patient – it's worth it! (Full Review Here)

The Last Mapmaker by Christina Soontornvat
The True Confessions of Charlotte Doyle was one of my favorite books growing up and when I read the author's note on The Last Mapmaker and she mentioned that this book was inspired by her childhood love of Charlotte Doyle, I was all in. I read it aloud to the girls this spring and we blew through it so fast – we were all completely absorbed by it! It was also the August book on the 2022 Everyday Reading Book Club list! (Full review here)
Tomorrow & Tomorrow & Tomorrow by Gabrielle Zevin
I care nothing about video games, this book is ALL about video games, and yet I loved it! Sadie and Sam meet when they are kids and bond over their shared love of video games. They eventually go on to become video game designers, and together they create the most beloved and famous video games of their generation. This book has a lot of heavy topics in it: depression, suicide, violence, dysfunctional relationships, you name it, it's probably in here, but I found this book very hopeful. It was totally different than anything I have ever read and one of the most immersive book experiences that I have ever had.
The Bodyguard by Katherine Center
Hannah looks like a mild-mannered kindergarten teacher, but she is actually a private bodyguard who could probably kill you with your wristwatch. Her firm gets hired by Jack Stapleton, who is a massive movie star, and dealing with a stalker problem. He needs some protection while he goes home to visit his mom undergoing cancer treatments and Hannah gets put on the job. The lines get a little blurred when Jack wants her to pretend to be his girlfriend to keep his parents from worrying about him. What could possibly go wrong in this situation!? Katherine Center writes the most snappy, laugh out loud dialogue. This book is just so fun!

And here are my team's picks for their favorite books of 2022!
Jen
The Power of Fun by Catherine Price
This book was this year's Everyday Reading Book Club pick for January. Despite having read it right at the beginning of the year, it is the book I have thought about and talked about the very most. (Ask my husband or any of my close friends because I'm sure they are sick of me talking about it.) It helped me prioritize real fun higher in my personal life. For example we had a laser tag birthday party for my husband and it was a hit! It helped solidify so many friendships in our new neighborhood and people are still talking about it! I also love the chapter about phone usage and habits- which I should probably revisit because I've slipped backwards in some of my forward progress in intentional phone usage. If you haven't read this one put it at the top of your list for 2023! Perfect way to start out a new year.
analese
Every Summer After by Carley Fortune
I love reading, but VERY rarely do I read a book in 1-2 days. I'm pretty good at being able to put a good book down or turning off a show even when the episode stops on a cliffhanger (it drives my husband crazy). This book was the exception. Six summers of Percy and Sam side by side…and one weekend when they are all grown up. One huge mistake made by Percy a decade ago is still haunting her and changed her and Sam's relationship forever. She knows she is going to have to face Sam and everything she's been avoiding when visiting her hometown for Sam's mom's funeral. When she returns, their connection is still undeniable, but so much has happened. This is such a great love story and had me completely consumed.
Kelsey
Rock Paper Scissors by Alice Feeney
This was the first thriller/mystery book I have ever read. I am such a wimp and don't like feeling scared, especially when I read right before bed. But I am so glad I took a chance on this one because I was engrossed! I read through it in a few days and I did pretty well with the scary factor. A couple wins a weekend trip away in the hopes to save their marriage. But there is much more going on than meets the eye when they arrive at the church Airbnb they are staying at. It wasn't just a coincidence that they won this trip, or was it? Someone is lying and this trip will either make or break their marriage. After a massive twist, I realized that I read the entire book wrong! Such a page turner if you haven't gotten into thriller mystery yet.
And if you'd like a printable copy of this list that you can take to your library or screenshot on your phone for easy access, just pop in your email address below and it'll come right to your inbox!
I'd love to hear your favorite books that you read this year! Let me know in the comments – I'm ready to max out my library cards!
IF YOU LIKED THIS POST ABOUT THE BEST BOOKS OF 2022, YOU MIGHT ALSO LIKE THESE OTHER POSTS: