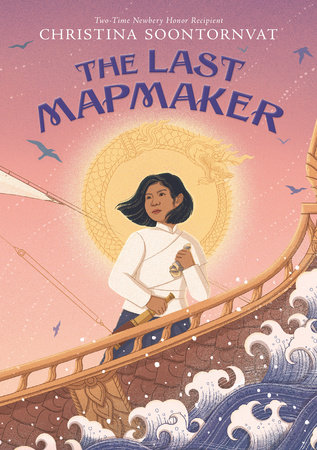 I had never heard of any of Christina Soontornvat's books until she won two Newbery Honors for A Wish in the Dark and All Thirteen last January at the ALA Awards.
Now she's on my list of authors that I pick up EVERYTHING that they write.
I got an advanced copy of The Last Mapmaker and knew immediately that it was both one that I wanted to read to my girls this year AND one of the books I wanted to do during the summer for Everyday Reading Book Club when I typically pick either children or young adult titles.
It's always a little risky choosing something I haven't read before but this one felt like a sure bet.
I also felt solid in this book choice because in the author letter that came along with the book, she mentioned it was inspired by one of her favorite childhood books, The True Confessions of Charlotte Doyle.
Well, it turns out that was one of MY favorite childhood books too (and I reread it with my girls a few years ago), so I was all ready for an adventure on the high seas, probably complete with plenty of untrustworthy characters.
And The Last Mapmaker did not disappoint. When I read it aloud to the girls this spring, we were all VERY into it and finished it within two weeks!
The Last Mapmaker by Christina Soontornvat
Like A Wish in the Dark, The Last Mapmaker is set in a fantasy world inspired by Thailand.
Sai is the heroine of this story and the society she lives in, Mangkon, is extremely hierarchical. If your ancestral tree isn't well established, your hopes for success are incredibly low.
And Sai's family isn't anywhere near the top. In fact, her father is a conman who has spent most of her childhood in and out of prison, while she bounced between living with him in the worst part of the city and living in an orphanage. Frankly, it's hard for her to decide which is worse because when her father is around, he often ropes her into helping with his cons.
She's managed to snag a spot working as assistant to the most celebrated mapmaker in the kingdom (she's a terrific forger, thanks to all her father's training), concealing her miserable background, but she knows this is a temporary respite because once she has her next birthday, it'll be clear she doesn't have the family lineage to advance in society. She's saving up all her earnings in the hopes of escaping to a new country where her lack of a impressive family tree won't hold her back.
And then an incredible opportunity comes along –  the mapmaker, Paiyoon, is going to go on an expedition to chart the southern seas, where legend runs rife and the whole country hopes that there are magical fortunes to be discovered. And he needs help making the maps of the journey.
Naturally, he invites Sai to accompany him.
This is the chance she's been waiting for, but it's going to take some clever maneuvering to escape from her father.
And all of that looks like small potatoes compared to how wild things start to get once the sea voyage actually starts.
Because Sai isn't the only one with secrets she wants to keep.
This was SUCH a fun book with so many twists and turns and I just wasn't sure how the whole thing was going to play out.
If you're looking for a great read-aloud, I can't suggest The Last Mapmaker strongly enough.
if you liked this post about the last mapmaker by christina Soontornvat, you might also like these other posts: