I was going to say that Ella has been reading up a storm lately and then I realized that it's not just lately. I think she's been reading up a storm since the moment she figured out how to read back in 2014.
I love seeing what books she picks each time for Ella Enjoyed and I can always put money on a graphic novel or two making an appearance.
Last week, we went to the library together and she came over to me with a big sigh and said, "I think I've read every single graphic novel they have."
(You'll be relieved to hear that together we were able to find a few that were new to her).
If you have a middle grade reader, I hope they'll enjoy some of these books too!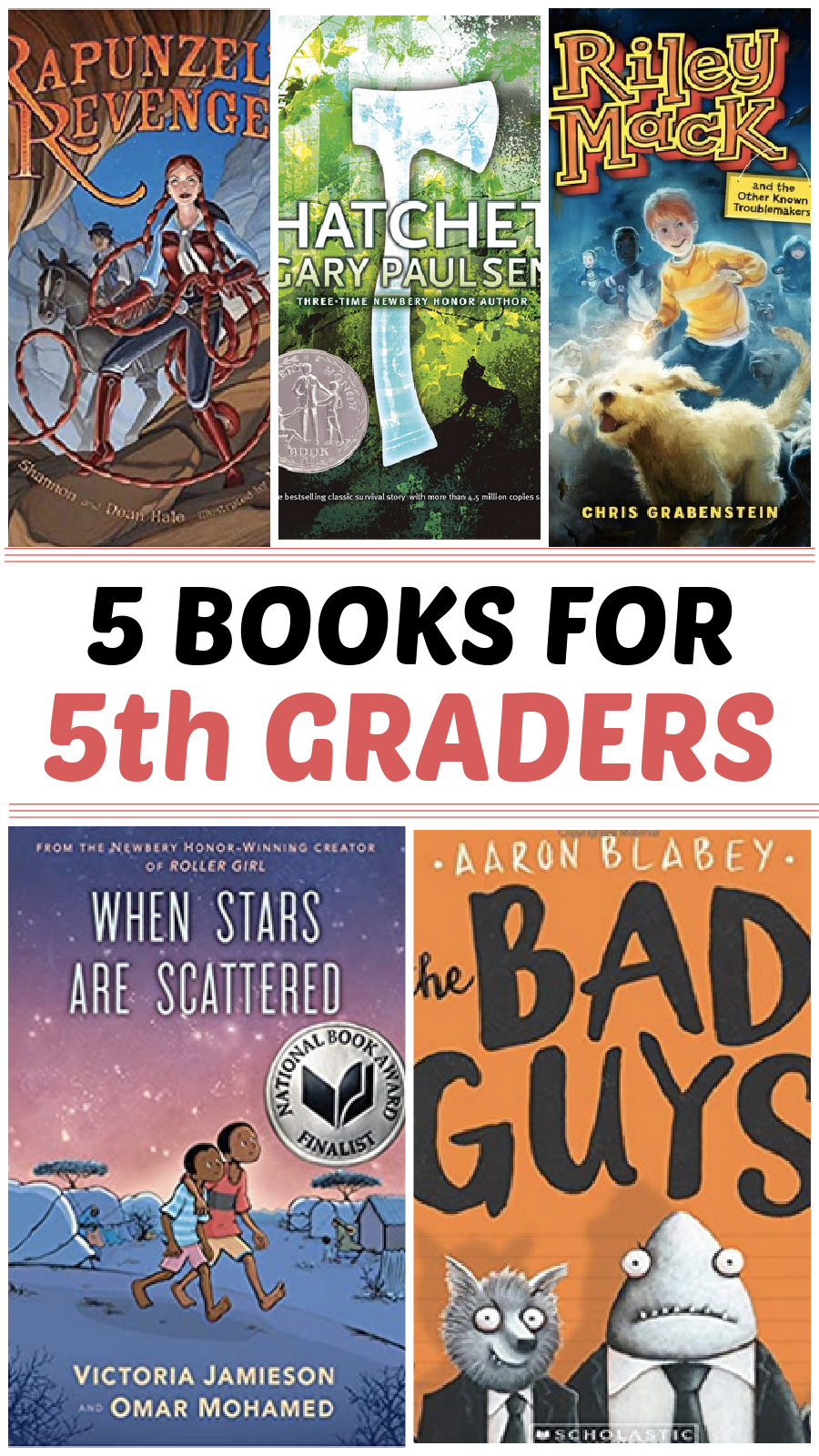 Ella Enjoyed: 5 Books for 5th graders
Riley Mack and the Other Known Troublemakers by Chris Grabenstein
320 pages
You probably know Chris Grabenstein from his wildly popular Mr. Lemoncello series, but this title is a perfect genre mash-up of mystery, comedy and crime caper. It's included in Audible Plus, so Ella listened to this one at night before bed and she loved this story of Riley Mack who takes the lead from his father – a soldier stationed abroad – to protect those needing help. He's out to thwart the town bullies, including the dishonest chief of police!
What Ella has to say: I really liked this because it was a good mix of funny, mystery and plain old wackiness. I mean, he stuffed an ice cream cake down his pants! Not a great move. I also really like that although it was one book, there were a couple of different schemes and mysteries in it. I think this is better for a little older readers – I don't think my six-year-old sister would enjoy listening to it.
Rapunzel's Revenge by Shannon Hale, Dean Hale and Nathan Hale
144 pages
A fractured fairy tale and graphic novel all in one? You've basically hit on Ella's love language right here. This story of a Rapunzel who uses her long hair as a very effective lasso is very fun and entertaining!
What Ella has to say: As you know, I always like a graphic novel. And this was a really fun one because I also really like fractured fairy tales, so it was basically combining my two favorite genres. It's really fun because it shows Rapunzel's story but it's different from how you'd actually picture it. And it's very fun to see the connections between this one and the sequel Calamity Jack (which I read first).
The Bad Guys by Aaron Blabey
144 pages
Ella has been reading this series for the past couple of years – with 14 books, there are enough to keep your child busy for a while. Mr. Wolf, Mr. Piranha, Mr. Snake, and Mr. Shark are bad guys. But . . . they want to be GOOD guys! Is it possible for these Bad Guys to turn into Good Guys? This is their first attempt! (Be warned that there is some bathroom humor from one of the characters).
What Ella has to say: I really liked The Bad Guys because they're super funny. I read the first one three years ago and I thought it was fine but didn't read any more of them. Then I heard a bunch about them and picked up the second one and couldn't stop. I just wish there were more, honestly. The only problem is that I can read them so fast.
Where Stars are Scattered by Victoria Jamieson and Omar Mohamed
264 pages
I gave Ella this graphic novel for Christmas (it's snagged a bunch of awards and honors) about a young boy living in a refugee camp in Kenya after fleeing Somalia with his younger non-verbal brother. They've now been living in the camp for years, wondering if they should try to return to their homeland and find their mother or seek resettlement in the USA or Canada. It's SO terrific.
What Ella has to say: This book I got for Christmas and I tried one of the other books I got with it and honestly kind of gave up on all three of them, even though they weren't related. Then I had nothing to read because I hadn't gone to the library in three days and so I just tried and it was SUCH a good book. I like a book that combines realistic fiction with interesting storytelling (because you can go to the wrong end of that spectrum really fast).
Hatchet by Gary Paulsen
209 pages
Ella's class read this one together over the past month or so, and Ella (like so many readers before her) was completely absorbed by this story of a boy alone in the wilderness trying to survive after a plane crash.
What Ella has to say: I read Hatchet in my class and I liked how it just shows him surviving and how interesting that is. It was kind of like My Side of the Mountain except a little more realistic. It was harder for him than it was for the boy in My Side of the Mountain.  I also really like how in the middle of the book, he really has to start over and at first he's giving up but then he pulls through and keeps living this amazing life. I also can't wait to read the other books in the series.
And if you'd like a printable copy of this list that you can take to your library or screenshot on your phone for easy access, just pop in your email address below and it'll come right to your inbox!
If you liked this list of Good books

for 5th graders

, you might like these posts too: