Fourth of July! We're headed down to the beach this weekend to celebrate, but in the meantime, here are some of my favorite fourth of July books about the US and the American Revolution.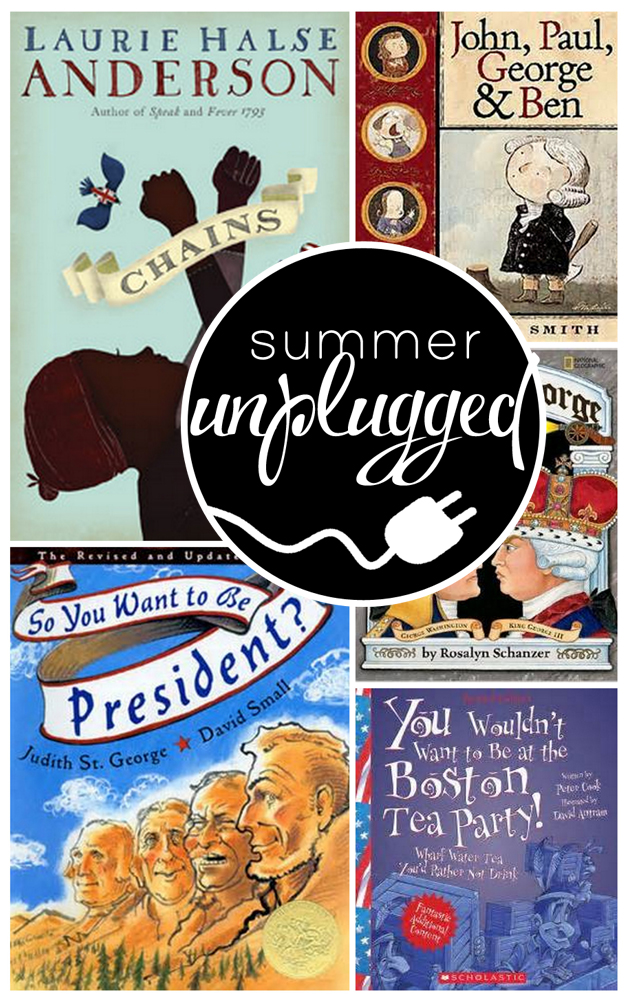 fourth of july books and crafts
Picture Books
So You Want to Be President by Judith St. George and David Small – This is long for a picture book (Ella couldn't quite make it through), but for older kids, it's hilarious, full of interesting information, and one of my favorite Caldecott winners.
John, Paul, George & Ben by Lane Smith – I think Lane Smith is hilarious, and this book made Bart and I both cry with laughter when we picked it up in a bookstore in New York City years ago.
George vs. George: The American Revolution As Seen from Both Sides by Rosalyn Schanzer – There's two sides to every story, and this book does a great job at looking at both sides of the War for Independence.
You Wouldn't Want to Be at the Boston Tea Party!: Wharf Water Tea You'd Rather Not Drink by Peter Cook, David Antram and David Salariya – I love this series (it was always wildly popular in my libraries, especially with the boys), and this one is a winner.
Independent Dames: What You Never Knew About the Women and Girls of the American Revolution by Laurie Halse Anderson and Matt Faulkner – You didn't even KNOW you didn't know all this.
Chapter Books
King George: What Was His Problem?: The Whole Hilarious Story of the American Revolution by Steve Sheinkin and Tim Robinson – You already know I love Steve Sheinkin because of Bomb! and this one is full of humor, interesting facts, and a basic overview of the whole Revolution.
Johnny Tremain by Esther Hoskins Forbes – This Newbery winner has long been one of my favorites about a silversmith apprentice who loses his career dreams after an accident burns his hand. In the aftermath, he becomes a rider delivering messages and finds himself on the front lines of the early battles of the war.
Chains by Laurie Halse Anderson – I love this well-written and less-well-known take on the Revolutionary War about the slaves who saw their masters fighting for independence from Britain and wondered if they could find their own freedom during the fight as well.
Shh! We're Writing the Constitution by Jean Fritz and Tomie dePaola – Jean Fritz is a master at making history interesting for children. Don't miss this one.
A Few Crafts, Activities, and Recipes:
This week's giveaway is a little different because I posted it yesterday as part of the 14 Days of Summer Love Giveaway running for the rest of the week.It's a $100 credit to
Wrenn Jewelry
(her stuff is amazing!) –
go check it out and enter
.
And if you'd like a printable copy of this list that you can take to your library or screenshot on your phone for easy access, just pop in your email address below and it'll come right to your inbox!
if you liked this post about fourth of july books, you might also like these posts: