Is there anything more magical than grandparents?
One of the biggest reasons we moved to Utah a few years ago and why we bought the house we did was so that we could live within walking distance of Bart's parents.
We've never lived near grandparents and two years later, the novelty of it hasn't worn off.
I love passing my in-laws on my morning run or dropping off my big girls for piano lessons with their grandmother or having someone willing to watch the other girls while we take the birthday girl on a special date.
Everyone who said living by grandparents was a game changer? You were right.
Whether you have a grandparent living with you or on the other side of the world, these books about grandparents celebrate the joyful relationship between a grandparent and their grandchild.
I hope you'll love them as much as we do!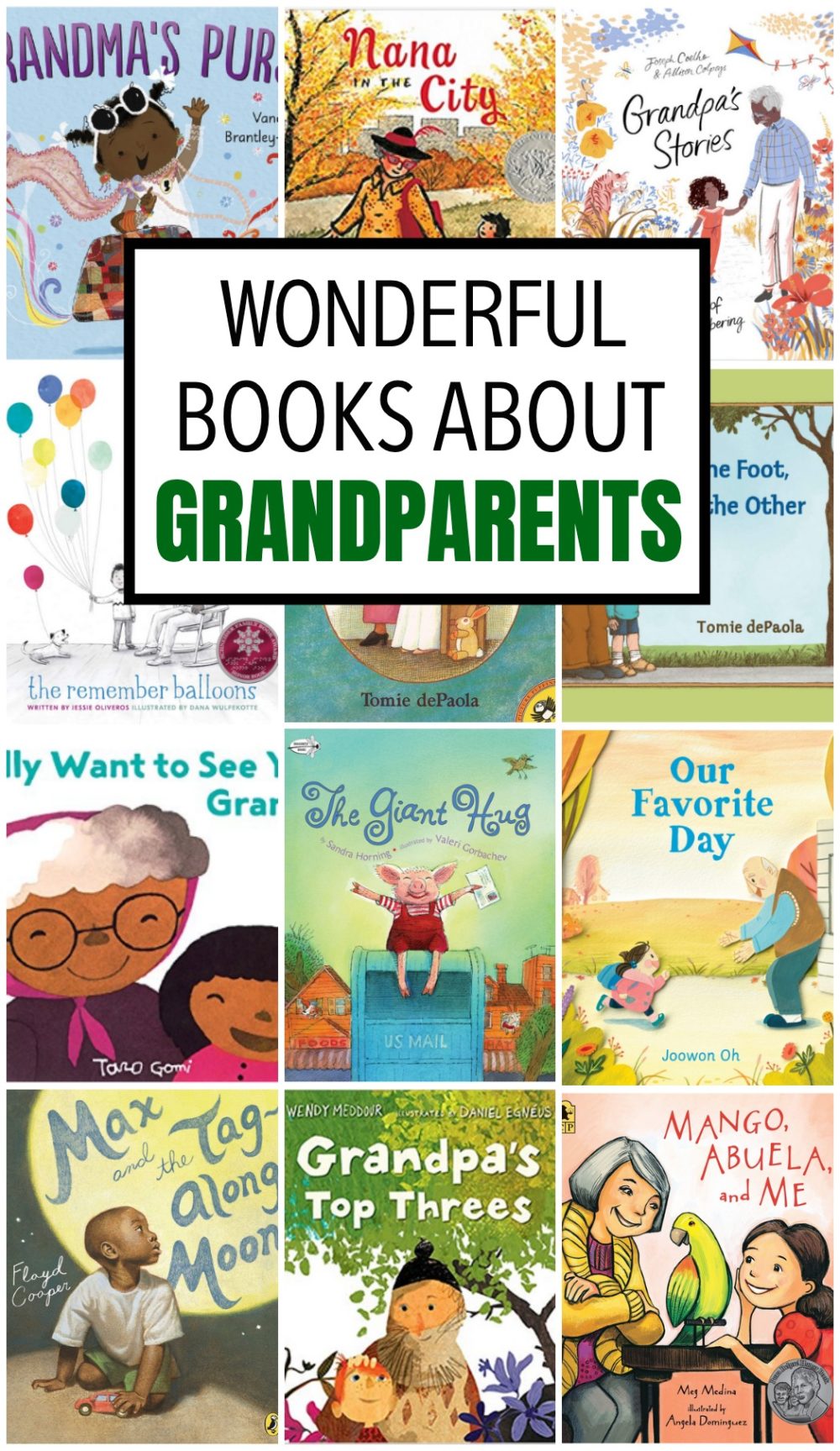 24 Wonderful Books about Grandparents
Charlie & Mouse & Grumpy by Laurel Snyder, illustrated by Emily Hughes
I'm obsessed with the Charlie & Mouse books (each one has four short chapters – about the same length as a Frog & Toad book) and this book, where their grandpa – better known as Grumpy – comes to visit is just so sweet.
The Hello Goodbye Window by Norton Juster, illustrated Chris Raschka
This delightful book about grandparents won the Caldecott medal and in it, a little girl and her grandparents share the ordinary magic of a kitchen window where they watch the stars and the sun and, of course, say hello and goodbye.
Drawn Together by Minh Le, illustrated by Dan Santat 
This stunning, nearly wordless book shows a boy who goes to spend the day with his grandfather, a prospect that does NOT delight him since they have virtually nothing in common. That is, until the boy opens up his sketchbook and discovers that, like him, his grandfather loves to draw.
The Remember Balloons by Jessie Oliveros, illustrated by Dana Wulfekotte
If you're looking for a book about grandparents that will just rip your heart right out. . . this is the one. The grandfather is losing his memory, with each memory represented by a balloon. As they drift away one by one, the little boy decides that he'll help hold on to those memories for his grandfather since his grandfather no longer can.
Nana in the City by Lauren Castillo
Going to spend the night with his grandmother is overwhelming for this little boy. She lives in the city and it's big and loud and pretty scary. But when Nana makes him a special cape to help him feel less afraid, the little boy discovers that the city is actually pretty amazing!
Grandma's Purse by Vanessa Brantley-Newton
There are lots of things to love about Grandma Mimi's visits. But the best part? Her purse full of amazing treasures just waiting for a little granddaughter to peek through!
Baking Day at Grandma's by Anika Denise, illustrated by Christopher Denise 
Three little bear cubs walk through a snowy day to their grandmother's home where they spend a delightful day baking together. We got a copy of this in our Bookroo board book box and I've read it to Tally at least 50 times.
When Grandma Gives You a Lemon Tree by Jamie L.B. Deenihan, illustrated Lorriane Rocha
When your grandmother gives you a lemon tree for your birthday instead of the electronics you were REALLY hoping for, it's easy to be disappointed. But . . .just maybe, Grandma knew what she was doing when she gave you that lemon tree. (I just discovered there is a companion book called When Grandpa Gives You a Toolbox!).
Rain by Sam Usher
I love this four book series about a little boy and his grandfather in all seasons who have marvelous, slightly magical adventures together no matter the weather.
Oliver and Amanda and Grandmother by Jean Van Leeuwen, illustrated by Schweninger
I am a life-long fan of the Oliver and Amanda Pig books and Grandmother is one of my favorite supporting characters. In this one, when she comes to visit for a week, it shows the ups and downs of having a grandparent come to visit.
Nana Upstairs and Nana Downstairs by Tomie dePaola
I'm not sure anyone creates books that are sweeter than Tomie dePaola, and this one is based on his own childhood. He visits his grandparents each week, but his favorite person to spend time with is his grandmother's mother (Nana Upstairs) who is mainly confined to bed at age 94. She shares candy with him and tells him stories and they both need afternoon naps. When he is four, she passes away and he's devastated until he sees a shooting star from his bedroom window.
I Really Want to See You Grandma by Taro Gomi
Yumi wants to go see her grandmother. And her grandmother really wants to see her! So they both set out to see the other. . .and naturally miss each other on their two trips. Will they manage to meet up? (Spoiler: of course they do!)
Rainbow Stew by Cathryn Falwell
Three young kids are visiting their grandfather who has a big, bountiful garden and, on a rainy day, they head out to the garden to pick vegetables to make into Grandpa's famous Rainbow Stew.
The Bagel King by Andrew Larsen, illustrated by Sandy Nichols
Every Sunday, a little boy and his grandfather enjoy bagels together. But when the grandfather doesn't appear with the bag of bagels one Sunday, the little boy has to take matters into his own hands!
The Giant Hug by Sandra Horning, illustrated by Valeri Gorbachev
Could you send a hug through the mail? In this sweet story, a little boy does just that, with a whole lot of kind postal workers passing the hug along until it reaches the grandmother.
Max and the Tag-Along Moon by Floyd Cooper
When Max has to leave his grandfather's home to go back to his own house, his grandfather promises that the moon will follow him all the way home. And he's right! Max falls asleep in his own bed with the Tag-Along moon shining in through his window.
Grandpa Green by Lane Smith
Grandpa Green wasn't always a grandpa and he wasn't always a gardener. He lived a long rich life, but as he ages, his memory is starting to desert him so he uses his garden to create incredible topiaries that recall moments of his extraordinary life.
Between Us and Abuela by Mitali Perkins, illustrated by Sara Palacios
We read this book dozens of times when it came out last holiday season. Maria and Juan are going with their mother to visit their grandmother, but since they live in California and she lives in Mexico, they'll only be able to spend a few minutes talking together through the border fence. Juan has brought a gift that's too large to pass through fence but Maria comes up with a plan to get it to their grandmother. A sweet book about the love grandkids have for their grandparents.
Our Favorite Day by Joowon Oh
A grandfather has a very specific daily routine. But on Thursday, that routine gets altered a bit. Because on Thursdays, his beloved granddaughter comes to spend the day with him. P.S. The cut paper illustrations in this book are STUNNING.
Stolen Words by Melanie Florence, illustrated by Gabrielle Grimard
When a little girl asks her grandfather to tell her some words in his native language of Cree, he tells her that he doesn't know the words anymore and that they were stolen from him when he was a boy. Based on the author's own grandfather, it's a beautifully illustrated story of the love between a grandparent and a grandchild, even when a grandparent has suffered deeply.
Now One Foot, Now the Other by Tomie dePaola
This is Tally's favorite book right now, while I can barely get through it without weeping. Tomie dePaola gets me every time. Bobby loves his grandfather dearly and the two of them are inseparable (Bobby is named after his grandfather). When Bob has a stroke, Bobby is devastated. Will they ever do the things together they used to do?
Grandpa's Top Threes by Wendy Meddour, illustrated by Daniel Egneus
Henry is delighted when Grandpa moves in with them, but Grandpa is now deeply withdrawn and doesn't listen to Henry at all. So Henry tries a game – tell me your top three in any category! And eventually, Grandpa starts to talk again.
Grandpa's Stories by Joseph Coelho, illustrated by Allison Colpoys
A little girl and her grandfather love exploring together and she is heartbroken when he dies. But as she remembers all their happy memories together, she discovers a way to capture her recollections of their relationship.
Mango, Abuela & Me by Meg Medina, illustrated by Angela Dominguez
When Mia's grandmother comes to live with them, the two soon strike up a sweet friendship. But it's tricky because Mia doesn't speak much Spanish and her Abuela doesn't speak much English. But together, and with the help of a parrot, the two learn to communicate all the things that matter most.
And if you'd like a printable copy of this list of books about grandparents that you can take to your library or screenshot on your phone for easy access, just pop in your email address below and it'll come right to your inbox!
Any other favorite books about grandparents? Please share in the comments!
If you liked this list of books about grandparents, you may like these book lists too: