The audiobook deals just keep coming!
Here are more than 30 MORE cheap audiobooks for kids that are under $2 (and I snuck one in at the end that's under $4 because sometimes on your own blog, you get to make your own rules!).
Especially as we're headed into colder, darker months, I'm definitely stocking up to keep my kids entertained when they no longer can spend hours in the backyard.
I hope you'll find some new favorites too!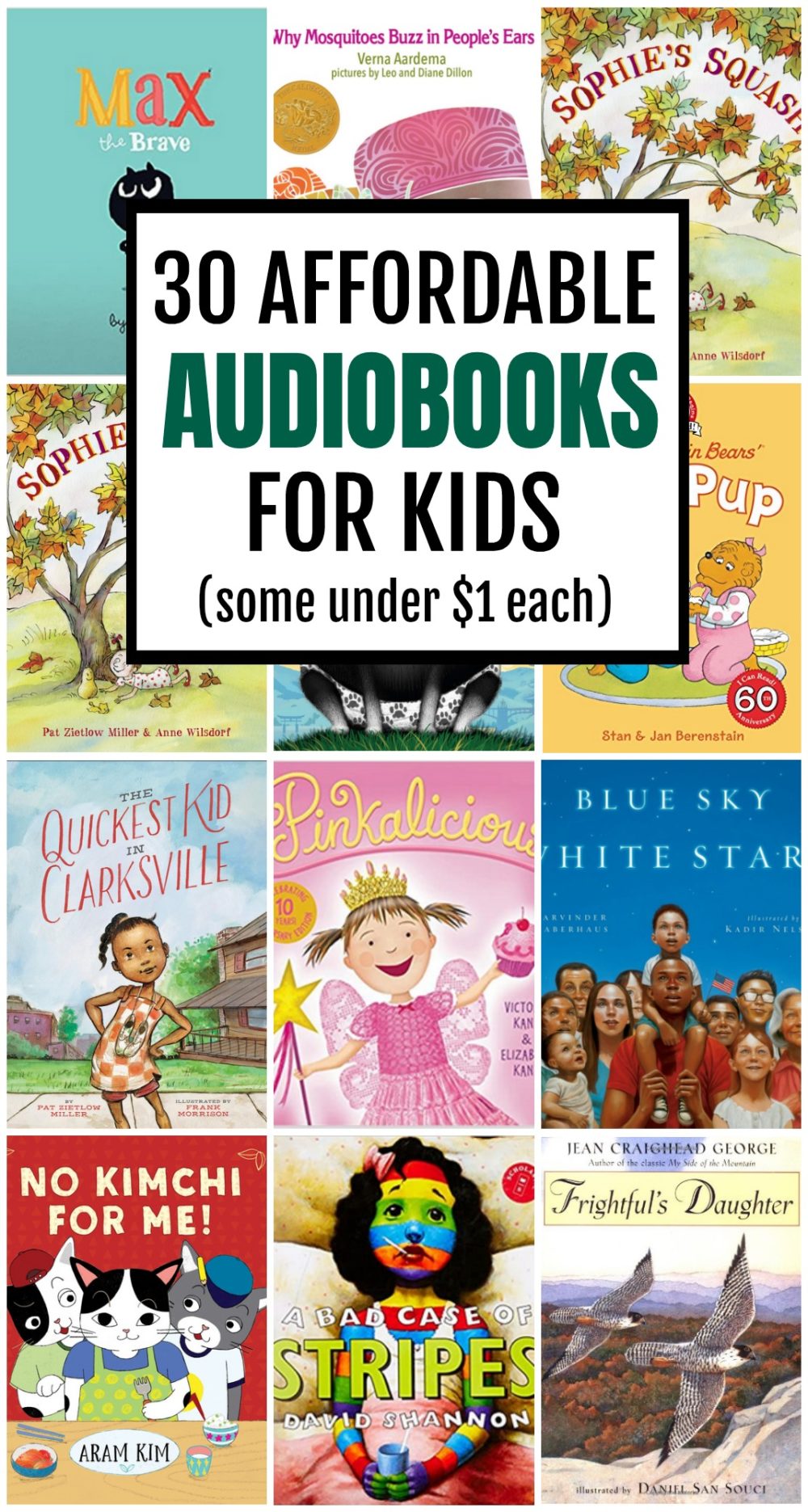 30+ more cheap audiobooks for kids!
Extra Yarn by Mac Barnett

I love this quirky story of a girl who just keeps churning out one yarn project after another, far past what any ball of yarn should be able to sustain.
Little Hoot by Amy Krouse Rosenthal
I absolutely LOVE Little Hoot (and the other books in this series) and the little owl who just wants to go to bed early but has to stay up late because "in this family, that's what we do" never ceases to delight me.
Just in Case You Want to Fly by Julie Fogliano

Are you maybe going to cry listening to this audiobook? It's very possible. Don't say I didn't warn you.
Max the Brave by Ed Vere

Max is a fearless little cat who chases mice. Except. . . he doesn't actually have any idea what a mouse looks like.
Why Mosquitoes Buzz In People's Ears by Verna Aardema

This Caldecott winning picture book is narrated by James Earl Jones and it's truly spectacular.
Sophie's Squash by Pat Zietlow Miller

My girls LOVE Sophie and her beloved butternut squash. Who needs a toy or a doll when you have a squash to take everywhere with you?
The Quickest Kid in Clarksville by Pat Zietlow Miller

Alta desperately wants to be like Wilma Rudolph, the three-time Olympic gold medalist. Can Alta maintain her spot as the quickest kid in town on the day of the big parade?
Sumokitty by David Biedrzycki
When a cat looks for a place to stay, he discovers that he can earn his keep by eating mice.
How Do Dinosaurs Say Goodnight? by Jane Yolen

If you have a dinosaur lover, this series is a home run.
Olivia by Ian Falconer

Just when you thought Olivia couldn't get any better, the audiobook is read by Dame Edna Everage. We have listened to this dozens of times and it never gets old for me.
Bear's Loose Tooth by Karma Wilson

For every child waiting anxiously for their first loose tooth, this delightful book is a gem.
Goldilocks and the Three Dinosaurs by Mo Willems

This might possibly be my all-time favorite retelling of Goldilocks. It's just so darn funny.
They Say Blue by Jillian Tamaki
This sweet book about all the different kinds of color in the world is a delight and can spark some really great conversations about how we all see things differently.
The Berenstain Bears' New Pup by Stan & Jan Berenstain

Bringing home a new puppy isn't easy but the Bear cubs are up for the challenge.
Pinkalicious by Victoria Kann

Tally will listen to Pinkalicious non-stop – she's an absolute super fan (I bought this one because she kept using my Audible credits to buy it via Alexa).
Mother Bruce by Ryan T. Higgins

Have you read the Mother Bruce books? This grumpy bear accidentally lets some little goslings imprint on him and now they're convinced he's their mother.
Blue Sky White Stars by Sarvinder Naberhaus

This lyrical book is a beautiful nod America's history and the images that represent it.
No Kimchi for Me! by Aram Kim

Yoomi is NOT a fan of kimchi. Her brothers give her a hard time about it so she tries everything she can to eat it, but. . . no luck. Until Grandma steps in with a clever solution.
A Bad Case of Stripes by David Shannon

What happens when you come down with a bad case of stripes? It's a surprising solution!
Ballet Cat: What's Your Favorite Favorite? by Bob Shea
This easy reader book (along the lines of Elephant and Piggie) is just a delight and a perfect read-aloud.
Edmund Unravels by Andrew Kolb
Edmund is a ball of yarn who always wants to be exploring. Is he ready to go out and discover the world beyond his front door?
Interrupting Chicken and the Elephant of Surprise by David Ezra Stein

Should every good book have the elephant of surprise? Or is it the ELEMENT of surprise?
Fancy Nancy by Jane O'Connor

There's no one fancier than Nancy and this book that kicks off this massively popular series is one my girls love to listen to on repeat.
Frightful's Daughter by Jean Craighead George

If you've read My Side of the Mountain, this is a delightful picture book about Frightful, Sam's beloved falcon.
The Kissing Hand by Audrey Penn

If you can't read this one without tearing up a little, an audiobook is a really good solution.
Splat the Cat by Rob Scotton

It's the first day of school and Splat is very worried about making friends. So naturally he brings his best mouse pal along to cat school. What could possibly go wrong?
Brown Bear, Brown Bear, What Do You See? by Bill Martin Jr.
I'm not sure there is ANY board book I have read more in my life than this one.
Pinch and Dash and the Terrible Couch by Michael J. Daley
This funny book reminds me a lot of Frog and Toad with two neighbors that are trying to deal with the delivery of a terrible couch from an aunt who is downsizing and trying to offload her belongings.
Mr. Putter & Tabby Turn the Page by Cynthia Rylant

This easy reader chapter book series is a hit with so many preschoolers and early elementary schoolers – in this edition, Mr. Putter goes to the library for some new reading material. But the library might be less quiet and calm than they expect.
The Case of the Missing Jelly Donut by Denys Cazet

I LOVE Minnie and Moo and their completely absurd adventures.
Penny and Her Song by Kevin Henkes

This book has been a favorite for years at our house – every one of my girls has absolutely LOVED the adventures of Penny the mouse.
Cowgirl Kate and Cocoa by Erica Silverman
If you come over to our house on a random day, the odds of this audiobook playing are at least 50%. I've snapped them up on sale before and they never fail to calm a grumpy toddler down.
The Otter by Cynthia Rylant

This short book is one of several in a series about all kinds of different animals that live near a lighthouse.
Rise of the Earth Dragon by Tracey West

Clocking in at almost an hour, this fantasy adventure is perfect for an afternoon at home or a lot of errands around town in the car.
If you grab some of these audiobook deals, let me know! I'd love to hear which ones are your favorites!
And if you'd like a printable copy of this list that you can take to your library or screenshot on your phone for easy access, just pop in your email address below and it'll come right to your inbox!
If you liked this list of cheap audiobooks for kids, you might like these posts too: