The books currently taking up residence on my bedside table all of which have been very enjoyable books: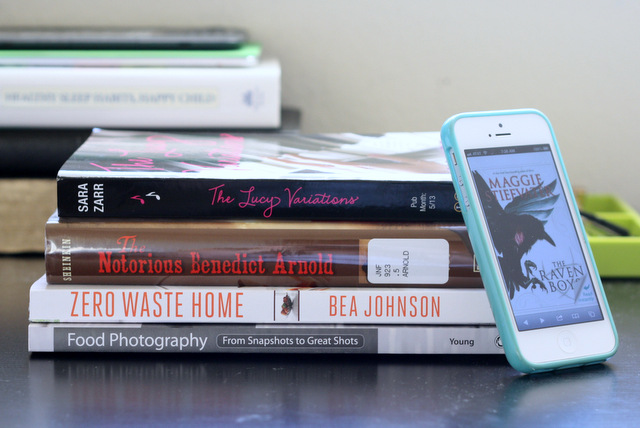 a list of enjoyable books
The Raven Boys by Maggie Stievater – I've put off this book for ages because it sounded too fantasy to me, but actually it's not overly so. Also Elizabeth highly recommended it, so I gave it a chance. It's good enough already that I want to go running in the morning just to listen to twenty minutes of it.
The Lucy Variations by Sara Zarr – I'm a Sara Zarr fan-girl for life. She just writes such amazingly good books.
The Notorious Benedict Arnold by Steve Sheinkin – This is the author that wrote Bomb, and although this one is good, I'm not loving it like I loved Bomb. I guess I'm just more interested in the development of the atomic bomb than I am in Benedict Arnold.
Zero Waste Home by Bea Johnson – I found out about this book from Landen, and it is a seriously eye-opening read. I am certain I'll never have butter be the only processed/wrapped food I buy, but I am definitely motivated to reduce the waste we produce.
Food Photography: From Snapshots to Great Shots by Nicole S. Young – Because I don't want all my food photos to look like this, forever.
And if you'd like a printable copy of this list that you can take to your library or screenshot on your phone for easy access, just pop in your email address below and it'll come right to your inbox!
Anyone reading anything good at the moment?
if you liked this post about what is on my bedside table, you might also like these other posts: