One of my roommates in college is a Texan, and she was horrified when she discovered that I made enchiladas with flour tortillas. Apparently this is unbelievably unauthentic.
I'm sorry, but I just do not like corn tortillas. I prefer deliciously unauthentic flour tortillas. Unless someone in our family is struck down with a gluten intolerance, we will continue to be a strictly flour tortillas family, even in enchiladas.
I actually never liked enchiladas growing up, but I've since repented of my evil ways and now they are my go-to dish when I need to hide vegetables I don't like. Or when I need to use up tons and tons of CSA stuff.
Kale is my vegetable nemesis (I know, I know, have I heard of kale chips? Yes. Bart told me never to make them again. And I agreed), but I actually ate multiple servings of these kale enchiladas.
I also invited some friends over for dinner when I made this and the husband had three servings and then said, "I really want more, but I'm afraid I'm going to make myself sick." I felt very proud.
I made these Crockpot BBQ Chicken Sandwiches the night before and then just used the leftover chicken for these enchiladas. Or, you could just shred some cooked chicken and marinate it in some BBQ sauce for a couple of hours beforehand.
And, after months of resisting, I finally switched to Natalie's method of stacking enchilada ingredients (more like a lasagna) rather than rolling up the filling. I don't find the rolling particularly tedious, but I was forced into it when I was making enchiladas a few weeks ago and discovered I had a total of three tortillas. People, I'm never going back – more room for veggies, quicker assembly, and no trying to eyeball how much filling to put in each tortilla.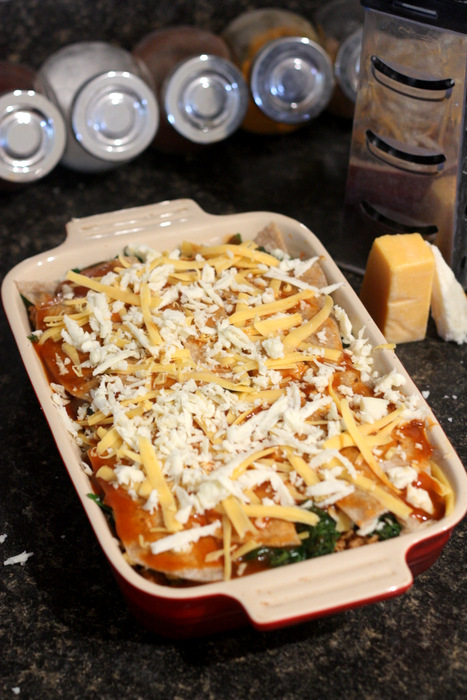 stacked bbq chicken and kale enchiladas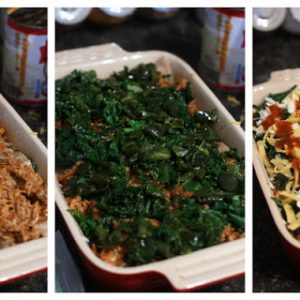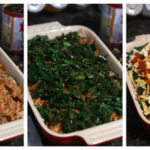 Stacked BBQ Chicken and Kale Enchiladas
These kale enchiladas are delicious and easy to throw together!
Ingredients
Olive oil

Salt and Pepper

4

poblano or bell peppers

diced into 1/2-inch squares

2

bunches of kale or spinach

I used a mixture of the two, coarsely chopped (if you're using kale, make sure to cut the stems out)

3-4

cups

shredded BBQ chicken

linked below is the recipe I use

6

flour tortillas

sliced into 1-strips

2

10 oz

cans red enchilada sauce

3

cups

shredded cheese

I used cheddar and Monterey Jack
Instructions
Preheat oven to 400 degrees.

Spread the diced peppers on a baking sheet and toss with 2 tablespoons of olive oil. Season with salt and pepper and roast for 20-30 minutes, until some of the edges are brown. Reduce heat to 375 degrees.

Meanwhile, heat up 1 tablespoon of olive oil in a large skillet. When hot, add kale, stir to coat with oil, and then cover and let steam for about 3 minutes. If you're using spinach too, add it at the end of the three minutes and let it all steam about 1 minute more, until it's bright green and wilted.

In a 9x13 pan, spread a thin layer of enchilada sauce. Arrange two of the sliced tortillas over it. Spread half of the

shredded chicken

over it, then half of the kale/spinach, and then half of your peppers.

Cover with 1 cup of shredded cheese, then 1/3 of the remaining enchilada sauce (about 1 cup).

Arrange another two tortillas over this, then do the other half of the chicken, kale/spinach, and peppers. Sprinkle on another cup of cheese and enchilada sauce.

Finish with the last two tortillas, the remaining tortilla sauce, and the last cup of cheese.

Bake for 25 minutes, covered with foil, then remove foil and cook 10 minutes more, until the cheese on top is bubbling and slightly brown.
if you liked this kale enchiladas recipe, you might also like these other posts: