One of the bedrock parts of our family culture is inviting people over to our home.
We try to have a different family over for Sunday dinner at least once or twice a month and we also host quite a few get-togethers over the year, including our annual Pi Day party, our New Year's Eve fondue party, and lots of other events.
Over the years I've gotten better at putting on dinner for a bigger group and I've had several requests for a list of my go-to meals for large groups.
These are tried and true favorite easy meals for large groups that we've made dozens of times!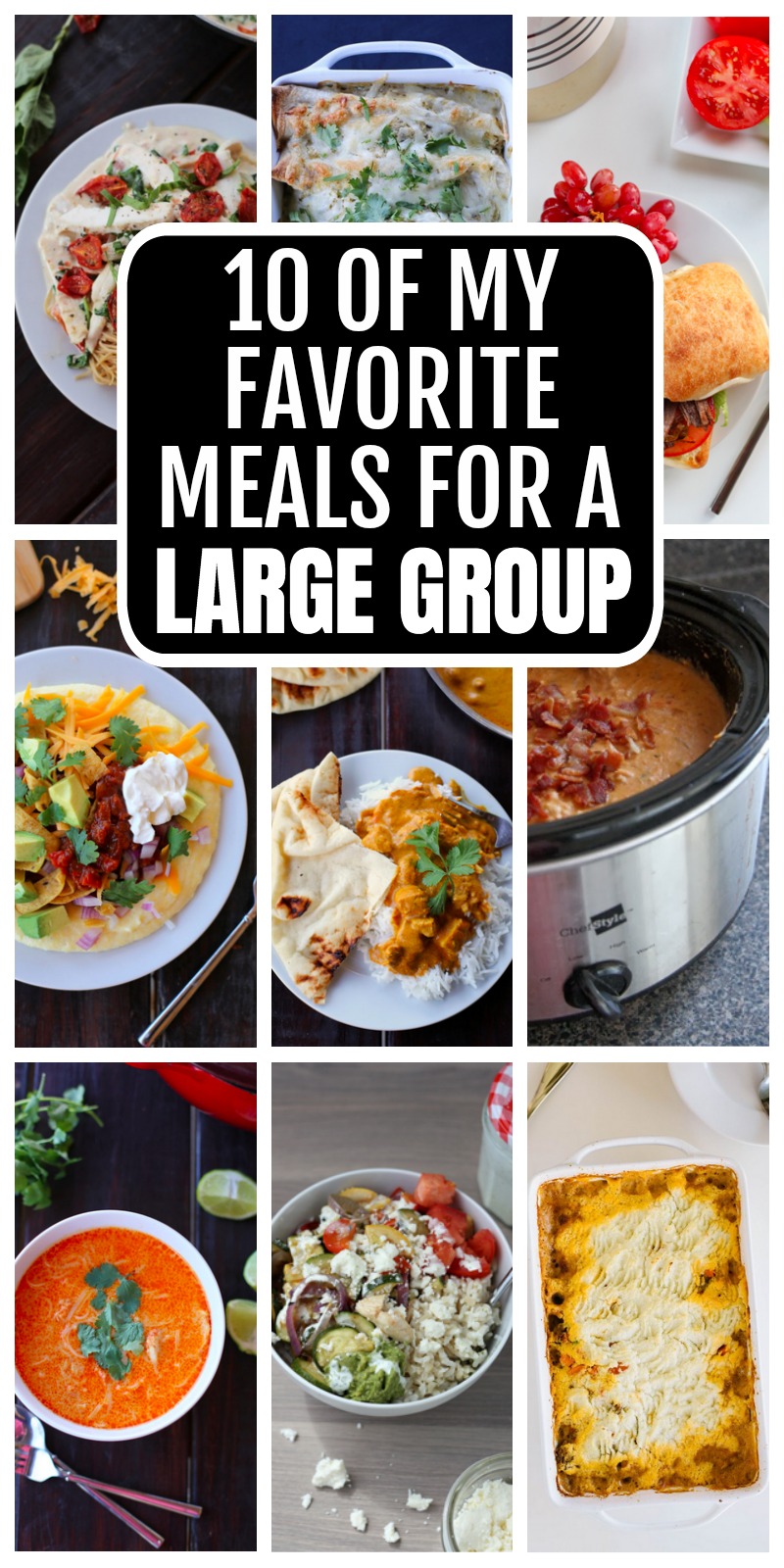 10 of my favorite meals for large groups
15-Minute Thai Chicken and Noodle Soup
This is such a winner – it's super fast, flavorful without being too spicy, and gluten and dairy free. Add a pile of naan bread and some fruit and dinner is served!
5 Ingredient Green Chile Enchiladas
These enchiladas are THE best enchiladas, plus you can assemble them ahead of time and then just pop them in the oven before dinner time.
Easy Indian Butter Chicken
This is a deceptively simple recipe and one my girls request most of the time on their birthday. Plus, when you have rice, most kids will eat that even if they don't like the sauce that goes on top. This is also really easy to double, which makes it an even greater meal for large groups.
Slow Cooker Shredded Beef and Pepperoncini Sandwiches
I LOVE a good crockpot meal for large groups because you can throw it in first thing in the morning and you don't have to worry about it while you get your house cleaned up or set the table. And these are super delicious.
Roasted Vegetable and Chicken Rice Bowls with Guacamole and Ranch
This is not the easiest, quickest meal in the world, but it's so good for a group because everyone can build their own (kind of like Hawaiian Haystacks but with no cream of chicken soup). I've made this at least a dozen times when we've had people over for dinner and it's a hit every time (and this is the dish Bart always suggests we serve when we have company over).
Sweet & Spicy Chili Polenta
I like this dish because it feels fancy but it's really super simple (and you can make the chili ahead of time). Like the previous recipe, it's a perfect "build-a-meal" dish. And any chance you have to Fritos? I say take it.
Crockpot Jalapeño Popper Chili
You know I love my crockpot and never more than when we're having people over. And you cannot go wrong with a dish that includes cream cheese and bacon.
Balsamic Chicken Pasta with Spinach and Baby Tomatoes and Goat Cheese
I am not a huge pasta fan, but this one is SO DANG GOOD. It feels a little fancier than your average pasta dish, but it's still super easy and family friendly.
Creamy Tuscan Chicken Pasta
This is another pasta dish that makes me rethink my stance on pasta. So flavorful, delicious and an easy meal for a crowd!
Shepherd's Pie
This a one of those perfect meals for large groups because you can assemble it ahead of time and bake it just before dinner is served while you prep everything else.
What are your go-to meals for large groups? And pizza delivery is a perfectly acceptable answer!
If you liked this post about meals for large groups, you might enjoy these posts too!