For more than 4 years, this simple Thai Noodle Soup has been one of my go-to recipes when I need a quick dinner that isn't pancakes. It's so easy and absolutely delicious! And one pot? Count me in!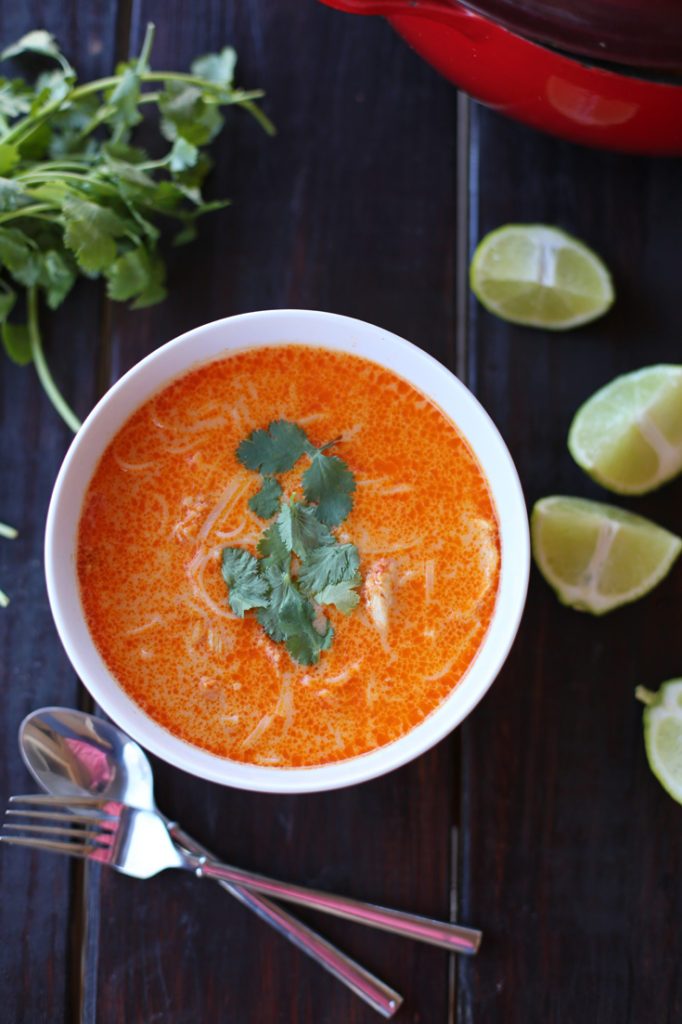 I made this Thai noodle soup for the first time about four years ago, and it instantly became one of my go-to meals.
It's so quick and I always have the stuff around to make it and the only thing better than having it for dinner is eating leftovers for lunch the next day.
At Christmas time a few years ago, some of our very favorite friends, Blakely and Lindsey, from Texas came for dinner. They'd lived below us in our apartment complex for nearly three years and over that time we ate scores of meals together, swapped babysitting almost every weekend, and sent approximately ten million texts asking if the other had an extra egg or a few teaspoons of vanilla. I cried the day they moved, even though we were moving to North Carolina less than a month later.
Blakely avoids gluten and dairy, and this soup nicely satisfies those requirements without seeming like you're missing out. As we finished up dinner, he sat back and said, "Janssen, I really miss your cooking."
Which was basically the nicest thing he could have said. (You know that Mark Twain line "I can live for two months on a good compliment."? You and me both, Mark).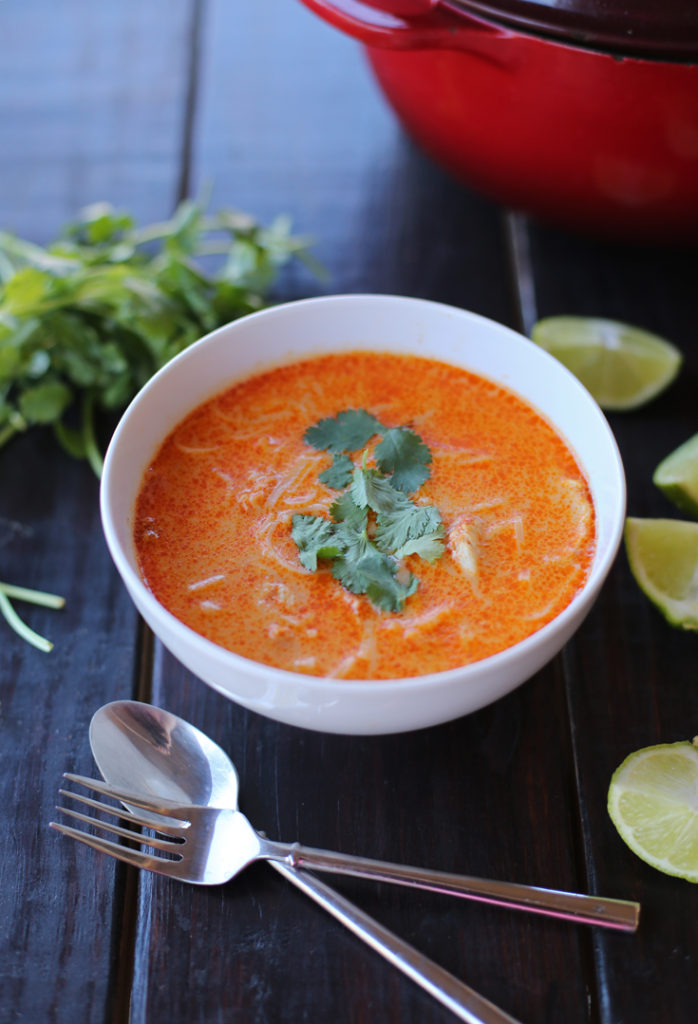 And then we all got back to reminiscing about how convenient babysitting was back when we lived five feet apart.
And also about that crazy time that the college kids who lived above us had a big party and one of the boys got quite drunk and fell from the third floor balcony straight past our balcony and landed just in front of Blakely and Lindsey's patio door, where they rushed out when they heard the thud to find him lying on the ground, totally unconscious, and they got to call 911 and within minutes, we had six cop cars, two ambulances, and a firetruck outside our building.
Unbelievably, he survived with only a couple of broken ribs, although his parents came and moved him out a few days later.
And. . .that story has nothing to do with this Thai noodle soup.
But you should definitely make the soup.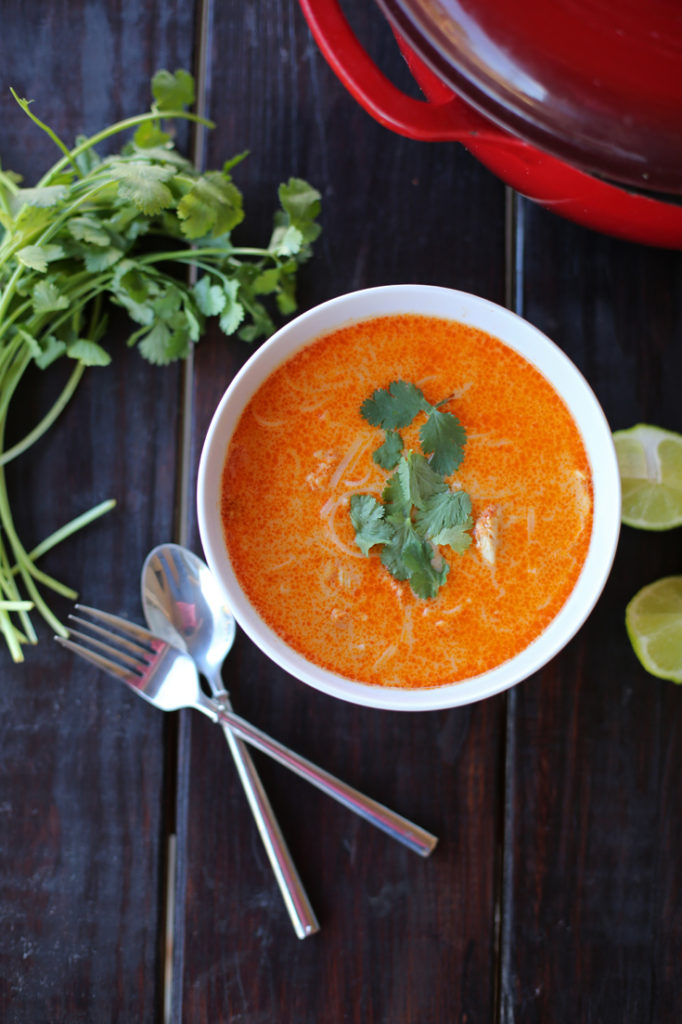 15 Minute Thai Noodle Soup with Chicken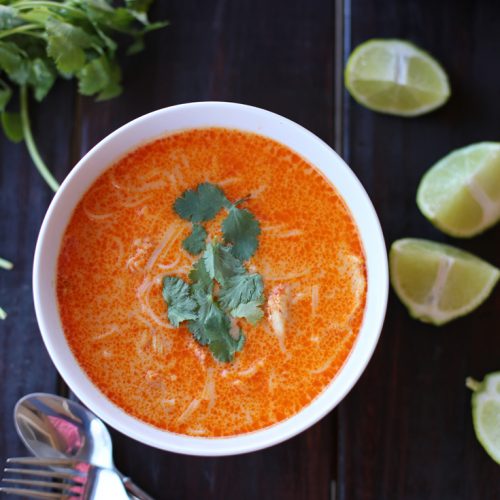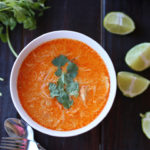 15-Minute Thai Chicken and Noodle Soup
This delicious Thai Chicken and Noodle Soup only takes 15 minutes and is a crowd pleaser!
Ingredients
2

tablespoons

vegetable oil

3

garlic cloves

finely minced

1

tablespoon

fresh ginger

grated

3

tablespoons

Thai red curry paste

1-2

boneless

skinless chicken breast (frozen is fine)

1

can

14.5 oz coconut milk

2

cups

water or chicken broth

2

tablespoons

fish sauce

6

oz.

dried rice sticks

or the thinnest rice noodles you can find

1

Tablespoon

lime juice

salt to taste

cilantro

optional
Instructions
In a large dutch oven or stock pot, heat the vegetable oil over medium-high heat and add garlic, ginger, and curry paste. Stir to combine and let cook for a few minutes, stirring occasionally.

While that cooks, slice the chicken breast into thin slices (if it's still frozen, defrost it for a minute or two in the microwave and then cut it while it's still frozen-ish). Add to mixture on the stove, stirring to coat, and cook until the chicken is cooked on the outside (it doesn't need to be cooked all the way through).

Add the coconut milk, water or broth, and fish sauce and bring to a simmer. Add the rice noodles (I usually break them up so they aren't so hard for my kids to eat) and let cook for 3-5 minutes, until they are soft, then add the lime juice and salt to taste.

Serve hot, topped with cilantro if desired.
Recipe Notes
I use the very thinnest rice sticks I can find (they're thinner than angel hair pasta!). If you use a thicker one, they'll soak up more liquid, so you may want to add an additional 1-2 cups of chicken broth. 
(adapted from The Woks of Life)
if you liked this thai noodle soup recipe, you might also like some of these posts: