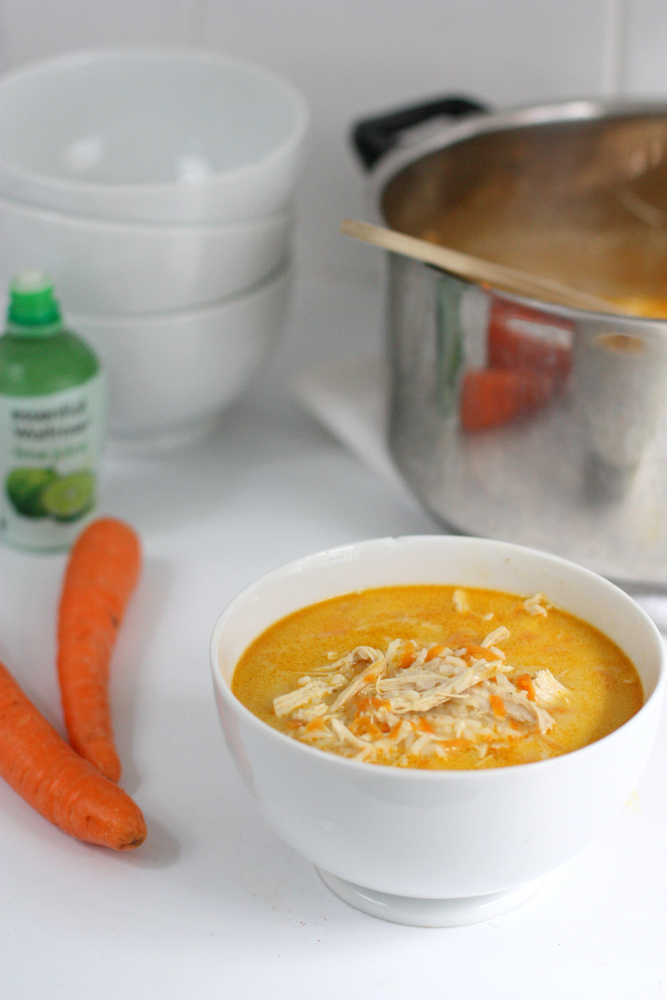 Of course, I hadn't even remotely thought about making it myself yet, but her recommendation spurred me to action.
Kayla was not wrong. And not only did it taste amazing, but it was also super quick and easy. Totally the perfect fall dinner.
Bart and I both had second helpings, even when we were approaching the overly-full point, and I'm eagerly looking forward to having the leftovers for lunch today.
One perk of being pregnant is that you can pretty much always claim the leftovers (and, conversely, you can claim that the baby is not in the mood for unappealing leftovers).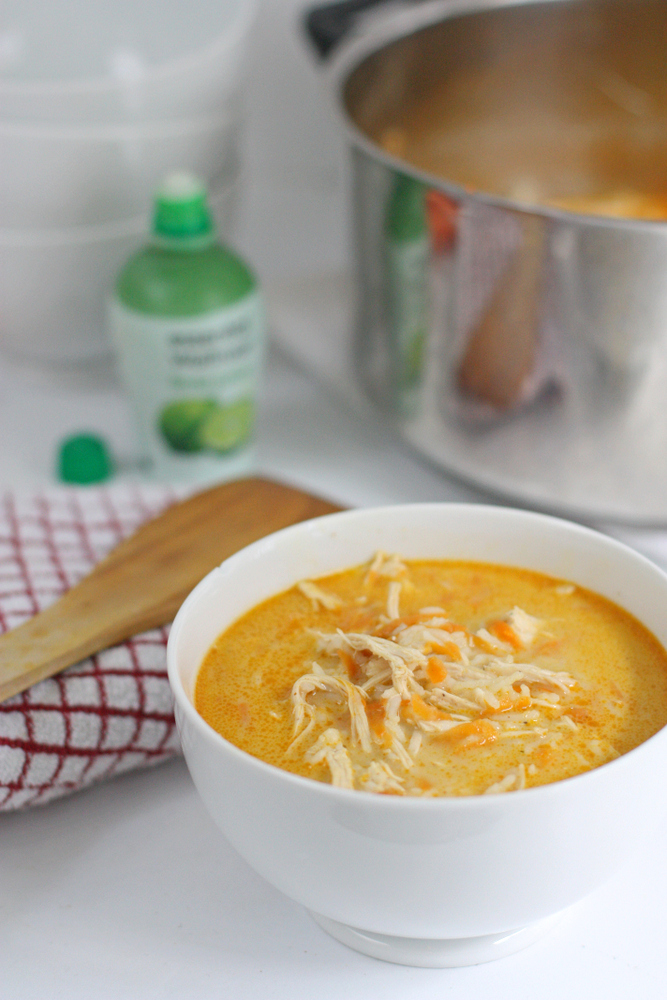 Thai Coconut Soup with Chicken and Rice
Note: I used 1/4 teaspoon of chili powder when I made it and it was pretty spicy (my lips were tingling by the time I finished my bowl and we put sour cream in the girls' servings to cool it down so they could eat it). But the chili powder I used, which was already in the cupboard of this London flat, was labeled "hot chili powder" so it may have been extra spicy. I'd start with the 1/8 teaspoon and add more if you want more heat.
3 Tablespoons butter
1/2 teaspoon curry powder
1/4 teaspoon cinnamon
1/4 teaspoon ginger
1/4 teaspoon. paprika
1/4 teaspoon salt
1/8 teaspoon chili powder (or 1/4 if you like it hotter)
1 large carrot, grated
2 cups chicken broth
1 15-ounce can coconut milk
1-2 chicken breasts, cooked and shredded
1 1/2 cups cooked rice
2 Tablespoons lime juice
1 Tablespoons soy sauce
In a large pot or dutch oven, melt the butter over medium heat, then stir in the spices and let cook for about 30 seconds, stirring frequently. Add the carrots, stir to combine and let cook, stirring occasionally, for about 5 minutes, until the carrots are soft.
Add the remaining ingredients and bring to a low boil, then let simmer for about 5 minutes. Salt and pepper to taste and serve immediately.
We ate ours with naan bread which was not a bad decision.