What I want from my crockpot is something I can throw in early in the morning and not think about again until it's time to eat.
Also, I want it to taste delicious. And I want it not to include a bunch of fake ingredients. And I don't want a lot of fussy steps at the beginning like precooking things or adding things half-way through. AND (I know, I ask a lot here. . .I'm kind of annoyed with me), I want it to cook all day long. It always bothered me when I was working full-time when recipes cooked for four hours. Who is starting a crockpot meal at two in the afternoon!? I need something that can cook all day without burning or going completely dry.
This is that meal. I make this any time I am taking a meal to someone because it is so delicious, it takes about five minutes to throw together and, bonus, it's inexpensive. Add some biscuits or muffins and, ta-da! Dinner is served.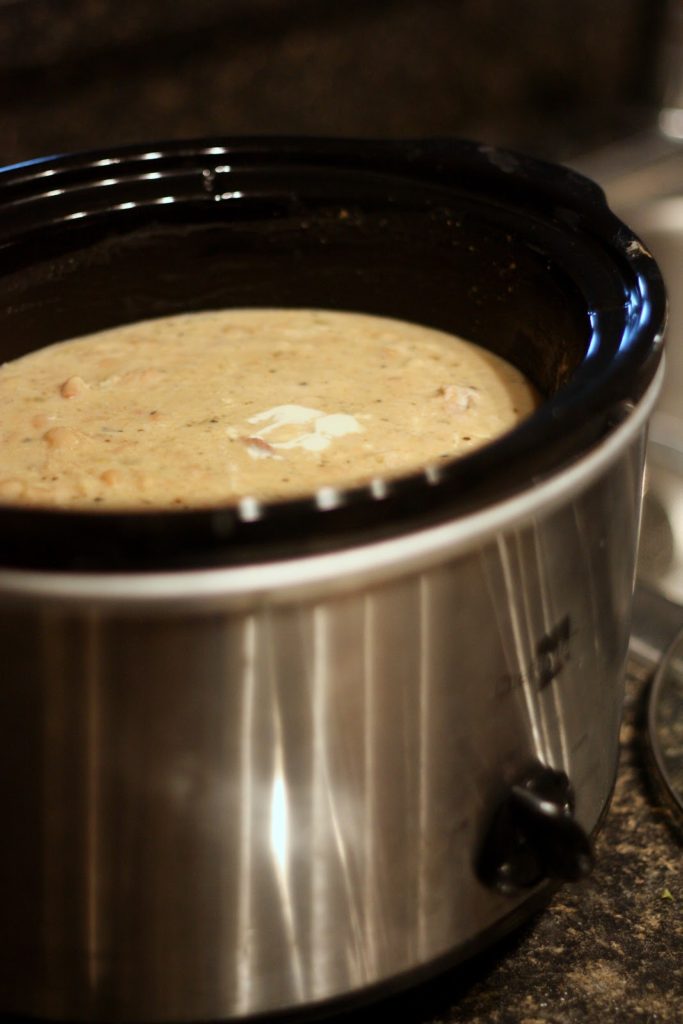 Crockpot Chicken Chili
Ingredients
2

chicken breasts or thighs

frozen or fresh

1/2

onion

chopped

2

tsp

minced garlic

1

pound

dry white beans

5

cups

chicken or vegetable broth

1

can

4 oz chopped green chilies (or two cans if you really like things spicy)

1

teaspoon

salt

1

teaspoon

ground cumin

1

teaspoon

dried oregano

1/2

teaspoon

pepper

1/4

teaspoon

cayenne pepper

1

cup

sour cream

1/2

cup

whipping cream
Instructions
Rinse dried beans thoroughly and toss them in the crockpot. Add everything else except the sour cream and whipping cream. Stir a little bit and cook on low for 7-10 hours.

Shred the chicken a little bit with two forks (this should be super easy - the chicken will be falling apart by this point). Stir in the sour cream and then the cream. Let sit for another 15 minutes or so to warm through. Serve.
Recipe Notes
Quick-cooking method:Use 3 cans of beans instead of dry beans. Rinse beans thoroughly before adding to crockpot and decrease broth to 3 cups. Cook for about 4 hours. Vegetarian version: Leave out the chicken and substitute vegetable broth for the chicken broth
(slightly adapted from Mel's Kitchen Cafe)