One thing that always makes my life feel much less overwhelming is having a dinner plan.
I can always tell when I'm letting my meal planning or dinner prep fall apart, because I just have this low-level anxiety all afternoon as dinner gets closer and closer and I have no clue what we're going to eat.
For me, the ultimate is a crockpot meal.
I love that I can just toss everything in first thing in the morning while the girls eat breakfast and then I don't really have to think about it again for the rest of the day. Heaven!
Plus, nothing makes me feel more on top of my life than knowing dinner is taken care of by 8:30 a.m.
And winter is such a cozy time for stews or hot sandwiches that make your house smell amazing. Maybe that's just because I want more time to snuggle up on the couch with a blanket and a stack of books.
Either way, these are twelve of my favorite slow-cooker meals that I plan to have in heavy rotation all winter long.
I hope you find a new favorite (or several new favorites!) here: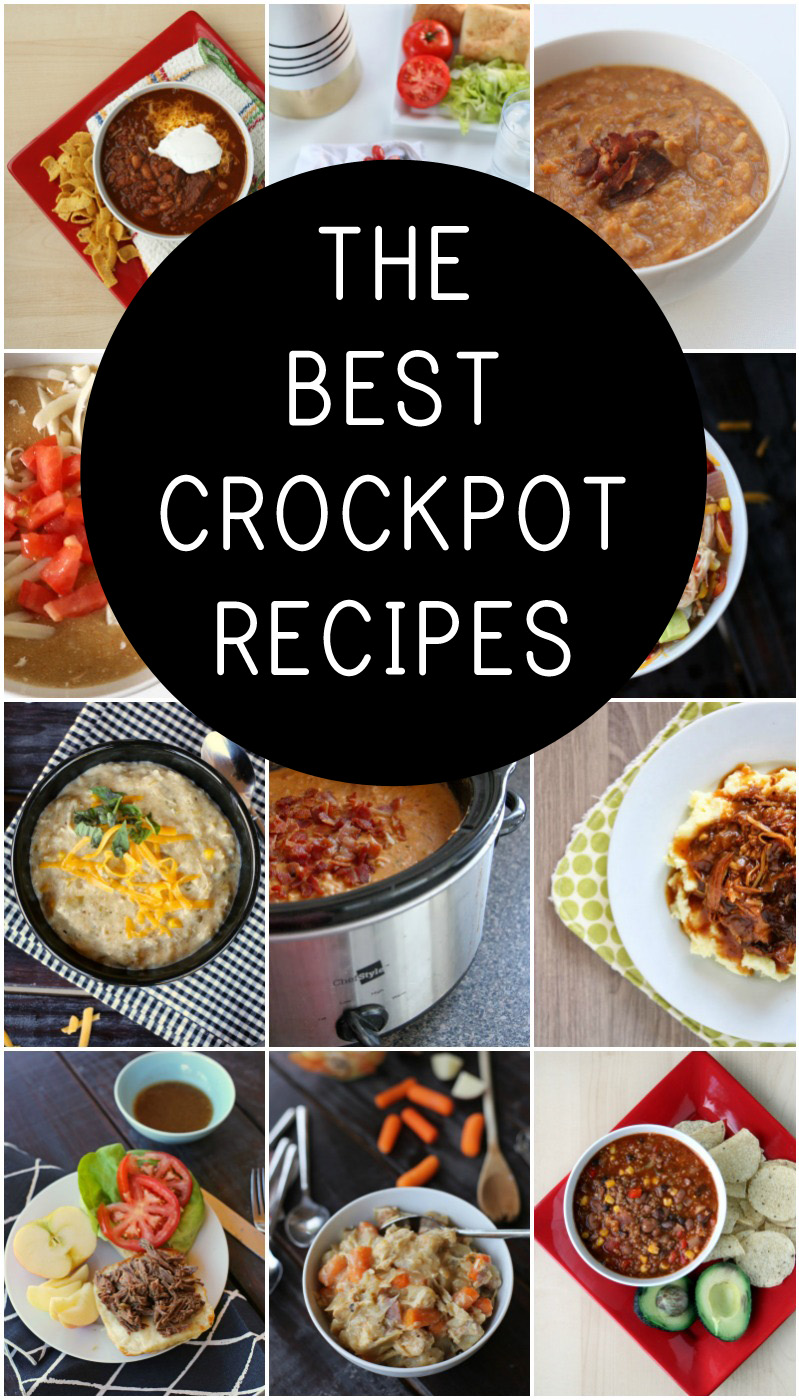 easy crockpot meals
Easiest Crockpot French Dip Sandwiches
This is basically Bart's favorite meal on earth. Also my girls all love it, and then can't really understand what's going on when we have sandwiches that don't have a dip. And so freaking easy.
Creamy Green Enchilada Crockpot Soup
This one is SO delicious – I love how hearty it is and it couldn't be easier. It's not spicy, but it's loaded with flavor.
Creamy Chicken Crockpot Stew
I made this more times last winter than I can count – everyone would eat it and it was the perfect vegetable-packed dish that everyone would eat. And your house smells like heaven.
Slow Cooker Chicken Tortilla Soup
I love a good tortilla soup in summer or winter, and this one is a stand-out. Simple and  packed with flavor and just the best easy dinner that everyone likes.
Slow Cooker Vegan Quinoa Chili
We don't eat a lot of vegan dishes around here, but this one has remained a long-time favorite. Of course, we cheat by loading it up with sour cream and cheddar, but either way it's fantastic.
Slow Cooker Shredded Beef and Pepperoncini Sandwiches
If I had to choose a very favorite dinner, it might be these sandwiches. Oh man, I never get tired of them – they are SO good. If we have extra meat leftover, I scramble them with eggs for breakfast or put them in a tortilla shell.
Slow Cooker Steak Chili
I'll admit that regular chili doesn't do a lot for me, so I was skeptical about this one, but it's turned out to be a family favorite. It's just AMAZING.
Crockpot Jalapeño Popper Chili
Jalapeño poppers make me think of football season, even though I am probably the least enthusiastic football fan on the planet. If I ever got invited to a football-type party, I would totally bring this, but as it is, I just make it for dinner and forgo any football related anything.
Crockpot Pork with Dried Plums and Mashed Potatoes
I love a sweet note in a savory main dish and this one is perfect. I made this a few times and then kind of forgot about it for a couple of years, and then when I made it again, Bart said, "I've been remembering this meal for the last two years! I'm so glad to have it again!" Now I don't make the mistake of waiting two years in between making it.
Crockpot White Chicken Chili
This is the first recipe on my blog that really went viral and it got tens of thousands of well-deserved repins. I've made it dozens of times over the years, and every time I love it just as much as I did the first time. It's also my go-to meal when I need to take dinner over to someone.
Crockpot Enchilada Soup
This is rich and creamy but not because it's packed with cream – the pureed vegetables and beans make it that way, and it's amazing.
Bacon-Topped Sweet Potato and Ham Soup
I first made this to use up some leftover ham, and it was so ridiculously good, I started buying ham just for this dish.
And if you have favorite crockpot meals, I'd love to hear about them, because basically I'd like to be making a crockpot dinner 6 times a week (and then leftovers on the 7th day!).