My dinner philosophy basically boils down to this: if there is any way possible to cook something in the crockpot, I'm going to cook it in the crockpot.
(That and "what in the fridge needs to be used up? Because somehow, it's going into dinner.")
I actually made this in June, when I was working my way through my fridge and freezer leading up to our move, but crockpot recipes seems so much more fall/winter to me, that I've saved it until now (although, frankly, who wants to cook over a hot stove during the summer? There is no part of the year that isn't great for the crockpot. I have definitely gotten my money out of the $15 one I bought at the grocery store a couple of year ago).
Anyway, whether you make this tomorrow or wait until next summer, it's a really excellent recipe. And ridiculously easy. Like basically every crockpot recipe I've ever shared on this blog, there are no pre-steps required. Toss everything in the crockpot, and let it do its thing.
In the meantime, lets discuss how "dried plums" is a WAY more appetizing term than "prunes." Okay, good. Glad we're all on the same page here. (By the way, I'm not a huge prune/dried plum fan, but in this, they basically fall apart and become part of the sauce. No big chewy chunks of dried fruit in the final product).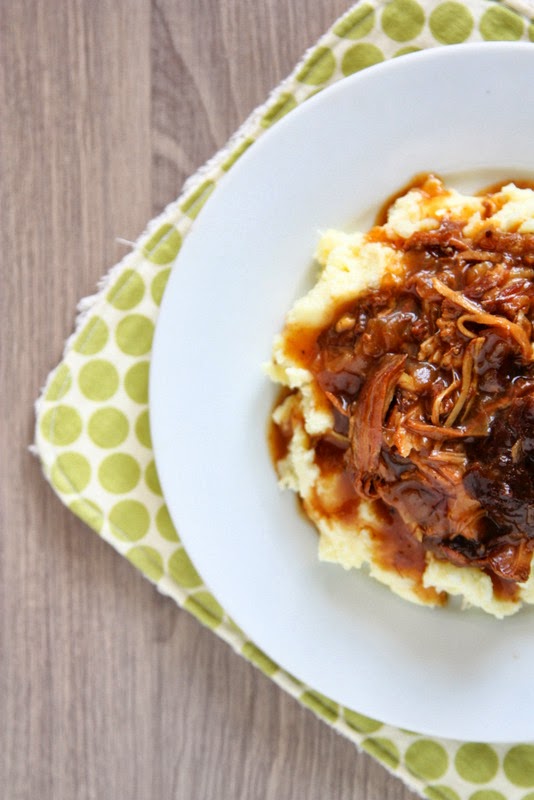 crockpot pork with dried plums and mashed potatoes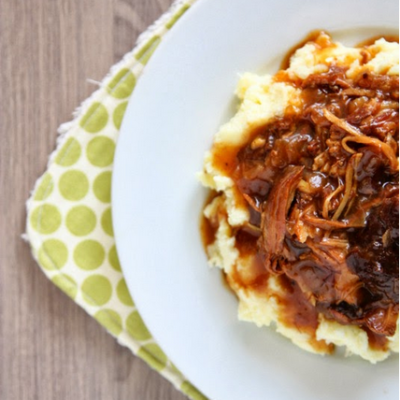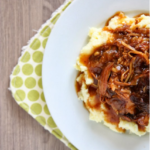 Crockpot Pork with Dried Plums and Mashed Potatoes
Total Time
6
hours
5
minutes
Ingredients
1

yellow onion

chopped

1

lb

pork tenderloin

fresh or frozen - mine was frozen

1

tablespoon

all-purpose flour

Coarse salt and ground pepper

1

cup

pitted dried plums

or prunes

1

cup

chicken or vegetable broth

1

cup

apple juice

Mashed potatoes

for serving
Instructions
Place the chopped onions in the bottom of the crockpot. Set the pork tenderloin on top of the onions. Sprinkle with flour, then generously season with salt and pepper. Add the prunes, then pour the broth and juice over the top of everything. Cover and cook on low for 6-8 hours, until pork shreds easily with a fork.

Shred pork with two forks, stir to combine with the sauce, and salt and pepper to taste. Serve over mashed potatoes.
if you liked this crockpot pork with dried plums recipe, you might like these other recipes: