There are a lot of things I am not good at (remembering to buy paper towels, making up stories for Ella, keeping my kitchen floor clean, not losing bobby pins, staying calm when I hurt myself, keeping track of my sunglasses, keeping my books pristine, etc, etc, etc. This list could be very long).
But I am very good at trying new recipes. Especially because I have a habit of, at the last minute, deciding that what I planned to make for a given occasion – dinner, a party, a snack – is completely boring and I'd rather make ANYTHING else.
When I post full recipes here, it's usually ones that I've made at least a couple of changes to. These recipes, on the other hand, are ones that I pretty much made as written, and don't need to be rehashed in great detail. They just need to be shared.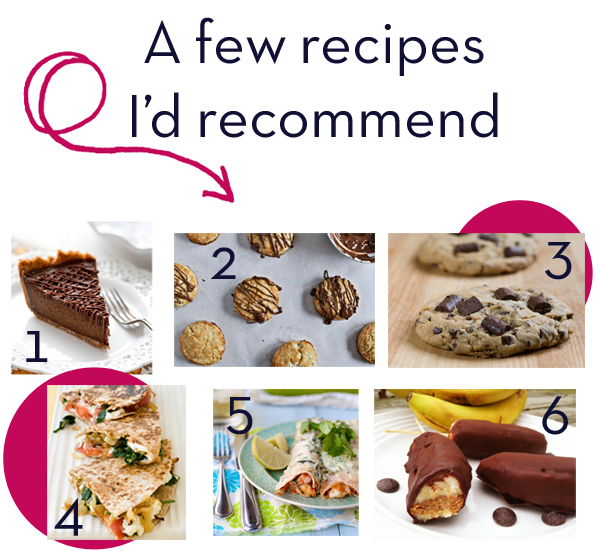 1. Triple Chocolate Pumpkin Pie: This was my Pi Day pie. And it was delicious and completely easy. I skipped the chocolate over the top because. . . lazy.   
2. Almond Joy Scones: I am a scone addict. And these are some of my favorites. They aren't overly sweet (again, I skipped the chocolate glaze), and they were fantastic.
3. Salted Caramel Chocolate Chip Cookies: I made these cookies for a church event and I thought they were quite excellent. They had a leeetle bit of a chemically taste to me because I used the remainder of an old old bottle of ice cream caramel sauce – when I make them again, I'll make my own caramel sauce.
4. Goat cheese, Caramelized onion and Spinach Quesadillas: This was one of those "Saw it on Pinterest and made it for dinner ten minutes later." It was also a smash hit. Bart and I loved them.
5. Vegetable Enchiladas with Roasted Poblano Sauce: I left out the shrimp because, although I like shrimp well enough, I never like it when I make it at home. The first time I made it, I used chicken instead. The second time, I just made them vegetarian. This was the best way to use up an enormous CSA cabbage ever.
6. Cinnamon and Vanilla Almond Butter Banana Pops: I made these on Sunday afternoon and they were instantly Ella's favorite snack of all-time. The second time I made them, I used a mixture of almond butter and peanut butter (for the very important culinary reason of being almost out of almond butter) and I liked them a little better that way. But, you know, we scarfed them down both ways. No reason to quibble.
Any recipes you think I should make for dinner tonight instead of whatever is on my menu? Desserts and snacks are welcome substitutes for dinner in this house.