There are only 20 books on the 2×2 list each year, and Jeff Mack wrote and illustrated two of them this year.
And he illustrated a third one on the list written by someone else.
So, yes, he might be someone to keep an eye on. Ella has already declared herself a big fan (if the number of times we've read his books in the last few weeks is any indication). Check him out if you aren't familiar with his books.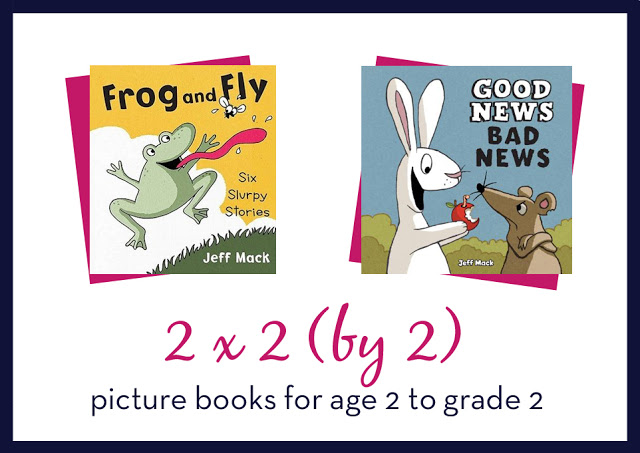 Frog and Fly: Six Slurpy Stories by Jeff Mack. I've discovered that I have a very difficult time reading books that are done in speech bubbles out loud. Maybe if I used different voices (I know, what kind of librarian AM I? I don't even do voices?) it'd be easier, but they pretty much all sound like my regular voice so without the "said Frog" to note who the speaker is, it's a little confusing for my one-girl audience.
Either way, these little stories, where the Fly invariably gets slurped up by the Frog, are very amusing and fun. Ella gets a big giggle out of them every time (except in the last story where FROG gets slurped up – she seems really disturbed by this).
Good News, Bad News by Jeff Mack. I've seen this one floating around for quite some time (I even have a poster of it sitting in our library basket that the publisher sent me), but we never got around to reading it until it showed up on this list.
It only has four words in the whole thing, "Good," "Bad," "News," and "Very."
These two friends, Rabbit and Rat, are polar opposites. No matter what happens, Rabbit finds some good news. And no matter what happens, Rat finds some bad news. Things keep escalating until finally, even Rabbit's perpetual optimism is worn down. Now Rat has to step up and be the good news finder.
The first time I read it to Ella, I added on to each "Good News" or "Bad News" ("Good news, we have a picnic!" Bad news, it's raining") which was probably a lousy idea because Ella seemed to remember perfectly what I'd said and now each time I read it to her (which is multiple times a day), I have to be certain that I say it EXACTLY the same way I did the previous time or she corrects me.
This book is a winner. We'll definitely be checking out more of Jeff Mack's books.
Need more picture book recommendations? Check out previous 2 x 2 posts.