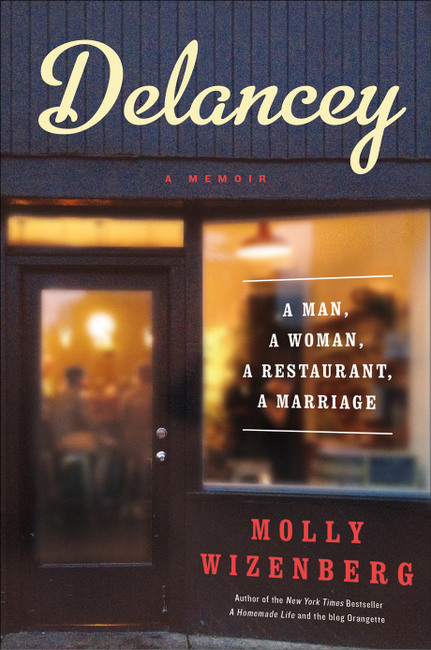 I bought Delancey for my mom for Mother's Day.
(I get asked sometimes if I buy TONS of books. The answer is no. I basically never buy books unless it's as a gift. What do you think a library is for?
Also, I know some people (my husband, for example) have library stress where having something checked out just hangs over their head with the constant threat of fines. And other people think library books are unsanitary. I suffer from neither affliction, so I'm all happily checking out 100 books at a time, with the library cards I have for every member of my family).
I'd given my mom the first book Molly wrote, A Homemade Life, back in 2009, and she loved it, so I was pretty sure she'd like Delancey too.
I don't know if she will, because she hasn't finished it yet, partially because I snagged the copy I bought her and read it all in the first week I was at her house. I'm pretty much the nicest gift giver ever.
delancey: a man, a woman, a restaurant, a marriage by molly wizenberg
Delancey picks up not long after A Homemade Life ends (you certainly do not need to have read A Homemade Life to read Delancey). Molly met her now-husband Brandon through her blog, Orangette, and eventually he moved to Seattle and then they got married and all was happy and joyous.
For about two seconds, and then he decided he wanted to open a pizza restaurant.
At first Molly just kind of goes along with it. She assumes it's a passing fancy, along the lines of his violin-making workshop and his ice cream boat (like an ice cream truck but it goes out on the water to sell to fisherman and boaters. . . I actually think this is kind of brilliant) that never really materialized.
But then, there are trips to check out other famous pizza joints around the country and the purchase of a $900 commercial mixer off of Craig's List and then a lease signed and suddenly it's getting a bit hard to ignore.
Then they're borrowing money from their friends and family to finance the whole thing (2009, as you might expect, is not the time that banks want to pass out hefty business loans to people with zero restaurant experience), and still, Molly's not sure she even wants this restaurant to happen.
A huge part of their relationship has always been food – cooking simple meals together in their kitchen at home, and now that's basically disappeared because all the cooking happens at the restaurant and also Brandon's not home for dinner ever because he's always cooking it for someone ELSE at Delancey.
Not to mention the fact she assumed he would always be the steady provider for the family (he was in a PhD program when they married) while she continued as a free-lance writer, and now he's dropped out of his PhD program and it's hard for her to write about food and home cooking when. . . she's not actually making DOING any home cooking.
It's all kinds of stressful for both of them. It's definitely not the idyllic first year of marriage she was envisioning.
And when the restaurant actually opens, there's a whole new set of stresses (despite the almost immediate success of their restaurant, in large part due to her very popular food blog), like hiring staff, and working every night and making pizza dough at two a.m., and Molly working as the pantry chef when she's never been interested in commercial cooking to begin with.
The whole thing is just fascinating, from Molly's internal struggles to the quiet stress on their marriage to the endless details involved in actually opening a restaurant.
I think it's pretty impressive that anyone can write a book about one of the most difficult parts of their marriage without making their spouse out to be the villain or themselves out to be the long-suffering martyr.
And Molly is so funny. I read several chunks of the book aloud to my mom and we both laughed and laughed. Who knew pizza was so amusing?
One of the things I really noticed about Delancey A Man, A Woman, A Restaurant, A Marriage (probably because my dad and I had just been talking about it in relation to another book) is that Molly is extremely good at making technical and specialized information totally interesting.
I know next to nothing about running a restaurant or any of the equipment needed or remodeling work that needs to be done or getting licenses to run a restaurant and there I was on the edge of my seat when the final inspector came to pass or fail them the day before opening. Making it all interesting and exciting is a superpower for sure.
Also, when we went to Seattle a couple of years ago, I desperately wanted to eat at Delancey but with a child two time zones off her schedule and the popularity of the restaurant (aka long waits), we just couldn't swing it. Someday.


if you liked this review of delancey a man, a woman, a restaurant, a marriage, you might also like these books: