I read 34 books in the first quarter and . . . I read 34 books this quarter.
I'm nothing if not consistent (and underachieving).
I did read a whole slew of really great books this time around, though, so I don't really feel inclined to complain about coming in a bit behind my goal.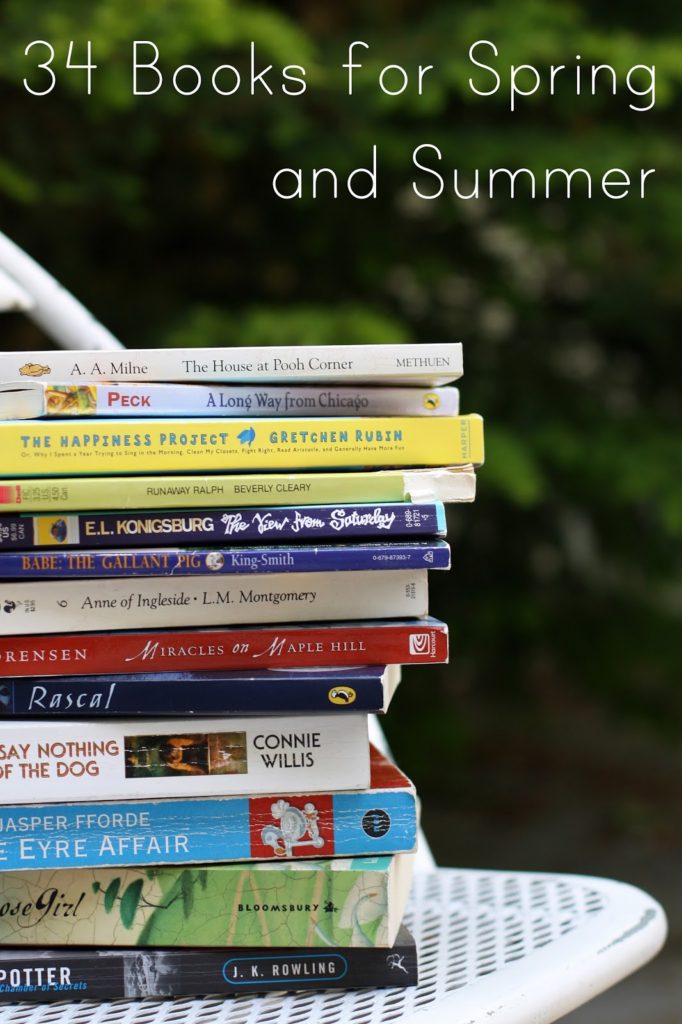 books i read this quarter
The Geography of You and Me by Jennifer E. Smith – I so want to like her books. I think she always has clever concepts, but then I feel like they kind of fall apart. This one especially dragged on for about ten thousand years.
Argo: How the CIA & Hollywood Pulled Off the Most Audacious Rescue in History by Antonio J. Mendez – Landen recommended this to me and I flew through the audio. I didn't really try to keep track of the four trillion characters, but it was definitely interesting. Also, I'm now obsessed with finding out which hit television shows were just made as fronts for mobs.
Mrs. Piggle-Wiggle by Betty MacDonald – I loved these as a child and it was so fun to see Ella love them so much too. Although, holy. cow. these are the longest chapters ever. I like about 5 page chapters, not 35 page chapters.
Lincoln's Grave Robbers by Steve Sheinkin – Not nearly as good as Bomb! sadly, but then, nothing really is.
Bread & Wine: A Love Letter to Life Around the Table by Shauna Niequist (full review here) – Dear heavens, I loved this book so much. This is reminding me to go request some of her other books.
Mrs. Piggle-Wiggle's Farm by Betty MacDonald – This is my least favorite of the Piggle-Wiggle books. Maybe I just don't like farms?
If Kennedy Lived: The First and Second Terms of President John F. Kennedy: An Alternate History by Jeff Greenfield – I have never actually read an alternate history, and it kind of blew my mind. I wish I'd had an encyclopedia next to me to check against.
The Perfect Score Project: Uncovering the Secrets of the SAT by Debbie Stier – I did not have any desire to take the SAT after reading this. In fact, I've NEVER taken the SAT (although I did take the ACT five times in high school, so maybe that's why I'm not really gunning to take a standardized test for fun).
What I Thought Was True by Huntley Fitzpatrick  – I think Huntley Fitzpatrick does some really good YA. This one is a little edgier than her first.
Toys Go Out by Emily Jenkins – I loved this book so so much, and so did Ella. I've got to check out the rest of the series. (Also, did you know Emily Jenkins is the same person as E. Lockhart who wrote the incomparable Disreputable History? Now you do).
Mrs. Piggle-Wiggle's Magic by Betty MacDonald – It's amazing how many of these chapters I remember clearly from my own childhood.
The Mouse and the Motorcycle by Beverly Cleary  – Beverly Cleary, you just can do no wrong.
You Can Date Boys When You're Forty: Dave Barry on Parenting and Other Topics He Knows Very Little About by Dave Barry – I have been a Dave Barry fan my entire life. I snorted with laughter through half the chapters (although this particular book was a little more raunchy than some of his other books).
How She Does It: An Everywoman's Guide to Breaking Old Rules, Getting Creative and Making Time for Work in Your Actual, Everyday Life by Anne Bogel – Quick and interesting.
Then and Always by Dani Atkins – You guys. This promised to be great for fans of What Alice Forgot, and THIS WAS THE DUMBEST THING EVER. I'm still upset about it all.
The Storied Life of A.J. Fikry by Gabrielle Zevin – Read this on a whim after seeing it in Bookpage and totally loved every page of it. I kept putting my Kindle down to think, "I'm liking this book so much." Maybe someday I will write a review of it.
Babe: The Gallant Pig by Dick King-Smith – Ella fell asleep in the car while I was reading aloud to her and Bart requested that I finish it up anyway. I love this book. And I had to fight back some tears at the end like the old person I've become.
Hooked by Liz Fichera – You know how you watched Friday Night Lights and were all "I suddenly love football, even though I don't actually care about football at all."? This book did not do this for golf.
Silver Bay by Jojo Moyes (included in the summer reading guide) – I really like Jojo Moyes. Seriously, give her a spin if you like chick-lit with a little heft.
Things a Little Bird Told Me by Biz Stone (full review here) – I have absolutely no idea why I read her books.
How to Love by Katie Cotugno – I read this after Elizabeth wrote about it, and I liked it, and then I saw basically everyone I know on Goodreads talk about how DEEPLY they hated it and then I was like "do I have no taste?" And then I decided I don't really care (lies . . . ).
Open Road Summer by Emery Lord (included in the summer reading guide)  – It took me a long time to get into this one, but it ended up being fairly good.
One Plus One by Jojo Moyes – Another winner by our good friend Jojo (also, isn't Jojo the best name ever?)
The Beginning of Everything by Robyn Schneider – People are all "this is a cross of John Green and Rainbow Rowell" for basically every book ever right now, but this one actually was, so, good work marketing team.
Better off Friends by Elizabeth Eulberg – The first book I read by her back in 2010 was pretty popular but did very little for me, so I've avoided her until now. But this one, told by two narrators, was actually very solid.
All Joy and No Fun: The Paradox of Modern Parenthood by Jennifer Senior – This made me very nervous about the teenage years ahead of me.
Love and Other Foreign Words by Erin McCahan – Not like John Green and Rainbow Rowell. But nice try.
Delancey: A Man, A Woman, a Restaurant, a Marriage by Molly Wizenberg (full review here) – If you have been to Delancey, I am wildly jealous of you. That's all.
Starstruck by Nicole Ciacchella  – I stayed up super late one night reading this when I was just sick to death of blogging and parenting and needed to do something just for me. And then I was mega-super tired the next day, which I'm sure made me both a better blogger and parent. But. . . at least it made me happy.
The Prize Winner of Defiance, Ohio: How My Mother Raised 10 kids on 25 Words or Less by Terry Ryan – I'm reading the books for Tell Me What to Read out of order because I live on the wild side. Also, I have kind of a low tolerance for alcoholic layabout husbands/fathers.
Boys Like You by Juliana Stone – You know when you're on a plane and flipping through what's on your Kindle and just end up reading whatever? This was one of those books, but it was actually pretty good.
Landline by Rainbow Rowell – I think this is her least impressive book, but it's still so much better than most books out there. I'll talk about it more when it's out in another week.
Me Since You by Laura Wiess  – Whoa. I don't really do books this heavy.
And if you'd like a printable copy of this list that you can take to your library or screenshot on your phone for easy access, just pop in your email address below and it'll come right to your inbox!
Tell me what you've read in the last few months that's worth reading. You know I'm all ears.
if you liked this post about what I read during the second quarter, you might also like these posts: