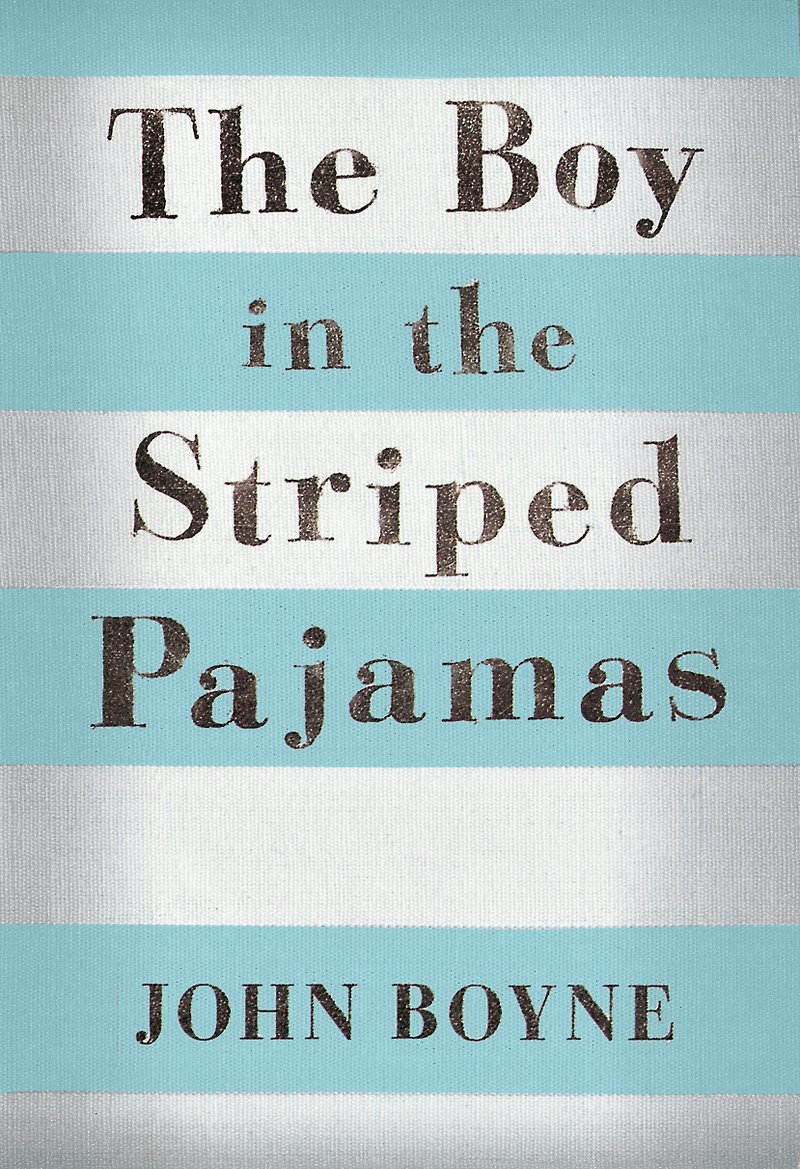 This post will be 100% spoilers because I hated the ending of the book and thus I need to rant lengthily about it. Consider yourself warned.
First off, The Boy in the Striped Pajamas is obviously trying really hard to keep it from you what the topic is (which I'm completely ruining by telling you, and I knew the general topic before I picked it up thanks to some reviews, so whatever). On the back it says some things about how it's hard to write a blurb without giving too much away, so just accept that it's about a little boy, Bruno, who finds a fence.
the boy in the striped pajamas by john boyne
That's nice and all, but if you haven't figured out it is a Holocaust book in about two chapters, you probably aren't that bright. I mean, he lives in Berlin. It's 1943. They are going to live outside of "Out-With" after "the Fury" comes to dinner. And then at "Out-With" there is a huge farm with people wearing striped pajamas working on it. Except there doesn't appear to be actual farming going on.
After that introduction you get chapters and chapters of him being like "I just can't figure out why there are people in pajamas out there. Also, it's so mean that I can't go back to Berlin."
A few months go by, and Bruno goes exploring. A few miles from the house, he discovers a little boy in pajamas sitting on the other side of the fence and they become friends. Bruno comes to visit him almost every day, sometimes bringing him food, but generally eating it on the walk out there, because, you know, he's super hungry. Also, why is the little boy on the other side of the fence getting skinnier and skinnier?
And the little boy tells Bruno some really sad stories about how mean the soldiers are and how his father was in the camp but then suddenly disappeared and how he used to live in Poland but then they had to come here on a really packed train. And Bruno is all "That's nice. Now I need to go back to my hard life where my stupid sister sometimes teases me. So you can see why I can't be all that sympathetic about your hard life, right? Bye!"
Eventually, Bruno's mom grows tired of living out in the middle of nowhere and, despite her husband's arguments, arranges to return, with Bruno and his sister, to Berlin. The day before they go, Bruno goes to visit his friend behind the fence for the last time, and the little boy steals an extra pair of "pajamas" for Bruno to wear. Under the fence Bruno goes and they go exploring the camp, until suddenly soldiers show up and start barking for everyone to line up. And then they all get gassed. And no one ever knows what happens to Bruno.
Yes, seriously. That's the book.
I just couldn't deal with how DUMB Bruno is. He seems just intentionally dense, completely misunderstanding everything, no matter how many times they are explained to him.
Also, there are other things going on in the background of the story that were kind of miscellaneous. For instance, I'm pretty sure Bruno's mother was having an affair with the seventeen-year-old soldier who was stationed at Auschwitz. But, since you only see it through Bruno's (not very bright) eyes, there is no way to know for sure.
The thing is, there are so many moving, excellently-written Holocaust books (massive plug for The Book Thief here), while this one just annoyed me to no end. When the last track finished, I think I actually rolled my eyes.
It's hard to write negatively about a Holocaust book without seeming like a completely heartless jerk (and maybe I am), but I don't feel like that's why I didn't like The Boy in the Striped Pajamas book. I just didn't like it because I felt like it wasn't very well-done, and I felt totally manipulated as a reader. And now I feel like I have to defend myself and say things like, "I really do believe the Holocaust happened! I swear!" and "I think what Hitler did was unconscionable! Promise!"
And really, that irritates me even more. Because all I want to do is point a finger at The Boy in the Striped Pajamas book and say "You just aren't very good. And I won't recommend you."
If you liked this review of the boy in the striped pajamas, you might also like these books: