With school back in and a return to a more normal routine, we've been doing a lot more reading aloud at nights before bed (now that they're going to bed a little earlier) and we've read some fantastic books together.
Ella is also plowing through books on her own at record speed and she is so anxious to share some of the best books for fourth graders in this month's edition of Ella Enjoyed.
Here are five books she's absolutely loved in the last few months!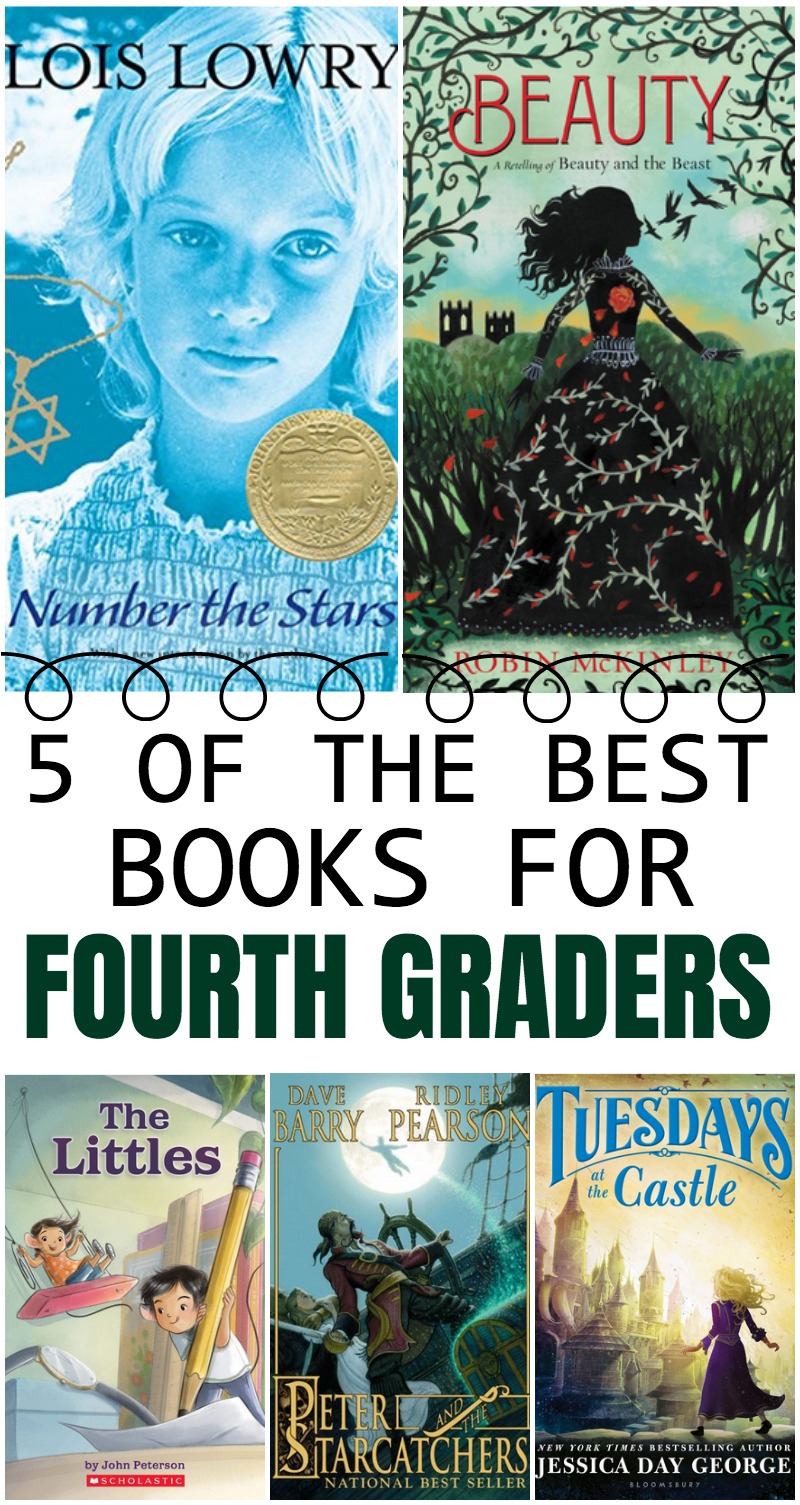 5 of the best books for fourth graders
Number the Stars by Lois Lowry
160 pages
Number the Stars was the first chapter book I read on my own when I was six, and it was such a delight to revisit this classic after all these years. I remembered only bits and pieces of it, and my girls were SO INTO IT. We raced through the whole thing in less than two weeks. It's such a great introduction to WWII and the Holocaust without being overly horrifying for young children.
What Ella has to say: It was a really good book and we always wanted to know what happened next. It had really good characters and I wish there was a sequel. It was good to learn about WWII and Nazis. I usually read fantasy books and it was fun to read another genre.
Peter and the Star Catchers by Dave Barry and Ridley Pearson, illustrated by Greg Call
480 pages
This was our summer read aloud and it was so long that it took us almost the entire summer to finish (We actually finished this book on audio – it's read by Jim Dale of Harry Potter fame and it's excellent). My girls were SUPER into this retelling of Peter Pan, especially Ella who loved connecting the dots between the source material and how those characters, places, and events were showing up in this story about how a little orphan named Peter became the boy who never grows up (I wrote a full review of this one more than a decade ago when I read it myself for the first time).
What Ella has to say: I LOVED this book. I usually love fractured fairy tales or retelling of fables. Once my mom finished reading this one to us, I started reading the next one in the series. It had a really good plot that kind of matched up with the original Peter Pan but also explained some of how they got there. It's a pretty long book but it's worth finishing.
Beauty by Robin McKinley
320 pages
This was one of my favorite books growing up and I'm surprised by how many people haven't heard of it. It's a spectacular retelling of Beauty and the Beast and I was delighted that my girls loved it too (it's not particularly fast-paced and it definitely has a higher vocabulary level). I couldn't remember all the details and I was so anxious to see how things would play out that I read upwards of 50 pages to them several nights because I just couldn't bear to stop.
What Ella has to say: I loved to hear this book every night and looked forward to it. I really liked hearing it from Beauty's point of view and hearing what she thought of the Beast. I also liked that her sisters are really nice and at school when we were writing stories based on pictures, I picked one with vines and then realized I was writing Beauty's story.
The Littles by John Peterson, illustrated by Roberta Carter Clark
80 pages
I'd vaguely heard about this series but knew nothing about it until Ella's teacher read it aloud to them during the first weeks of school and then Ella started plowing through the rest of the series (it has 16 books!). The books are pretty short (less than a 100 pages) and have been around since the early 90s about a minature family that lives in the walls of a home belonging to the Biggs. When the Biggs go on vacation, all sorts of trouble erupts and it's up to the Littles to save the day.
What Ella has to say: This was really fun to read at school and I enjoyed hearing what they can use that we can't use. They use those tiny film containers as barrels and took a bird feather and stripped it to stuff a pillow. I also like seeing how, though there are several small families living close by, they almost never get together but I also liked how they discover small families living all over the forest and outside the house.
Tuesdays at the Castle by Jessica Day George 
256 pages
My girls started listening to this fantasy series a couple of years ago on CD and all three of the older girls were SUPER into them. The first in the Castle Glower series is all about Tuesdays, which is Princess Celie's favorite day. Because every Tuesday a new room appears in the Castle and Princess Celie has taken it upon herself to map out the ever-growing castle. Which will come in handy when disaster strikes the royal family. And fun fact, Jessica Day George was one of my father-in-law's students – she took Old Norse from him and mentions him in the acknowledgements of one of her books!
What Ella has to say: I really liked this book because it's not like any other story I've ever heard and I really like books that are told in first person. It also combines fantasy with royalty and has some whimsy. I read the next ones and I loved them all. I'm not the only one – some of my friends at school are reading them too!
And if you'd like a printable copy of this list that you can take to your library or screenshot on your phone for easy access, just pop in your email address below and it'll come right to your inbox!