For someone who has never considered themselves much of a Halloween person, I have gotten DEEPLY into Halloween children's books in the last ten years.
I don't know what even happened, except that there are so many amazing Halloween children's picture books now!
I've made various lists of Halloween children's books over the past decade, but in celebration of the release of the Rad Reader Halloween Calendar this week (download it for free here!), I've put together a list of 31 of the best Halloween children's books here so you'll have plenty of options for October.
You'll probably know some of the books on the list and I hope you'll find some new favorites too!

31 Best Halloween children's books
Ten Orange Pumpkins by Stephen Savage
I love everything about this delightful Halloween counting book. The illustrations are fun and crisp, and the story begins with ten pumpkins that, one by one start disappearing. Keep a close eye on the illustrations to figure out what's happened to each of them!
Skulls! by Blair Thornburgh, illustrated by Scott Campbell
I've loved this book from the moment it was released – it's such a clever, upbeat look at how cool skulls are and how we all have one. Skulls aren't scary; they're AWESOME.
Creepy Carrots by Aaron Reynolds, illustrated by Peter Brown
I don't trust any list of best Halloween children's books that doesn't include this one (and the Caldecott committee gave it their stamp of approval too). Jasper Rabbit loves carrots and can't stop eating them out of the nearby garden plot. So the carrots take things into their own hands. The companion book, Creepy Pair of Underwear, is equally fabulous.
The Widow's Broom by Chris Van Allsburg
I love all of Chris Van Allsburg's books (he's famous for The Polar Express and Jumanji), but this one is hands-down my favorite about an old widow who takes in a witch who falls from the sky. And when the witch heals and departs, she leaves behind her broom which turns out to be very useful to the widow. The neighbors, though, aren't so sure about this magical broom.
Monster Trouble! by Lane Fredrickson, illustrated Michael Robertson
Winifred Schnitzel isn't a bit scared of monsters. But that doesn't mean she wants them sneaking in every night – she needs her beauty rest! She tries all sorts of things to dissuade this pack of monsters from disrupting her sleep and nothing seems to work. Until she discovers what scares monsters the most.
Stumpkin by Lucy Ruth Cummins
Poor Stumpkin. He's such a beautiful pumpkin, but his stem got snapped off and now no one wants him. As the other pumpkins get snatched up before Halloween, Stumpkin stays where he is, wishing that someone will take him home and make him into a beautiful jack-o-lantern.
I Spy Spooky Night by Jean Marzollo, photographs by Walter Wick
I LOVE the I Spy books and this one is particularly great with Halloween themes on every page. It's perfect for keeping kids occupied for hours at a time and we've had a great time working through the pages as a family too.
Brunhilda's Backward Day by Shawna J. C. Tenney
When this book comes out in October, we read it almost every single day. I'm pretty sure if my children had to choose a single favorite Halloween picture book, it would be this one, about Brunhilda who loves to stir up trouble until her cat makes a potion that makes all her spells do GOOD things instead of mean things.
Ghosts in the House by Kazuno Kohara
This was the first book in my personal Halloween children's book collection and I love pulling it out every year. When a little witch moves into an empty house she isn't worried about all the ghosts there – she rounds them up, washes and irons them and turns them into curtains, tablecloths and blankets!
Leo: A Ghost Story by Mac Barnett, illustrated by Christian Robinson
All Leo wants is a friend and he's delighted when a new family moves into his house. Turns out? They aren't wild about sharing a house with a ghost. So Leo sadly heads out, hoping to find someone who won't be terrified of him. And it turns out? He finds just the right person. (P.S. The audio version of this one is only 69 cents!)
I'm a Witch's Cat by Harriet Muncaster
This little girl has a witch for a mom. Naturally, she's a nice witch and the little girl makes the perfect little black cat to accompany her mother on all her Halloween outings. The images for this book are mixed media sets that are photographed and they are STUNNING. Check out the sequel, too, Happy Halloween, Witch's Cat!
Boo Haiku by Deanna Caswell, illustrated by Bob Shea
We've owned a copy of this Halloween children's book for years so my girls know all the answers to the haiku riddles, but that doesn't stop them from loving re-reading it over and over again.
Frank the Seven Legged Spider by Michaele Razi
Frank loves being a spider and weaving gorgeous webs. Until one day he wakes up to discover he's missing a leg. Can you even be a spider with only seven legs?
Oliver and Amanda's Halloween by Jean Van Leeuwen, illustrated by Ann Schweninger
I can't tell you how much I love the Oliver and Amanda Pig books and this one might be my favorite as they make doughnuts for trick-or-treaters, try to find the perfect costumes, and eventually go out trick-or-treating.
Vamperina Ballerina by Anne Marie Pace, illustrated by LeUyen Pham
Lots of young children dream of being ballerinas. Turns out some vampires do too! Can Vamperina make her ballet dreams come true? She sure can!
Mouse's First Night at Moonlight School by Simon Puttock, Illustrated by Ali Pye
Mouse is SO nervous about the first day (er, night) of school. But a kind teacher and delightful classmates including Bat, Cat, and Owl help her feel welcome and included.
Dog and Bear: Tricks and Treats by Laura Vaccaro Seeger
I think Dog and Bear are hilarious, and this is one of my favorites. In these Halloween themed episodes, they shop for costumes, welcome trick-or-treaters, and head out to collect candy of their own, all with amusing results. It's just one of the sweetest and best Halloween books.
The Scariest Book Ever by Bob Shea
This book is TERRIFYING. Or. . . is it just the narrator who thinks everything is truly scary? Read it and find out if you're braver than a ghost!
Wolfie the Bunny by Amy Dyckman, illustrated by Zachariah Ohora
The Bunny family has adopted a new child and everyone is thrilled. Except the sister, Dot, who seems to be the only who can tell that Wolfie is a wolf and is sure to eat them all up the moment he gets a chance, even if he is wearing an adorable bunny suit.
A Tiger Called Tomás by Charlotte Zolotow, illustrated by Marta Álvarez Miguéns
Tomás doesn't like his new neighborhood and worries that no one will like him. But when Halloween rolls around, it might be the perfect time to put on a costume and venture out into the neighborhood.
The Monster's Monster by Patrick McDonnell
We got this in our Bookroo box a few years ago and it was an instant favorite. Three little monsters decide to make a big, enormous, gigantic monster who will be the biggest and scariest thing ever. Except their new monster isn't actually mean and scary. He's . . . nice.
Pick a Pumpkin by Patricia Toht, illustrated by Jarvis
Is there anything quite as Halloween-y as going to the pumpkin patch to pick out the perfect pumpkin? This book celebrates all the best parts of October – I love it so much!
The Witch Next Door by Norman Bridwell
Written by the same author/illustrator of Clifford the Big Red Dog fame, this delightful story follows a brother and sister who are both curious and delighted when a witch moves in next door. But not every neighbor wants a witch living next to them and when they coming knocking on the door, it's anyone's guess how the witch will react to being told to move.
Boo Who? by Ben Clanton
I read this Halloween picture book to Tally at least 50 times last year, about Boo, a ghost who wants to play with the other monsters in the neighborhood. But it's hard to play tag when no one can feel you and hard to play catch when a ball goes right through you. Would anyone even notice if Boo just disappeared?
Scared of the Dark? It's Really Scared of You! by Peter Vegas, illustrated by Benjamin Chaud
You might think the dark is scary. But actually, the Dark is terrified of YOU. It can't handle any light at all and only gets to come out when it's completely dark.
Room on the Broom by Julia Donaldson, illustrated by Axel Scheffler
Whenever I ask for suggestions about the best Halloween books for kids, this is ALWAYS one of the most mentioned. It's just an absolute classic and beloved by families.
Sir Simon: Super Scarer by Cale Atkinson
Simon is a professional ghost and he's just been assigned to a house. Hooray! Bonus? It's an old lady occupant and she'll be nice and easy to spook. Except that the old woman has a child with her. Fortunately, Simon is quick on his feet!
Where the Wild Things Are by Maurice Sendack
I've always thought this classic picture book makes a great Halloween read with a little boy dressed up in a costume and a land full of wild things! (P.S. The audio version is less than $1.50!)
I Love My Fangs! by Kelly Leigh Miller
This little vampire LOVES his fangs. So you can imagine his horror when one of his fangs FALLS OUT. How can he be a vampire with only one fang?!
Grimelda The Very Messy Witch by Diana Murray, illustrated by Heather Ross
Grimelda doesn't care about keeping her home tidy – she loves a nice mess! But then when she can't find the ingredients for her favorite pickle pie, she decides that maybe being messy isn't ALWAYS the best.
Herbert's First Halloween by Cynthia Rylant, illustrated by Steven Henry
This was Star's very favorite Halloween picture book a few years ago and we read it literally every day in October. Herbert is a little nervous about his first Halloween but his dad, who loves Halloween, gently talks him through it and helps him find just the right costume.
And if you'd like a printable copy of this Halloween children's books list that you can take to your library or screenshot on your phone for easy access, just pop in your email address below and it'll come right to your inbox!
Any other favorite Halloween picture books I missed? I'd love to hear (and then will immediately put them on hold).
If you liked this list of Halloween children's Books, you might like these posts too: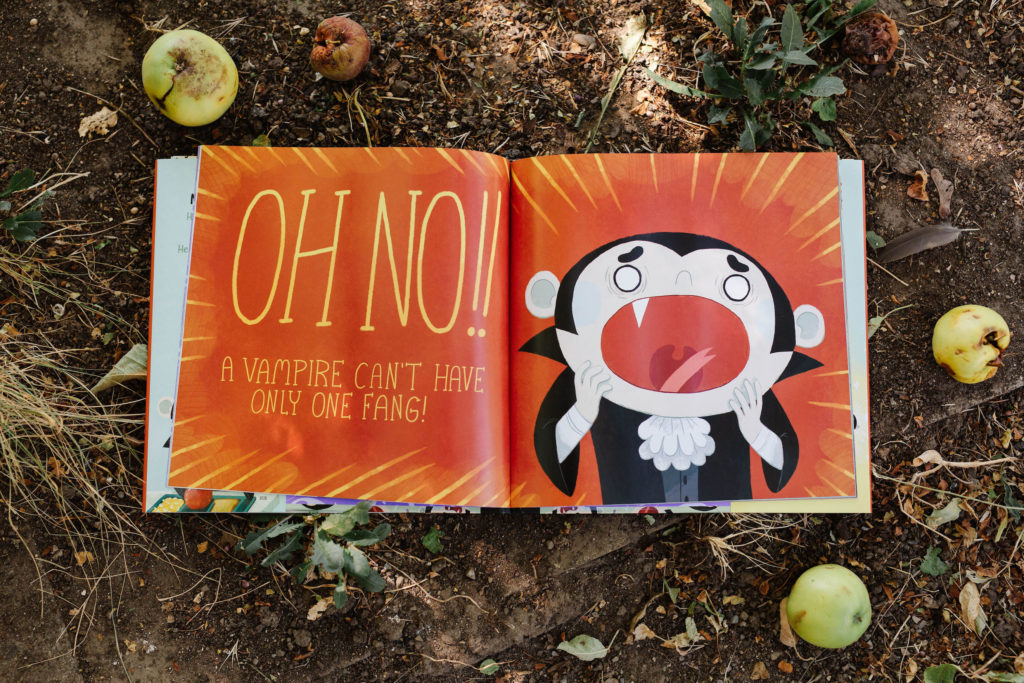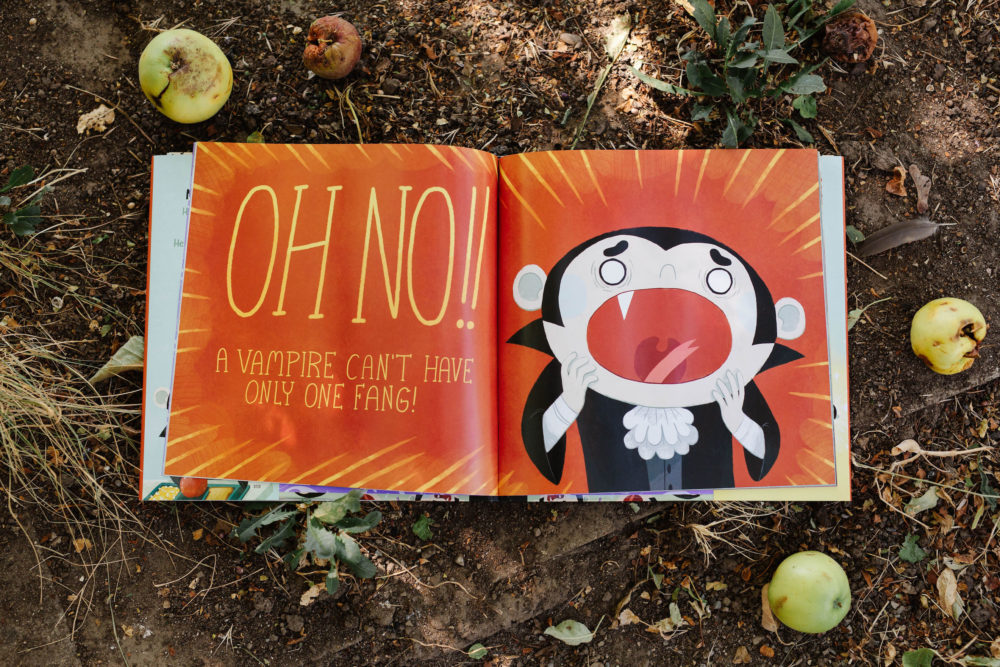 Photos by Heather Mildenstein