Looking for a copy of this Halloween advent calendar? Pop in your email below and it'll come right to your inbox!
Remember last year when Tara from Rad & Happy created the most amazing Rad Reader Christmas Reading Advent Calendar?
Well, Christmas isn't the only holiday that deserves a countdown!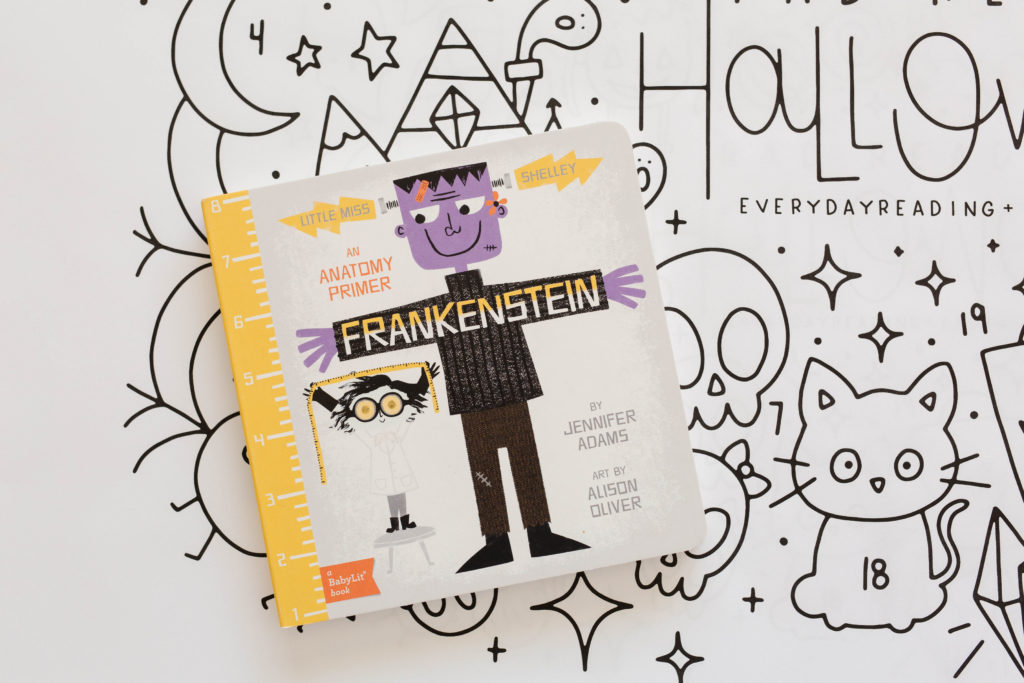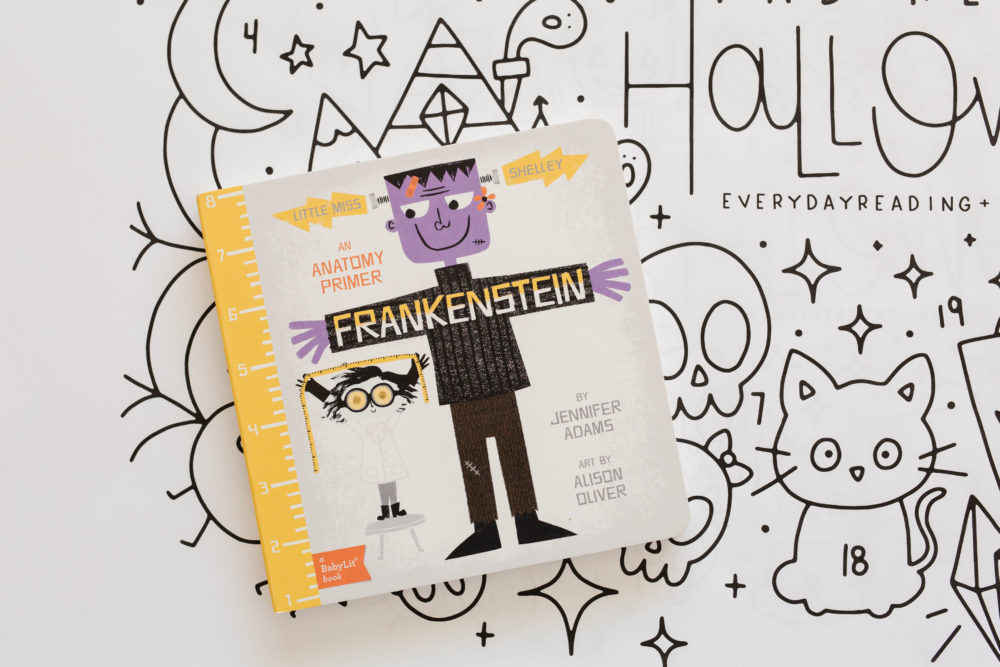 I love Halloween – it feels like the beginning of the whole holiday season and I love decorating our house and enjoying the most autumn-y month of the year.
And, of course, I have a ridiculously massive Halloween book collection.
So I floated the idea of a Halloween Advent Calendar to Tara and danced a little jig when she agreed!
And, per usual, she knocked it out of the park.
Introducing the Rad Reader Halloween Calendar!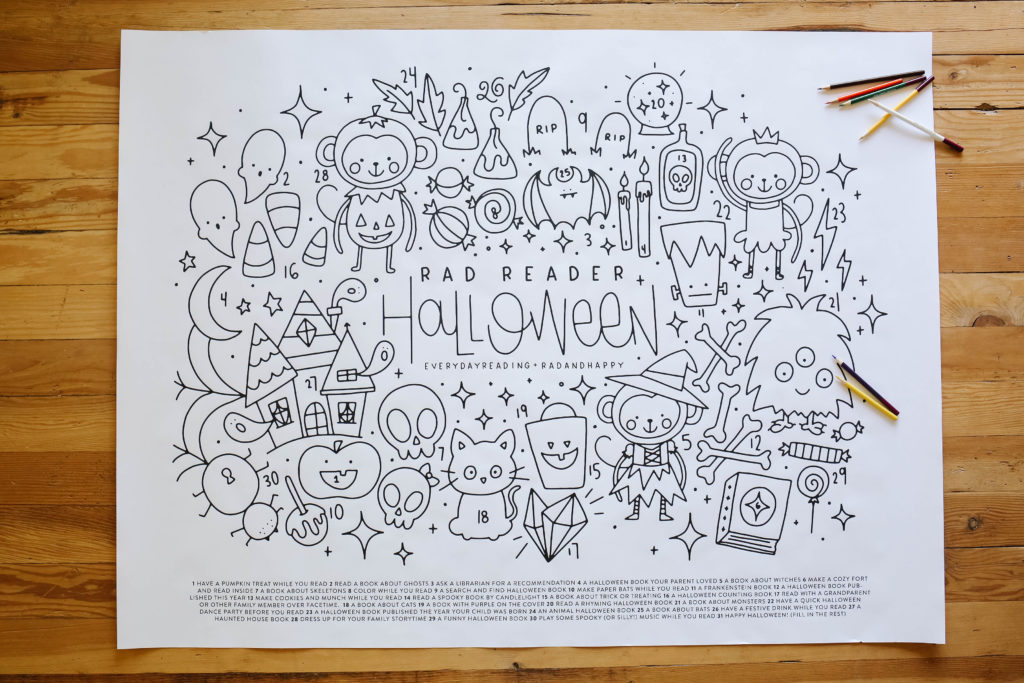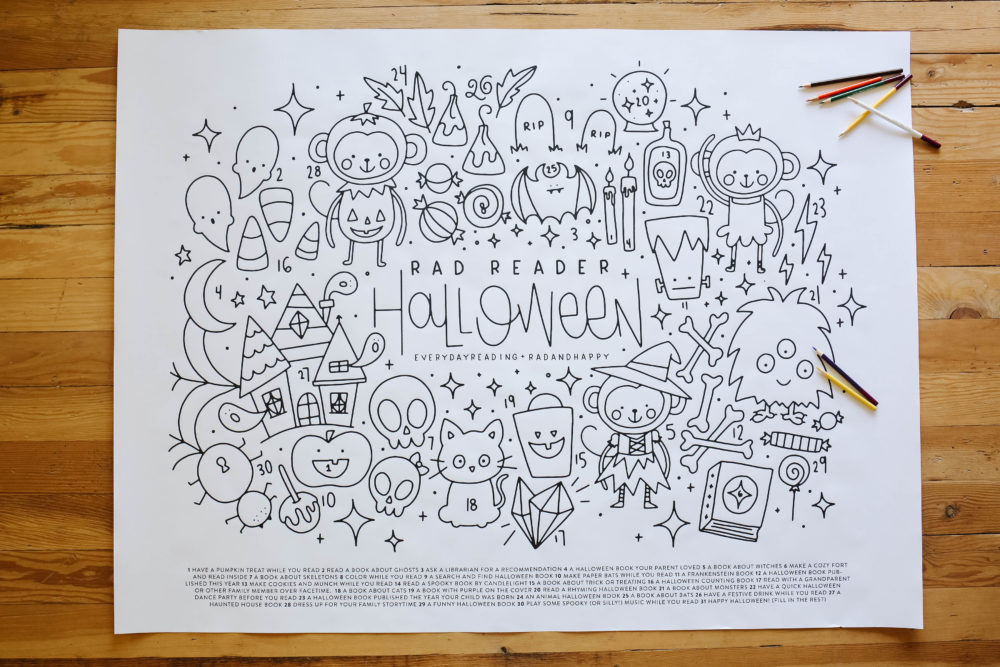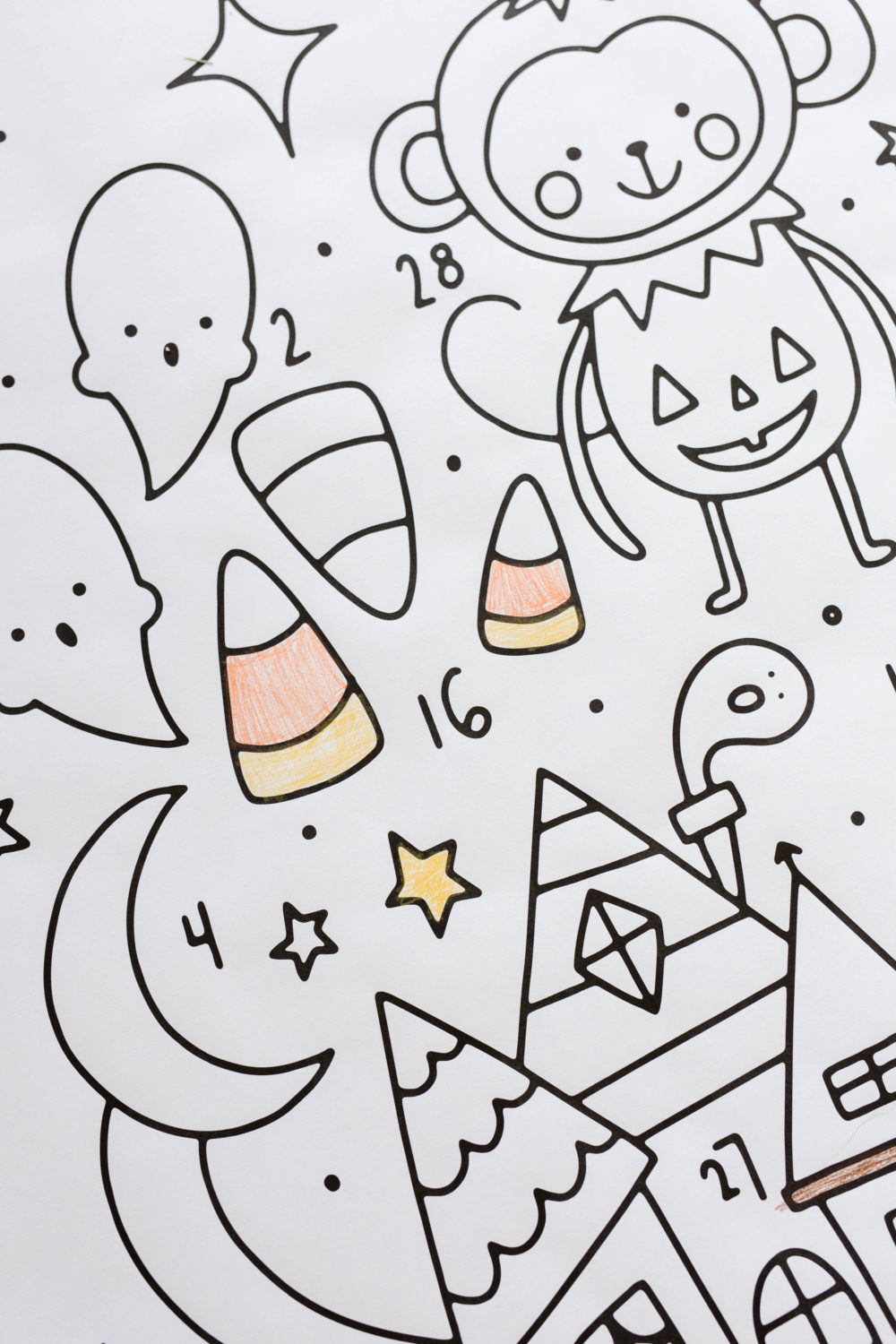 halloween advent calendar
Let me tell you a little bit about this Halloween advent calendar.
It's 100% free! You can download as many copies as you'd like for your personal use (pop in your email address at the bottom of this post and it'll come right to your inbox).
You can print it at whatever size you'd like! I have a personal preference for the 36×48 engineering print which costs less than $7 to print (instructions for printing engineer prints here).  But it's also terrific at a 24×36 size or in an 18×24. You can even print it on a regular sheet of paper with your home printer!
It's the most epic coloring project of all time! Grab some colored pencils or crayons or markers and a copy of this Halloween advent calendar – there are so many delightful details and it's so much fun to color. You can color it all at once at the beginning of the month or do a bit every day as you read along!
There is a reading activity every day from October 1 – October 30 Obviously the highlight of the Halloween advent calendar is reading daily with your children. At the bottom of the calendar there is a suggested activity for each day. You can do them in any order you'd like and later this week, I'll be releasing my biggest Halloween book list ever (there are SO MANY GOOD ONES).
The numbers 1-30 are hidden in the calendar. Can you find them all? On day 31, we figure you'll be busy with other Halloween celebrations!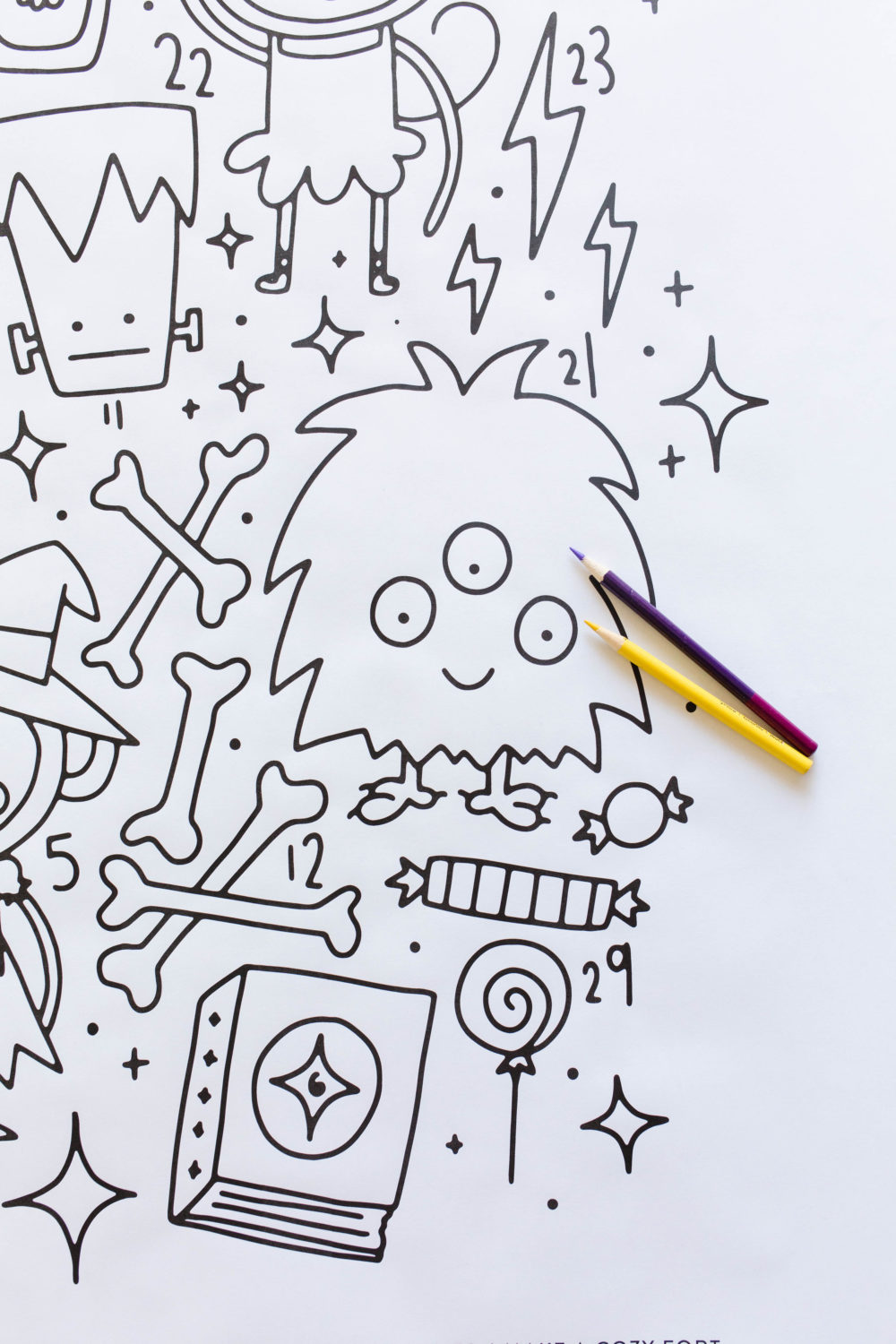 I hope you love using this as much as we loved creating it – just pop in your email address below and a printable copy will come straight to your inbox!
If you liked this Halloween advent calendar, you might like these posts too: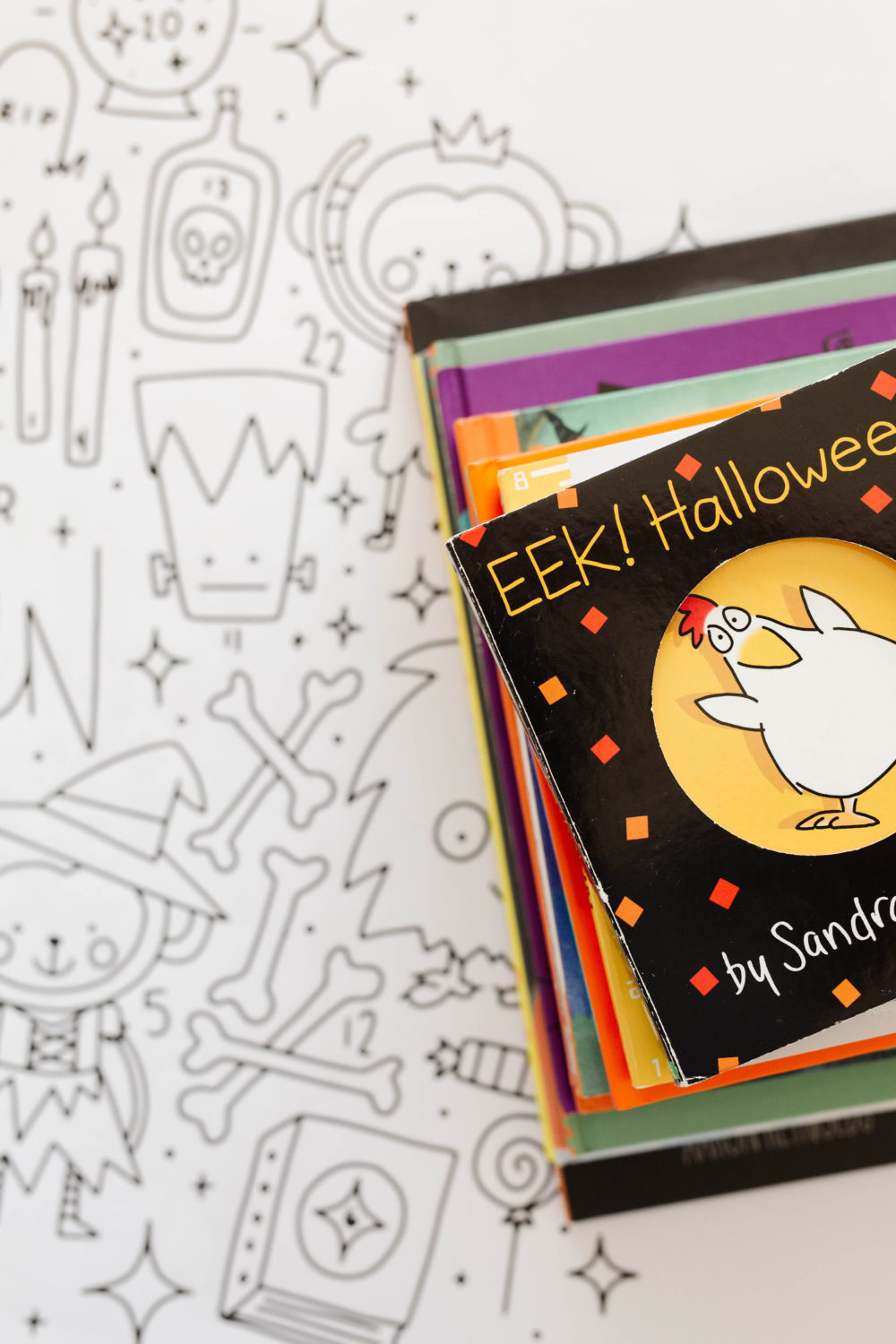 Photos by Heather Mildenstein