The easiest Halloween dinner ideas that are delicious, just a little spooky, and super simple. These Halloween dinner recipes will have you well-fed and ready to get out trick-or-treating!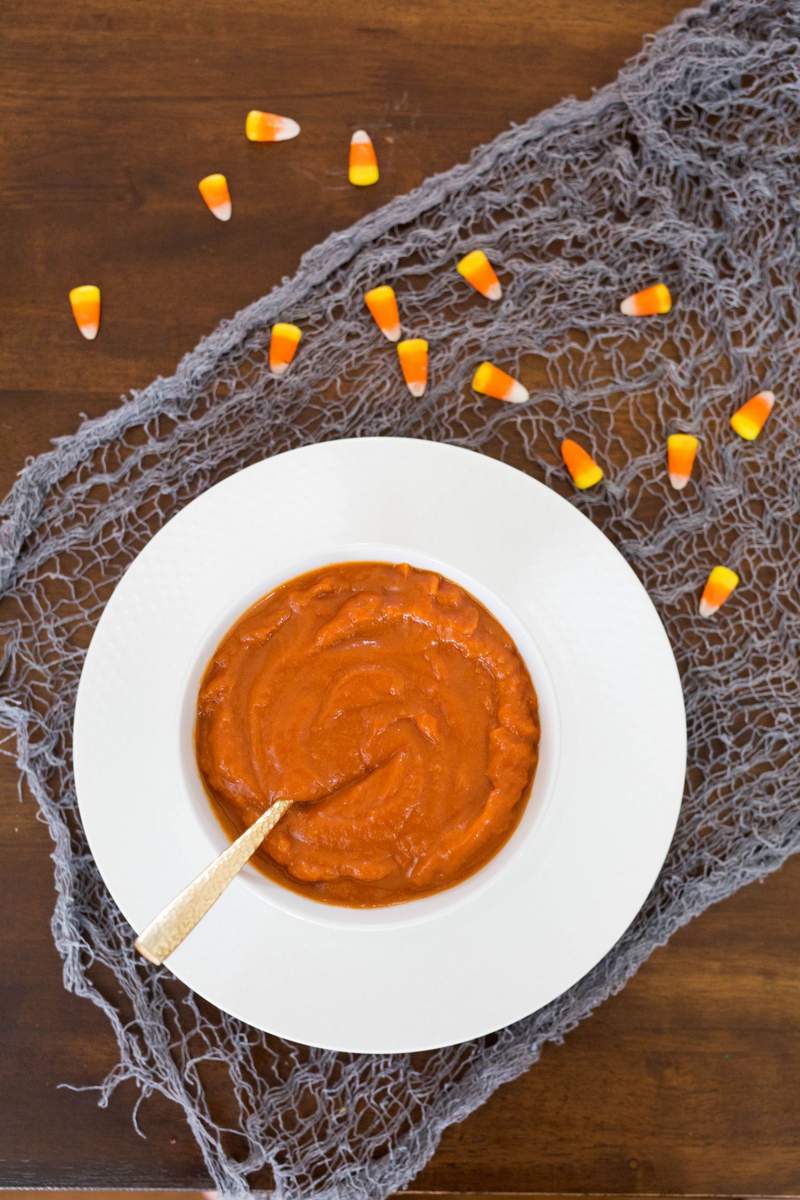 You know how real life sometimes gets in the way of being the kind of fun parent you want to be?
Halloween dinner has felt like that to me for many years.
I saw a million amazing Halloween dinner ideas online, but it all felt so complicated and so we did basically nothing.
I didn't want to make a bunch of things that no one would actually eat and that took me forever on a day that's always pretty busy getting everything ready for trick-or-treating.
Plus, who needs a Halloween dinner when you could just eat three pounds of candy on an empty stomach instead?
Finally, a couple of years ago, I thought, "What I need to do is just pick something EASY that I can do every single year, that is quick to make, that everyone will eat, and that feels festive."
This is what we've done for our Halloween dinner for the past 3 years and it's become a very easy part of our Halloween celebrations that everyone looks forward to.
My goal, like in pretty much ever aspect of my life is "Low Effort, High Impact" (I feel like I just gave you a peek into my soul with those four words).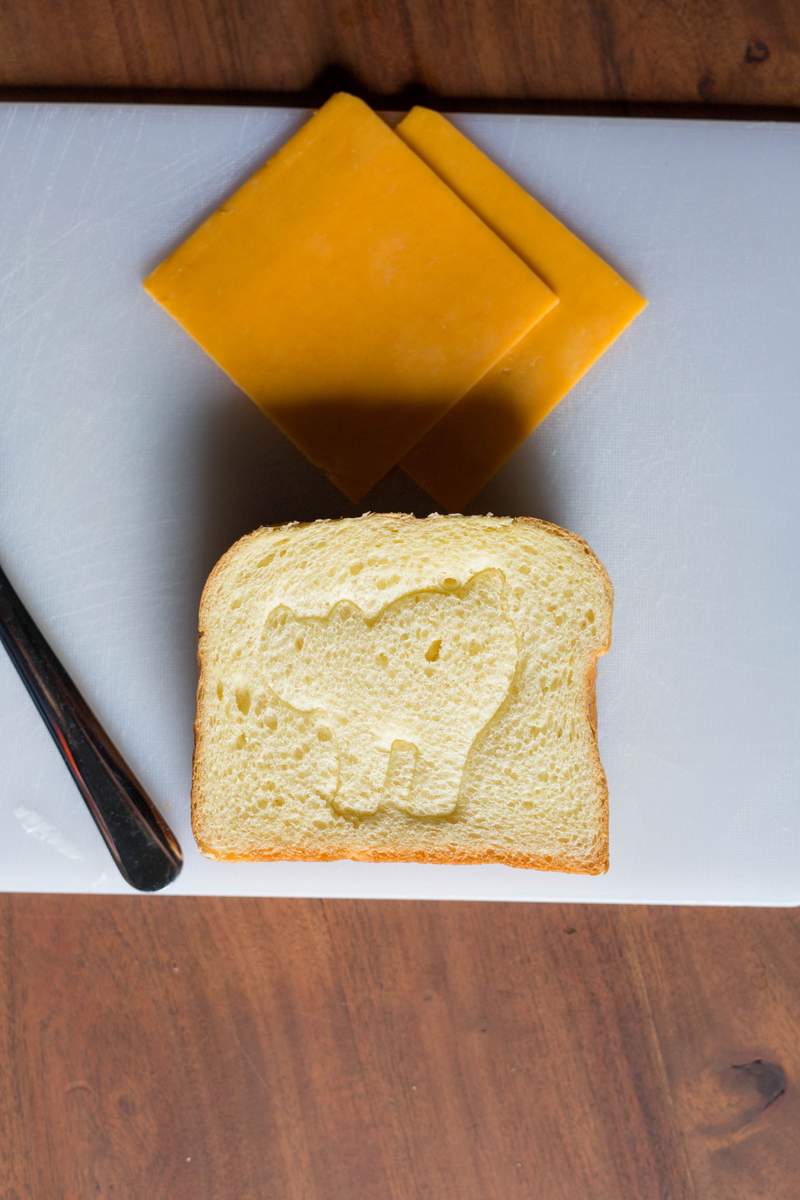 Here is our Halloween dinner menu:
Grilled cheese sandwiches with a Halloween shape pressed in the top of the bread
Blood soup (tomato soup – I always use this recipe because, frankly, it's the best tomato soup ever).
Root beer with dry ice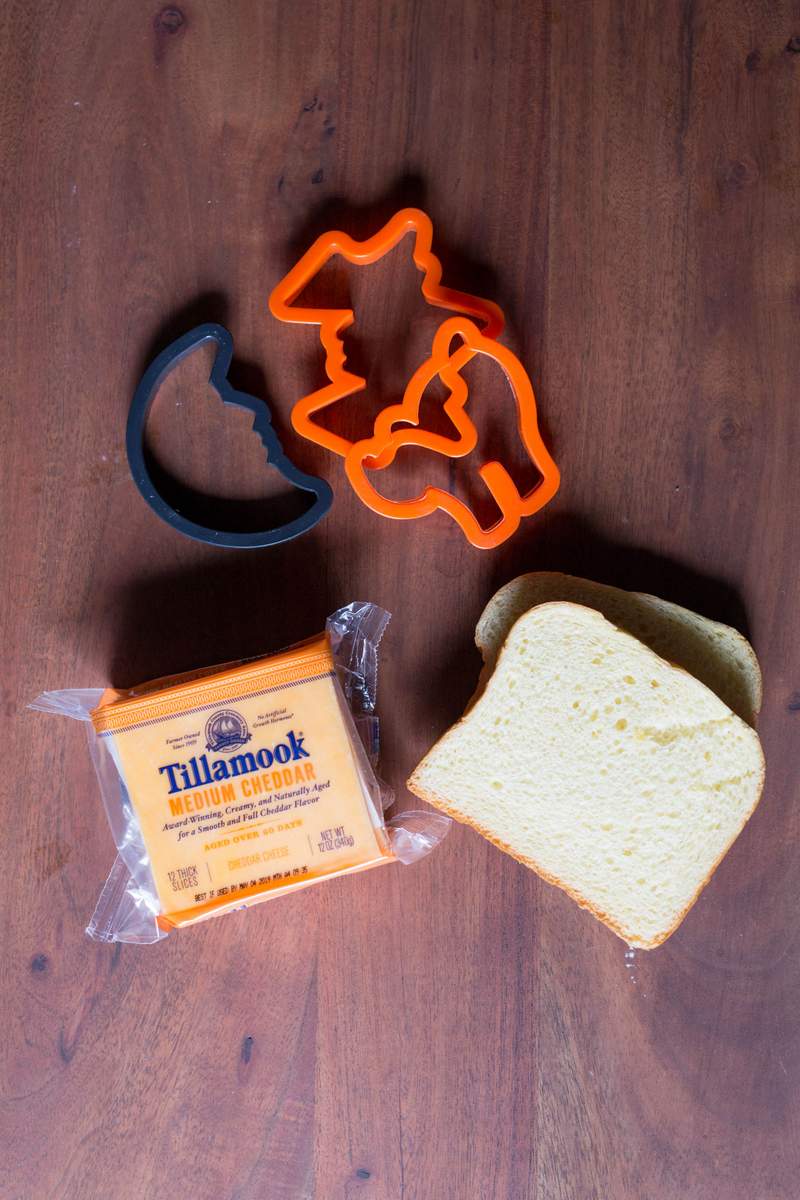 This is such a great Halloween dinner for our family because I can make the soup ahead of time and just warm it up at dinner time.
As far as making the Halloween grilled cheese goes, the secret is good bread (this one is a brioche bread and I also love a good sourdough) and mayonnaise.
I spread a thin layer of mayo on the inside of each slice of bread and then put a piece of cheese in the middle.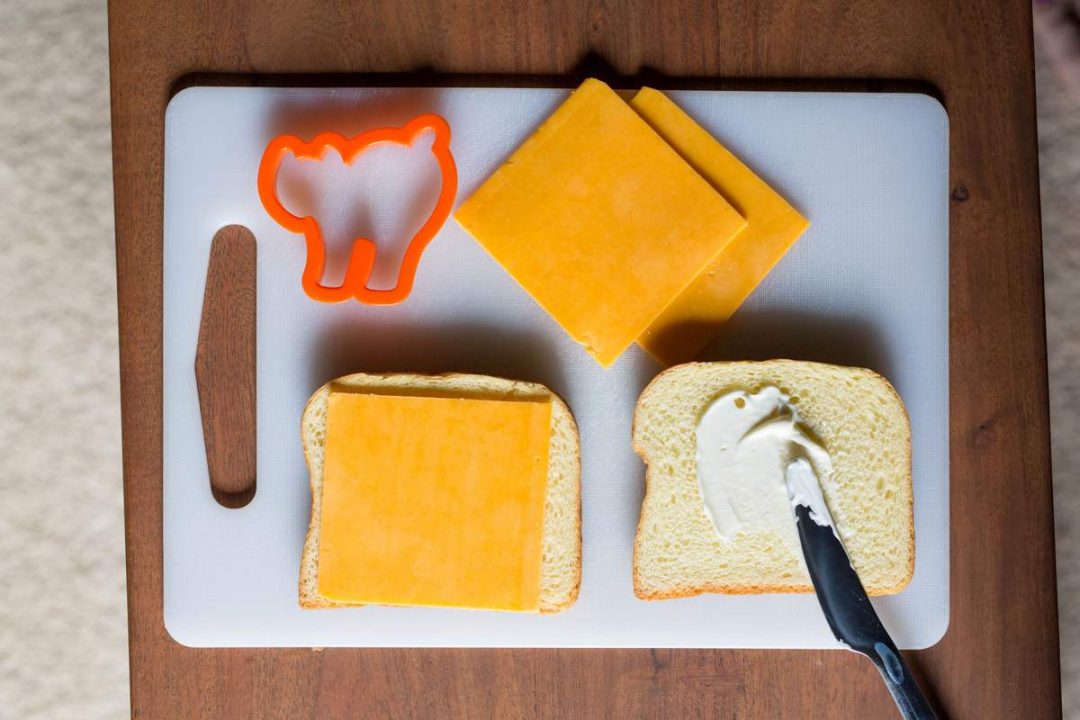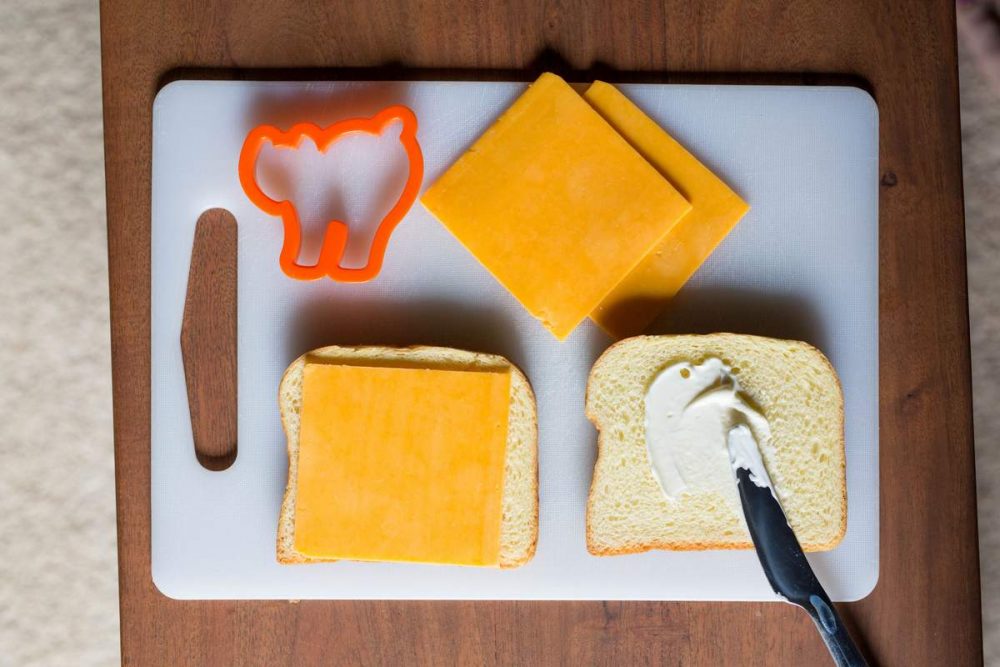 I let the girls each choose a Halloween cookie cutter and carefully press it into the top of the bread – you don't want it to go all the way through, you just want it pressed into the top. Once you grill your sandwich, the outline won't toast with the rest of the bread because it's pressed down, so you'll get a spooky outline on the top of your sandwich.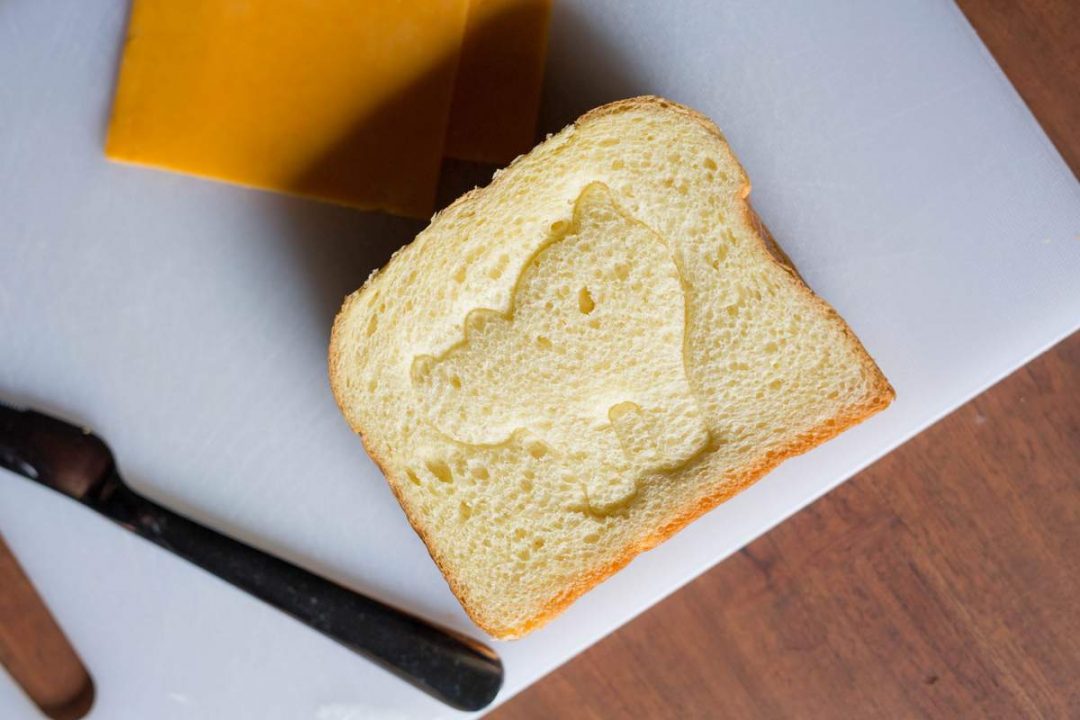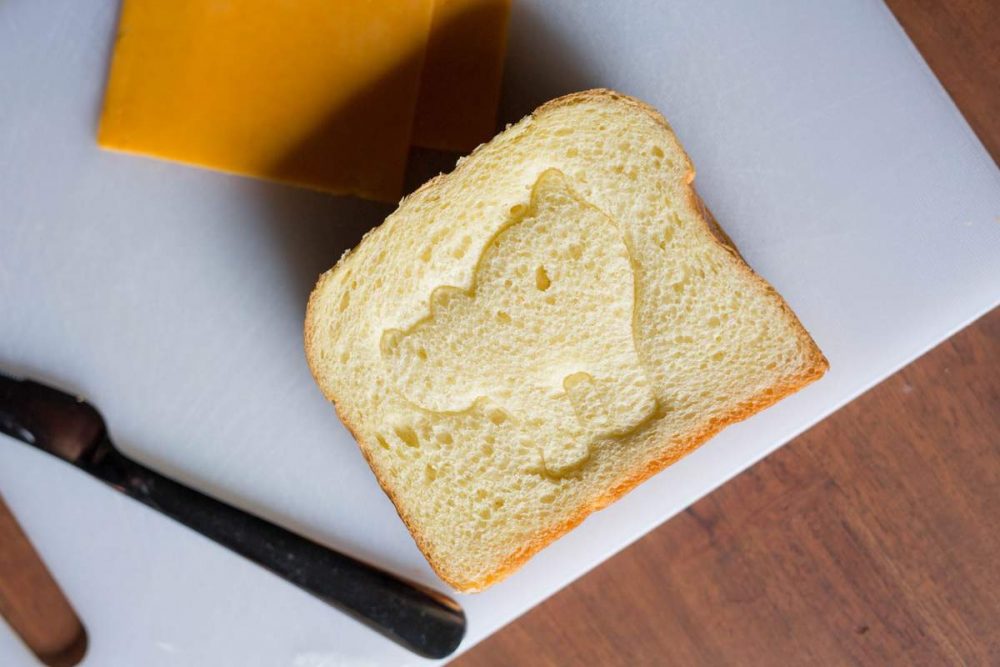 Obviously, recognizable shapes are the best (these 99 cent cookie cutters are some of my favorites) and it's so fast to decorate a whole batch of sandwiches.
While I grill up the sandwiches, the girls love assembling the apple monster teeth.
If you'd rather do something in the slow cooker, I'd do this white chicken chili and call it Bone Bits Soup and serve it with some pumpkin muffins.
Setting a Halloween Dinner table
For me the most fun part of our Halloween feast is setting the table (I wrote a whole post about it here), but here are the basic components for me:
A dry ice witch cauldron. The centerpiece is a big stock pot (mine looks like this, although I'm pretty sure it wasn't that expensive!) and I put a couple of good-size chunk of dry ice in it and then pour root beer over the top, right as we sit down for dinner. That alone is so much bang for your buck. Even if you served cold cereal for dinner, you'd feel festive with that dry ice floating all over your table.
A runner down the center. I LOVE a table runner for any occasion and I bought this felt spider web one a couple of years ago for Halloween. It's just the perfect touch and worth every penny (which was only about $13 worth of pennies).
Black and white dishes. Our regular dishes are basic white (thank you, IKEA) but I also have a very cheap set of black dishes we bought at Walmart about 8 years ago and they're perfect for setting a Halloween table. I only have four place settings, so I alternate them with the white ones (so a black bowl on a white plate and then a white bowl on a black plate, etc).
Candy corn. I think candy corn is the most festive candy ever and it's the easiest decoration on the planet. I just sprinkle some up and down the center of the table and around the place settings for some extra color.
Mini pumpkins. I'm a sucker for those mini pumpkins at the grocery store and adding 5 or 6 of them down the table runner adds nice dimension and color with practically zero effort.
Black and white straws. My girls think ANYTHING with a straw is special, so $3 worth of black and white striped paper straws wins me a lot of mom points.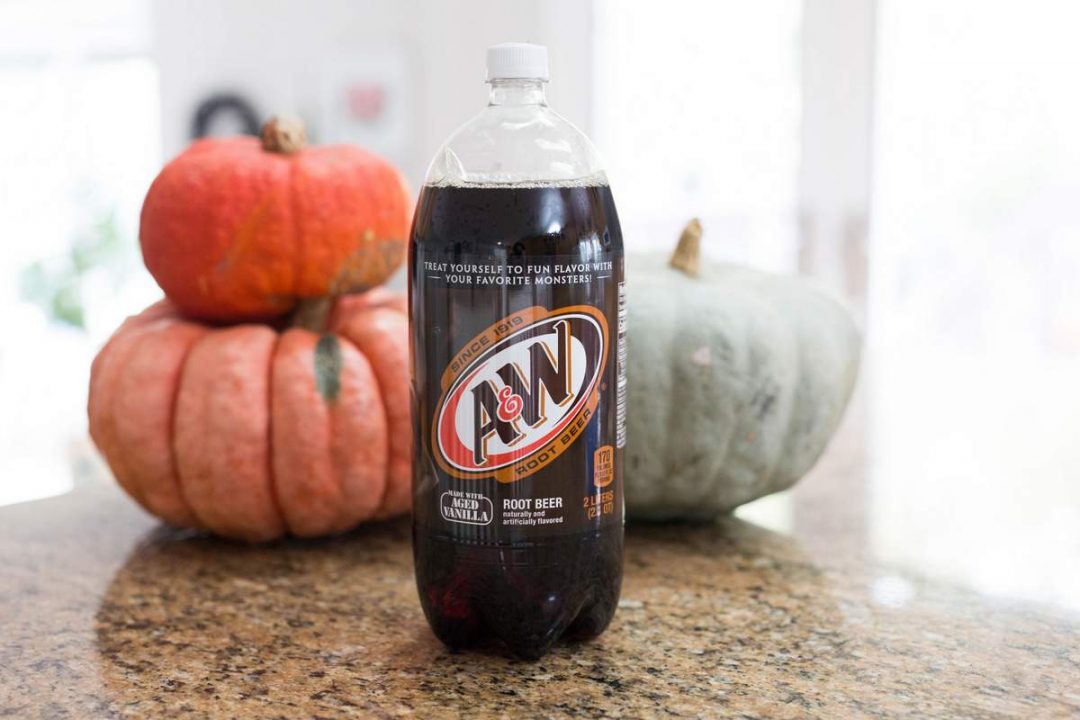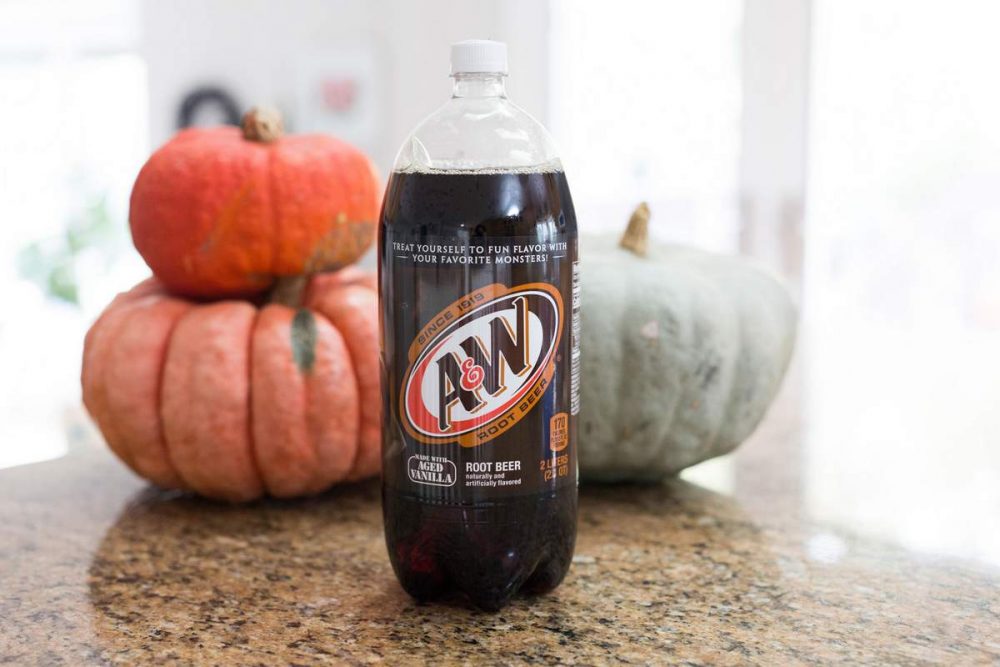 I'd love to hear what you do for Halloween dinner at your house! And if the answer is "a handful of fun-size Snickers," well, no judgement from me!
If you liked this post with Halloween dinner ideas, you might also find these posts useful: