My mom was a pretty picky child, apparently (although by the time I can remember, there weren't many things she refused to eat).
One thing, however, she still doesn't like is tomatoes.
Which means I'd never had the made-in-heaven combo of tomato soup with grilled cheese sandwiches until Bart's mom made it for us for lunch one rainy afternoon.
It pretty much blew my mind with how good it was.
Since then, Bart and I have eaten many variations of that combo, but this fire roasted tomato soup is, without question, our very favorite.
In fact, it's freezing cold today, so I'm contemplating making another batch of this tomato soup for lunch. And probably eating it all before Bart gets home from school.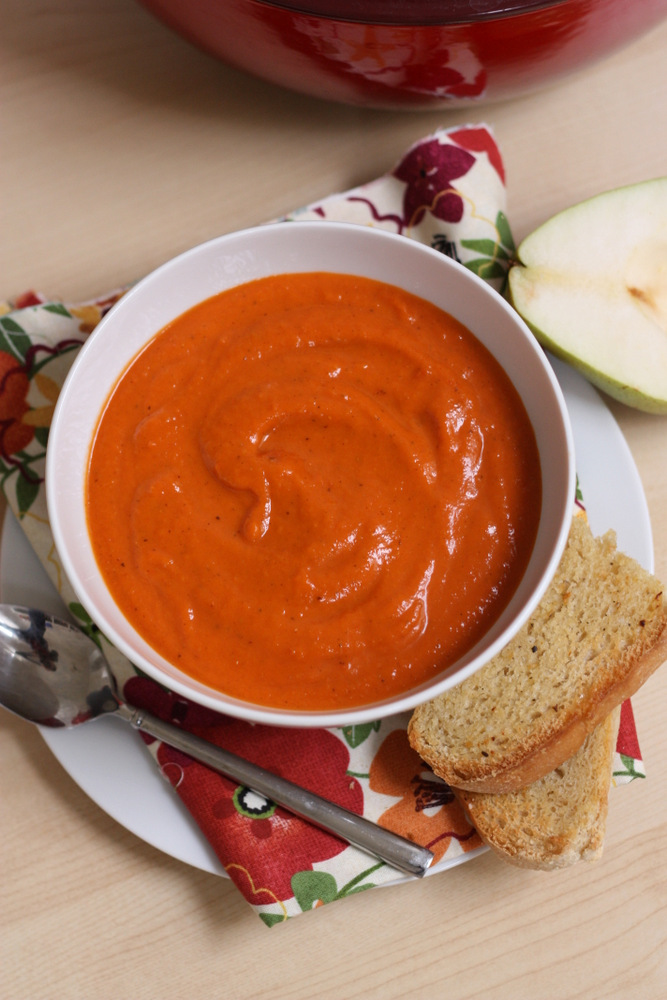 fire roasted tomato soup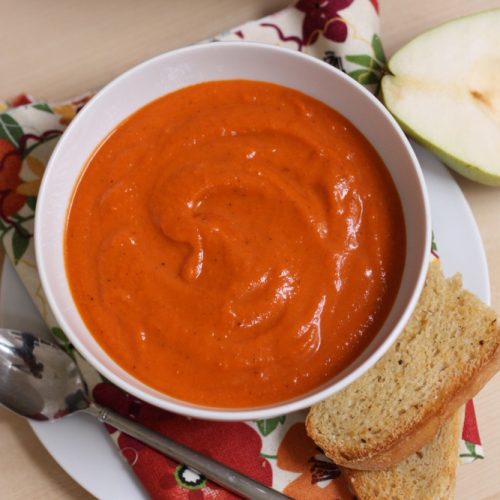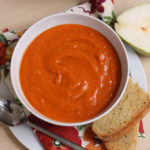 Fire-Roasted Tomato Soup
This fire roasted tomato soup is perfect for a chilly fall day!
Ingredients
3

tablespoons

butter

1

yellow onion

diced

2

14.5-ounces each cans diced tomatoes

2

14.5-ounces each cans fire-roasted diced tomatoes

1

bay leaf

1

teaspoon

brown sugar

2

tablespoons

tomato paste

2

tablespoons

flour

3/4

cup

chicken or vegetable broth

1/2

teaspoon

baking soda

1/2

cup

cream or half-and-half

salt and pepper to taste
Instructions
In a large pot or dutch oven, melt the butter over medium heat and then add the diced onion. Cook for about 5 minutes, stirring occasionally to keep it from burning.

While that cooks, open three of the cans of tomatoes and drain the juice into a bowl (don't discard it!).

When the onions are soft, add the three cans of drained tomatoes, the bay leaf and the brown sugar. Cook for about 10 minutes, stirring every minute or two, until the excess juice has mainly cooked off and the tomatoes are sizzling.

Stir in the tomato paste and flour and cook, stirring constantly, for about two minutes, then slowly add the tomato liquid, the broth, the last can of tomatoes, the baking soda and 1/2 teaspoon salt, stirring. Bring the mixture to a boil.

Reduce heat to medium-low and simmer about 5 minutes.

Remove from heat, discard the bay leaf and blend the soup (either in a blender - be careful! or with an immersion blender). I've done it totally smooth and also more chunky and I strongly prefer it a little bit chunky. Stir in the half-and-half, then season to taste with salt and pepper.

Serve immediately, preferably with grilled cheese sandwiches.
if you liked this fire roasted tomato soup recipe, you might also like these other recipes: