Do you have easy dinner recipes that you go back to again and again because they're delicious and you know everyone will eat them? These 12 dinner recipes are those for our family.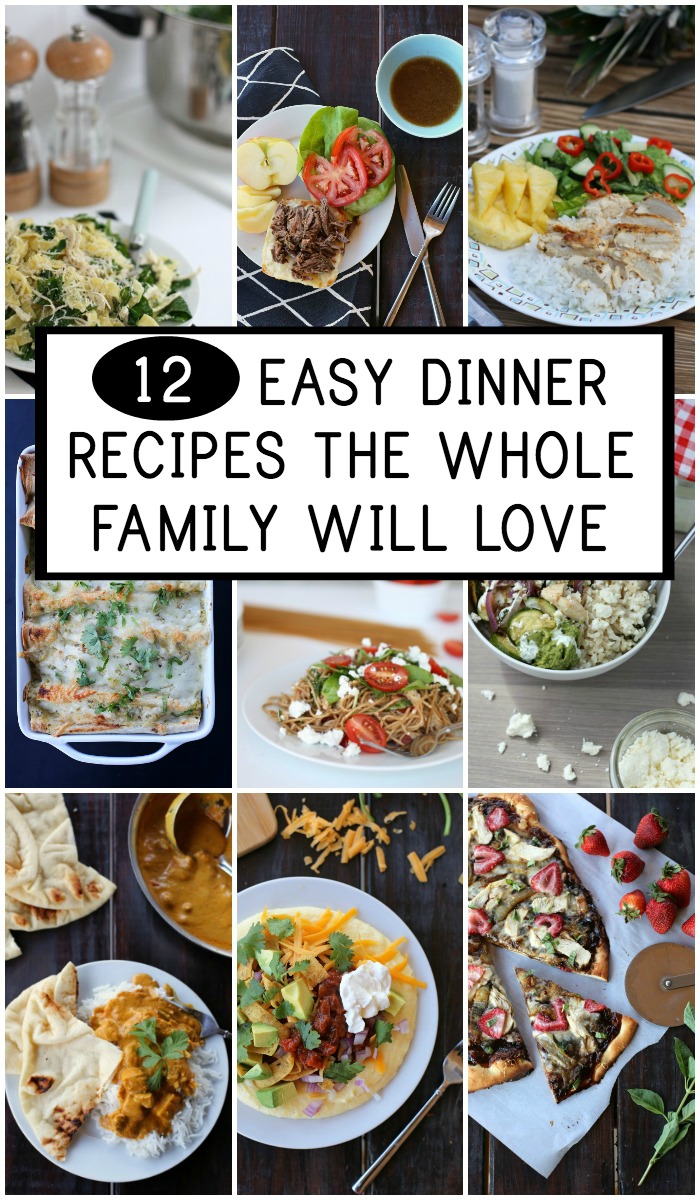 When I was growing up, my mom made a list of about 30 dinner recipes that most of the family liked and cycled through them every month.
I personally get bored with cooking the same thing over and over again (which is one reason that this meal planning service has been such a good fit for our family), but I still have dinner recipes that I come back to over and over again.
They're just too good to drop out of the regular rotation and I love having a handful of easy dinner recipes that I know everyone will eat, whether it's just our family or we're having company over.
If we ever have you over for dinner, chances are VERY high that I'll make one of these dishes.
5 Ingredient Green Chile Enchiladas
I NEVER get tired of these enchiladas. I've been making them for years and years, and they are amazing every time (plus SO darn easy). This is a perfect make-ahead meal and everyone of my children eat them without complaint.
Easiest Crockpot French Dip Sandwiches
I LOVE this recipe – just dump everything in the crockpot in the morning and come dinnertime, serve the shredded beef up on a ciabatta bun with melted cheese. The girls are all big fans too, but maybe that's just because it's so fun to dunk your sandwich in the au jus.
Sweet & Spice Chili Polenta
Polenta is not something I ever ate growing up, but it's become one of my favorite bases for a delicious dinner. And I never say no to something that I can put Fritos on top of. I made this the night before Star was born and I still am sad I didn't get to eat the leftovers.
Strawberry Balsamic Pizza With Chicken
This is pizza taken to a whole new level. It's fancy but also everybody loves it, including children. Every time I make pizza, Bart asks "how about you make that strawberry and chicken pizza?"
Easy Indian Butter Chicken
This is usually Ella's birthday dinner request and I can't blame her. It's fantastic and ridiculously easy to make. Add some naan bread and voila! Dinner is served.
Slow Cooker Shredded Beef Pepperoncini Sandwiches
This is probably my #1 favorite slow cooker recipe. I love the extra zing the pepperoncinis give to the meat and I basically can't say no to a good bun with melty cheese.
Balsamic Pasta with Spinach and Fresh Cheese
Pasta is not my go-to, but this pasta dish is probably my all-time favorite (possibly because I never met a goat cheese recipe I didn't like). Two kinds of cheese, a light balsamic sauce, shredded chicken and fresh tomatoes? Every day of the week and twice for lunch as leftovers.
Chicken Fettuccine Alfredo with Spinach
I think this recipe will always remind me of London and eating it out on our rooftop garden. But even if you're eating it at a kitchen table in the suburbs like we do now, it's extremely delicious.
Grilled Chicken with Coconut-Jalepeno Sauce and Rice
This is one of those dishes that you think, "How good can this really be?" and then everyone is fighting over drinking the leftover sauce plain. I've been making this for more than a decade and it's delicious every time.
Fire-Roasted Tomato Soup
This soup has basically ruined me for any other tomato soup. It's just SO good, whereas I feel like many tomato soups are basically like eating a bowl of thin ketchup or spaghetti sauce. Add a grilled cheese sandwich on sourdough and everyone in the family is a completely happy
Roasted Vegetable and Chicken Rice Bowls with Guacamole and Ranch
This is a recipe we've come back to again and again and it's one of my favorites to make when we have families over for dinner because everyone can customize it to their own tastes. It's a little time consuming because there are so many parts, but it's always worth it.
Saturday Night Pancakes
I know most families have their go-to dinner when time is tight and there are no other plans. In our family, it's these pancakes and they are the BEST pancakes ever. We usually have them with coconut syrup, if I'm feeling ambitious, and yogurt and jam if I'm not.
What are your go-to dinner recipes?