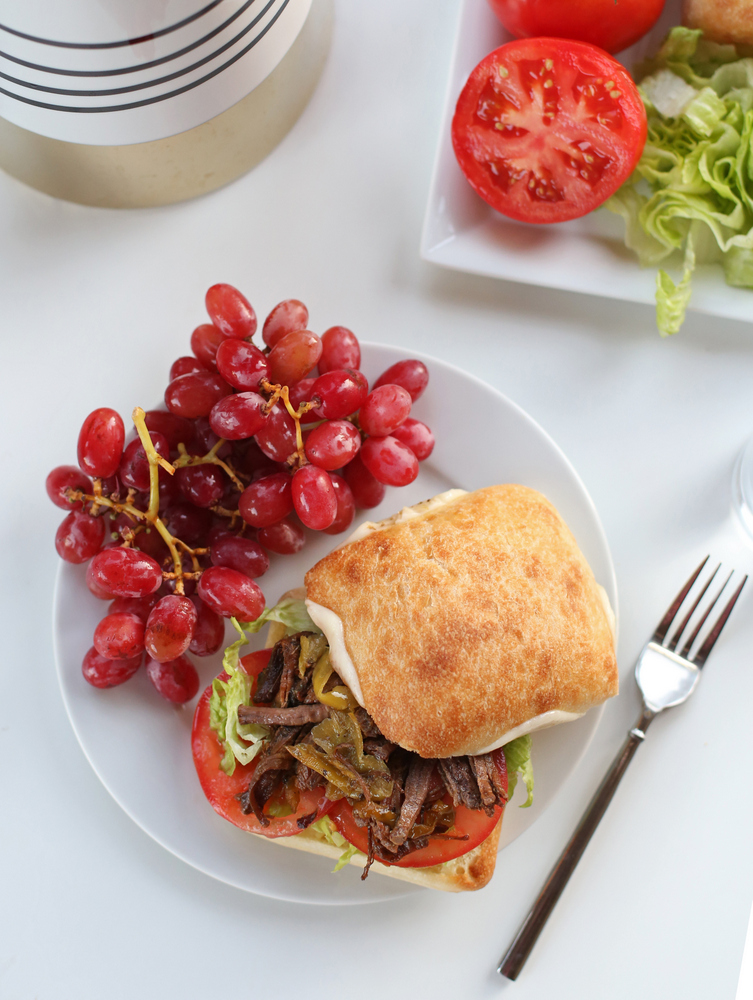 I make dinner pretty much every night.
We don't eat out all that much because the baby likes to start falling apart at 6:15 or 6:30, which doesn't leave a lot of time for relaxed dining.
Also, because inevitably, when we go out to eat, we come home ready to throw the girls in bed and then they say, "What's for dinner?"
Um. . . that meal we just paid a pile of cash for? THAT was what was for dinner.
But when Bart is out of town or has a late meeting and won't be home for dinner? There is no dinner.
Unless he's gone for three or four nights in a row and I finally get tired of cereal for dinner, I rarely make dinner when he's gone.
But earlier this week, he had a work dinner and that morning I thought, "I really don't want pancakes for dinner."
And so I tossed everything in the crockpot while the girls ate breakfast and when we got home from the pool at 5:30 that night (because, yes, it was 100 degrees earlier this week), this delicious dinner was ready 5 minutes later.
For once, I didn't have to be jealous of whatever Bart ate for dinner while he was gone. Especially because when he got home, he said his dinner was pretty mediocre anyway.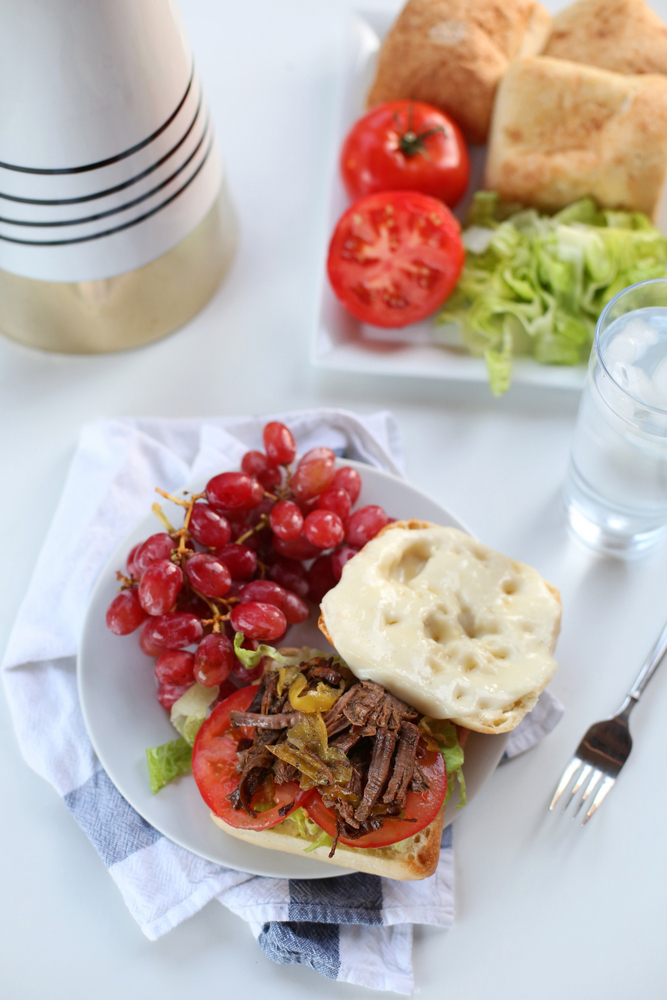 Slow Cooker Shredded Beef and Pepperoncini Sandwiches
(slightly adapted from Our Best Bites)
Serves 6-8
2 pound beef roast
Salt and pepper
1 16-oz. jar sliced pepperoncinis, undrained
1 tablespoon garlic salt
1 tablespoon onion powder
1 tablespoon white sugar
2 tablespoons dried oregano
1 teaspoon dried basil
Ciabatta sandwich rolls
Mayonnaise
Thinly sliced provolone cheese
Sliced tomatoes
Shredded lettuce
Generously season your roast with salt and pepper. Place it in the bottom of the crockpot and pour the whole jar of pepperoncinis over it (juice and everything). Add the remaining spices, put the lid on the crock pot and cook on low for 8-10 hours or 4-6 hours on high.
When you're ready to serve dinner, shred the meat with two forks and let it soak in the liquids while you prep everything else.
Turn the broiler onto high. Slice the rolls in half and spread mayonnaise on both halves. Place a slice of provolone on the top half and place all the rolls on a baking sheet. Broil for 2-3 minutes, keeping a close eye on it, until the cheese is bubbling and the rolls are slightly toasted.
Place tomatoes and lettuce on the bottom bun, add the shredded beef, and top with the top bun with cheese on it. Enjoy!