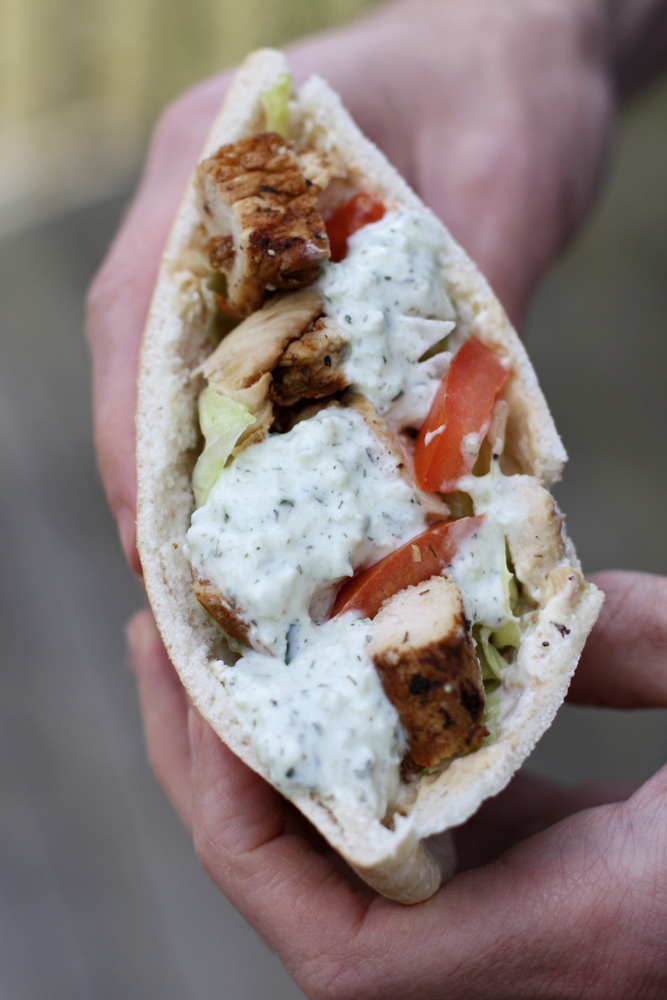 I started making chicken pitas (or gyros or whatever you want to call them) back in our Boston days, and they've remained one of our very favorite dinners since then.
The whipped jalapeño feta addition made it basically impossible for me to resist.
And it was ridiculously good. Also, I just bought pitas this time instead of making my own wraps and . . .that was a good decision.
Also, there's no way to pretend that these are a quick and easy dinner. You have to marinate the chicken, make the Tzatziki sauce, AND the whipped feta and then cut up all the toppings. It's all kind of a hassle (I try to put in the marinade and make both sauces at lunch time so that when it's dinnertime, it's pretty quick to assemble everything and cook up the chicken).
And yet, I continue to make them and think they are worth the effort.
chicken pitas with whipped jalapeño feta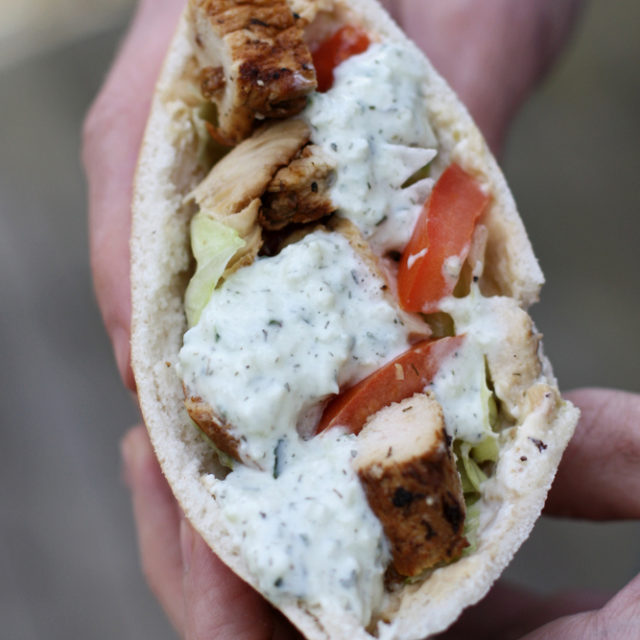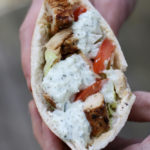 Chicken Pitas with Whipped Jalapeño Feta
Super tasty chicken pitas with jalapeño feta spread and homemade Tzatziki sauce.
Ingredients
Chicken:
3

boneless

skinless chicken breasts

3

Tablespoons

olive oil

6

Tablespoons

lemon juice

2

garlic cloves

minced

1

tablespoon

dried dill

1

tablespoon

apple cider vinegar

1

tablespoon

honey

1

teaspoon

salt

1

teaspoon

black pepper
Tzatziki sauce:
1

cup

plain full-fat or low-fat Greek yogurt

1

cucumber

1

garlic clove

minced

1 1/2

Tablespoon

lemon juice

1

tablespoon

extra virgin olive oil

1

teaspoon

dried dill

1/2

teaspoon

honey

1/4

teaspoon

salt

1/4

teaspoon

black pepper
Whipped Jalapeño Feta:
1/2

jalapeno pepper

I use canned because they aren't so spicy and don't need to be roaster

6

ounces

feta cheese

2

ounces

cream cheese

2

cloves

garlic

minced

1 1/2

Tablespoons

lemon juice

1/4

teaspoon

salt

1/4

teaspoon

black pepper
To Assemble:
6

pita breads

1

head iceberg lettuce

shredded

3

roma tomatos

chopped

1/2

red onion

thinly sliced

1/2

cup

hummus
Instructions
Marinate the Chicken:
Pour the the olive oil, lemon juice, garlic, dill, vinegar, honey, salt and pepper into a large ziplock bag and then add the chicken. Shake gently to combine and then put it in the fridge to marinate for at least 2 hours or overnight. When you're ready to eat, cut the chicken into bite-size bits and bake or pan-fry the chicken until cooked all the way through.
Make the Tzatziki:
Slice the cucumber in half and scrape out all the seeds. Shred the cucumber (if you have a food processor, it's easiest to shred it through there). In a food processor, pulse the cucumber and all other ingredients until well-combined. Put the Tzatziki in a covered container in the fridge until you're ready to serve.
Make the Whipped Feta:
Rinse out your food processor and blend all ingredients together until very smooth. If you're going to be eating within 2 hours or so, let it stand at room temperature. Otherwise, store it in the fridge until shortly before you're ready to eat.
Prepare the Pitas:
Assemble the pitas by spreading the feta and hummus on the insides of the pita pocket then filling with chicken, lettuce, tomatoes, and red onion. Top with Tzatziki sauce.
if you liked this recipe for chicken pitas, you might also like these other recipes: