Last year, I started doing an 8 week meal rotation.
I come up with two weeks of complete dinner plans and then we rotate through them for eight weeks.
Having the same meal every two weeks means it's not so often you're just SICK of it, and an eight week block lets you eat pretty seasonally.
I shared the meal rotation we used in January and February and then I took March and April off. 
It feels like freedom for about one week to make whatever I want and then I'm like "oh, this is the worst."
So we're back on the bandwagon with some new spring dinner ideas, especially as we deal with home renovations and moving this month.
I need to not be thinking about dinner every night – it just gets so old.
Here's what is on our family dinner menu for the next eight weeks: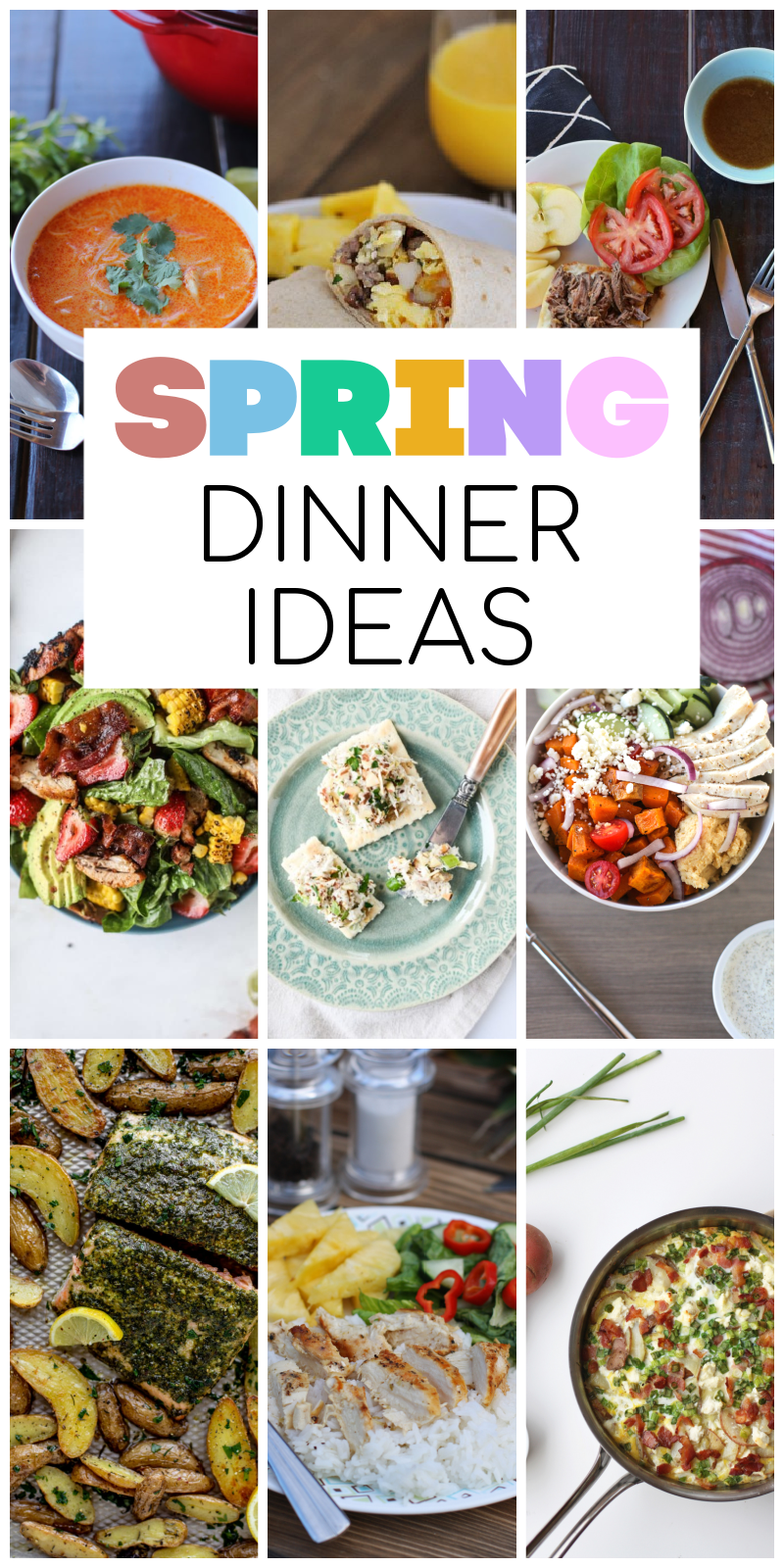 Spring Dinner Ideas
WEEK 1:
Crockpot Chicken Tortilla Soup with tortilla chips and pineapple
Greek Sweet Potato Bowls with pita bread and grapes
Potato Frittata with Bacon and Feta with spinach salad
Chicken Salad Sandwiches with chips and apples
Homemade Pizza with roasted broccoli
Takeout
Pesto Salmon with lemon roasted potatoes, green salad and dinner rolls
WEEK 2:
Breakfast burritos with spinach smoothie
Creamy Cajun Chicken Pasta with green salad and strawberries
Chipotle Chicken Cobb Salad with muffins
Thai Chicken and Noodle Soup with naan bread and mangos
French Dip Sandwiches with apples and sugar snap peas
Takeout
Grilled Chicken with Coconut-Jalapeño Sauce with rice and roasted green beans
Of course, there are some nights where we just have leftovers instead or I make pancakes or something, but those happen less frequently because I know from the beginning of the week exactly what I'm making and I have all the ingredients to get dinner on the table.
I'd love to hear what you're cooking for dinner right now!
If you liked this post about spring dinner
ideas

, you might like these posts too: