Sometimes, two people get married and discover that their spouse is not quite the perfect individual they expected. For instance, I had no idea that Bart was not really a huge fan of risotto. A nicer wife might have just decided that risotto was a dish only ordered at restaurants, but, sadly for Bart, I am not that wife.
Instead, I began a many year search for a risotto recipe he would like. Which means many many nights of eating risotto. Poor Bart.
This one, though, is one that we both like. So, success. Maybe I'll never try another miserable failure of a risotto recipe again (but that's unlikely).
Also, there seem to be two schools of risotto thought. One says you must stir constantly. The other one says you can stir it now and again and otherwise leave it alone. I think you can guess which one I belong to (hint: it's not the one where you stir constantly).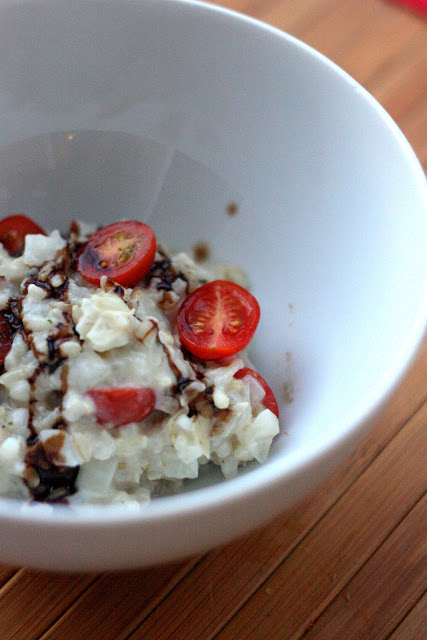 fresh mozzarella and tomato risotto with balsamic drizzle
Fresh Mozzarella and Tomato Risotto with Balsamic Drizzle
This dish is so fresh and full of flavor!!
Ingredients
4

tbsp

balsamic vinegar

1

tbsp

butter

1.5

cups

Arborio rice or other short-grained rice - I usually just use short-grain brown)

5

cups

vegetable broth

1

tsp

salt

1/3

cup

half and half

1

tbsp

pesto or freshly chopped basil

1

pint

cherry or grape tomatoes halved

6

oz

fresh mozzarella balls (halved if they're larger
than a marble)

salt and pepper to taste
Instructions
In a small saucepan, bring the balsamic vinegar to a boil and then reduce
heat to a simmer and let cook about ten minutes, until thickened and syrup-y.

In a large saucepan, melt the butter and then add the chopped onion and let
cook until softened, about five minutes.

Add the rice and cook, stirring occasionally, for about two minutes.

Add the broth half a cup at a time, stirring well between each addition and waiting to add the next serving of broth until the previous one is completely absorbed. This should take about 35-40 minutes total. Add the salt about half way through.

When all the broth is absorbed and the rice is creamy and tender, stir in
half-and-half and pesto or basil.

Remove from heat and add tomatoes and mozzarella, stirring well to combine.

Salt and pepper to taste, and serve, drizzling the balsamic syrup over each serving.
Recipe Notes
adapted from Cooking Light
if you liked this fresh mozzarella and tomato risotto, you might also like these other posts: