One of the things I like about vegetarian meals is that they are generally pretty fast because I don't have to remember to defrost the meat, I don't have a bunch of knives and cutting boards to be careful about reusuing, and I don't have to worry about meat being undercooked.
I can't lie, though. This dish is not a super quick toss together. Every time I make it, I think "Bah, this is a freaking pain." Don't say I didn't warn you.
It's worth it, though, especially when you are just swimming in eggplants. Especially when your heart is not necessarily filled with love for eggplants.
I've also just made the breaded eggplant slices and used them in sandwiches with some mayo, melted mozzarella cheese, and tomato slices (although I should have spread a little tomato sauce on it too).
Either way, this is a really good, non-soggy eggplant recipe. And I'll keep making it despite the hassle.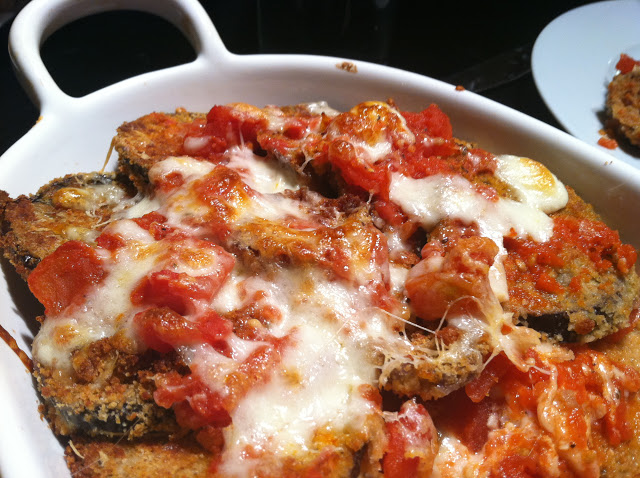 Eggplant Parmesan
(adapted very slightly from Annie's Eats)



Ingredients:
1 lb globe eggplant, cut into ¼-inch rounds (I usually use two or three small eggplants)
1½ tsp salt
3 slices of bread
1/2 cup Parmesan cheese, grated
Pinch of salt
1 tsp. pepper, divided
¾ cup flour
3 egg whites or 1 large whole egg
3 tbsp. vegetable oil
1 (14.5 oz) can diced tomatoes
1 tbsp olive oil
2 cloves garlic, minced or pressed
¼ tsp. red pepper flakes
¼ cup fresh basil leaves, coarsely chopped
Salt and ground black pepper
4 oz. shredded mozzarella cheese (about 1 cup)
½ oz. freshly grated Parmesan cheese (about ¼ cup)
Directions:
Toss the sliced eggplant with the salt in a large bowl. Transfer the salted eggplant to a colander and set the colander in the empty bowl. Let drain for about 30-45 minutes (your eggplant will probably give off about 1 TB of liquid). Spread the eggplant slices on a few layers of paper towels and cover with more paper towels. Press firmly to remove excess liquid.
While the eggplant drains, put a rimmed baking sheet in the oven and preheat to 425˚ F. Pulse the bread in a food processor until it is finely ground. Add the parmesan cheese and salt and 1/4 tsp pepper and pulse a few more times to combine. Transfer the crumbs to a pie plate or dinner plate.
Combine the flour and ¾ teaspoon pepper in a large ziplock bag and shake to combine. Beat the egg (or egg whites) in a second pie plate and add 2 TBS of water. Place the eggplant slices in the bag with the flour; seal and shake to coat (you may have to do this in two batches, depending on how many slices you have).
Remove the slices from the bag, dip in the eggs, shaking to remove excess egg. Coat the slice in the bread crumb mixture and set the breaded slices on a wire rack. Repeat until all the slices are breaded.
Remove the preheated baking sheet from the oven an pour the vegetable oil on the sheet, tilting to coat evenly. Lay the eggplant slices on the baking sheet in a single layer. Bake for 30 minutes total, rotating the baking sheet after 10 minutes and flipping the slices over after 20 minutes (keep an eye on any really small pieces to make sure they don't burn). Leave the oven on.
While eggplant bakes, prepare tomato sauce. Heat the olive oil, garlic and red pepper flakes in a medium saucepan over medium-high heat, stirring occasionally, about 1 minute. Stir in the tomatoes and bring to a boil, then reduce the heat to medium-low and simmer, stirring occasionally, until slightly thickened, about 15 minutes. Stir in the basil and season with s & p to taste. Use an immersion blender to break up the tomatoes, leaving it slightly chunky (alternatively, pulse it a few times in a food processor or blender or just mash it a little with a potato masher or fork).
To assemble the dish, spread ½ cup tomato sauce in the bottom of a 2-quart casserole dish. Layer in half of the eggplant slices, overlapping the slices to fit. Spread with another ½ cup sauce. Sprinkle with half of the mozzarella. Layer in the remaining eggplant and dot with the remaining sauce, leaving the majority of the eggplant exposed so it will remain crisp. Sprinkle with the Parmesan cheese and the remaining mozzarella. Bake until bubbling and the cheese is browned, 13-15 minutes.
I served it with carrot puree (an all-time favorite in our home), and a tomato/avocado/crouton/mushroom salad with ranch dressing. Delish.