If someone had asked me two weeks ago to do a recipe on my blog using Ritz crackers, I would probably have responded with something totally snobby like, "Um, actually, I mainly focus on whole and unprocessed foods."
(You can see where this is going, right?).
Have a non-whole, processed recipe of happiness.
The night before Mother's Day, after a grocery store run, I found myself in possession of a box of Ritz crackers (I blame Bart). Also a bag of chocolate chips (I can only blame myself).
We threw the babies in bed, and ten minutes later, I was sticking two pans of knock-off Thin Mint cookies in the freezer to harden up.
This is why children think all the fun happens after they go to bed. Because it does.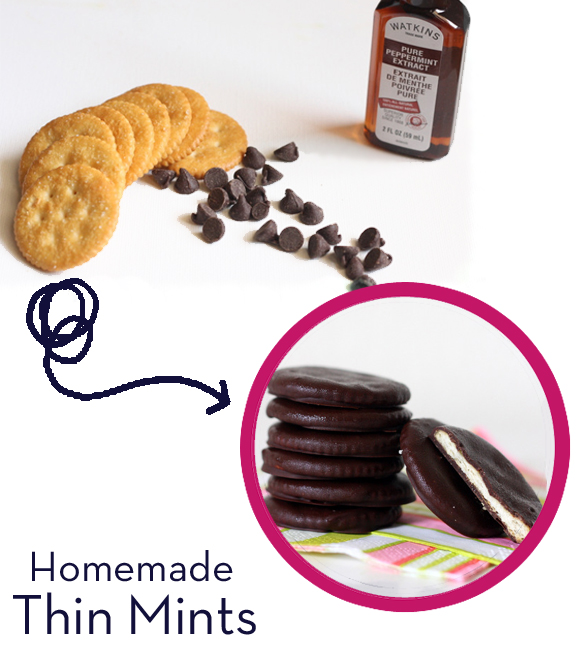 We shared a few with Ella the next day. Just a very few.
Also, now that Ella has tasted Ritz crackers, I'm not sure there will be any going back (who am I kidding. Since I tasted them again, there will be no going back).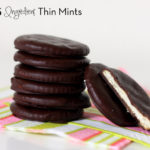 Homemade Thin Mints
Ingredients
1

cup

semi-sweet chocolate chips

optional 1 Tablespoon shortening or coconut oil

3/4

teaspoon

peppermint extract

2

dozen Ritz crackers
Instructions
Line a baking sheet with parchment paper or a reusable liner.

In a small saucepan, melt the chocolate chips (and the shortening or oil if you're using it - I think it just makes it a bit smoother, but you'll be fine if you leave it out too) over medium-low heat, stirring frequently.

When it's completely smooth, remove from heat, and add the peppermint extract 1/4 teaspoon at a time, tasting between additions to make sure it isn't too strong. My chocolate got all bubbly when I added each teaspoon, but a quick stir brought it back to normal.

Drop a Ritz cracker in the chocolate, then use a fork or spoon to flip it over to coat the other side. Lift it out the chocolate, shake slightly to remove excess chocolate, and place on the baking sheet.

When all of your crackers are chocolate covered, put the pans in the fridge or freezer to harden up the chocolate. After about 15 minutes or so, they'll be ready to eat!

(I like the taste of them out of the freezer better, but they look a little nicer out of the fridge the next day because the chocolate condensates in the freezer. You choose).
Recipe Notes
Note: After worrying endlessly about it, I made a second trip to the store to buy peppermint extract. I already had mint extract, but the more I smelled the bottle, the more I felt like it was going to give me a toothpaste taste, which wasn't exactly what I was going for. Play it safe and go with peppermint extract.
(from Averie Cooks)