Ever since I read Bringing Up Bebe and French Kids Eat Everything, I've been more serious about having a good snack for Ella in the afternoon (and for me, if we're being honest).
I want something that is substantial enough to keep her going for a couple more hours, but not so dense she won't be hungry by dinner (we don't eat dinner at nine p.m. like some French families). And I want it to be reasonably healthy, not a bunch of sugary carbs, although I guarantee you that Ella wouldn't complain a bit if it were a cookie every day.
Here are a couple of staples in our home: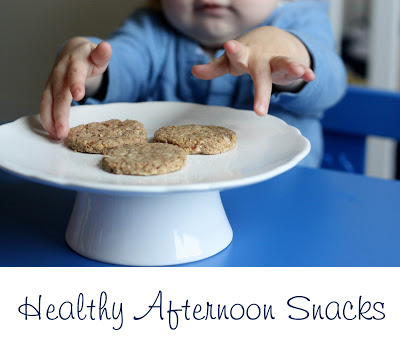 Apple slices with peanut butter – I love a good apple and I really love peanut butter. Plus, what kid doesn't like to dip things?
Green smoothies – Our CSA grows kale like there is a kale shortage coming up, so I am always struggling to use up enormous bunches of it. I put in about two leaves of it, some apple juice, a frozen banana, and some combination of frozen and fresh strawberries, peaches, pineapple, and mango. I try not to make enormous amounts of this since smoothies are generally so caloric and also I don't like to drink three cups of smoothie. We both usually have one child-size glass.
Popcorn – It is amazingly cheap to buy plain popcorn kernels (a 1 lb bag runs me 80 cents) and I throw about two tablespoons in a brown lunch sack, fold it over, and microwave it for 2 minutes. Ella loves listening to it pop and is just as happy to eat it plain as when I put a little butter and salt on it.
Triscuits with cheddar cheese – I like to add a little smear of dijon mustard to mine, but Ella does not approve of this addition to hers.
Banana Ice Cream – Have you done that thing where you put frozen bananas in your food processor for a minute or two with a spoonful of peanut butter (and maybe a spoonful of cocoa powder too) and it totally tastes like ice cream afterward? I love this stuff.
Cinnamon Almond biscuits – We make big batches of these little cookie/crackers and they are filling without giving you a sugar crash. Plus they just taste so amazing.
Nachos – because sometimes you just want something salty. I just grate some cheddar cheese over a plate of tortilla chips, microwave it for about 15 seconds, and then dip them in salsa (okay, okay, I mix my salsa with sour cream because apparently I am a glutton for calories).
Plain yogurt with granola and dried cranberries – yogurt is almost certainly Ella's very favorite food and with some granola (I like this recipe a whole lot) and some dried fruit, it's a great little snack for both of us.
Banana Coconut Cookies – No sugar added, gluten-free cookies. I promise, they are still amazing. It's a toss-up which of us likes them more.
Any other suggestions for relatively healthy, easy snacks?
*********************************************
This post is sponsored by Disney Baby. I'll be joining the Disney Baby blogging
team next month, and look forward to sharing these kinds of stories
(projects/ideas/etc) with you over there! Stay tuned for more details!