In about five weeks, Ella will be two years old.
Maybe you think that's too old for a pacifier. But Ella still has one. And I have no plans to get rid of it.
I wasn't always this parent. I cannot tell you the number of nights I lay awake in bed, stressing about how to wean her from it, if the loss of the pacifier ("paci" in our house) would mean an end to naps and easy bedtimes, if, if, if. . .
And then, about three months ago, Bart said to me, "Why are you wanting to get rid of it?"
I realized the main reason I wanted to get rid of it was because I felt like I should. Like it was proof I was a bad parent if I let her keep it past a year or eighteen months or two years. Like "good" parents got rid of them at the earliest possible moment.
Bart pointed out that she is a magnificent night sleeper, that putting her to bed or down for naps is extremely-low hassle, and that the paci makes her happy.
Why the shame about pacifier use? I recently found out that a friend of mine kept hers until she was SEVEN. And guess what? She's a perfectly functional, lovely adult. And I won't pretend that one of the reasons I loved Bringing Up Bebe was that she mentioned early on how French children often keep their pacifiers until three or four years old. It's not as if a pacifier indicates anything except that a child associates this little piece of plastic with comfort.
But obviously the fact that I generally refrain from mentioning this to anyone suggests that I do feel a little insecure in my parenting choice here. Or at least live in fear of judgement.
We are fairly strict about the pacifier use – since before Ella's first birthday, it's been strictly for the crib only. She only has a single pacifier (which made for a stressful afternoon when she was ten months old and dropped it out of the side of the stroller at Disneyland) and it never leaves her crib. She willingly takes it out before she gets out of bed, and I keep it in the far corner where she can't reach it on her own from outside the crib.
She's been a pretty adaptable child thus far (switching between nursing and a bottle without difficulty and then, when our single bottle broke just after her first birthday, making the leap to a sippy cup without complaint), and so I'm holding out hope that when we do decide to get rid of it, it won't ruin her life. She's also very reasonable (or, you know, as reasonable as two-year-olds can be), so I think she may understand when it's time to get rid of it.
But I'm just fine with that time not being now.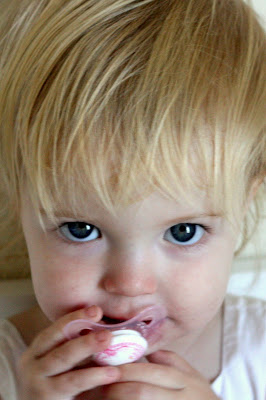 ***********************************************
This post is sponsored by Disney Baby. I'll be joining the Disney Baby blogging
team next month, and look forward to sharing these kinds of stories
(projects/ideas/etc) with you over there! Stay tuned for more details!