. . . to make me happy.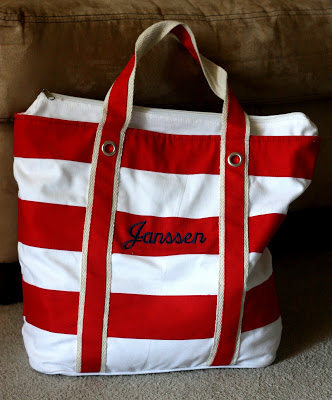 Just this fantastic new beach/pool bag.
(I own a Lands' End ones too and while I like it, I think this one is MUCH better – it's far more flexible about holding oddly shaped things, lighter weight, and I can easily stuff three beach towels into it, along with a few other pool necessities. And an inside zip pocket for keys and phones? I love it.
Also, I took it to the pool last week with two towels, a swimsuit/hat/shoes for Ella, sunscreen, a hardcover book, some snacks, a full water bottle, my wallet, phone, and keys and then when we walked back to the car, I asked Landen if I'd forgotten my bag because I couldn't even feel it on my shoulder. I swear, this is a miracle bag).
I got this bag for free, by the way, but I wasn't asked or paid to write this post. I just really love this bag. In fact, I almost transferred all my purse stuff to it except then I realized I'd spilled my entire water bottle in it and it was soaking wet. I win at life.