Looking for a sweet way to use up your extra zucchini? These double chocolate zucchini cookies are easy and delicious – a perfect simple dessert or tasty snack!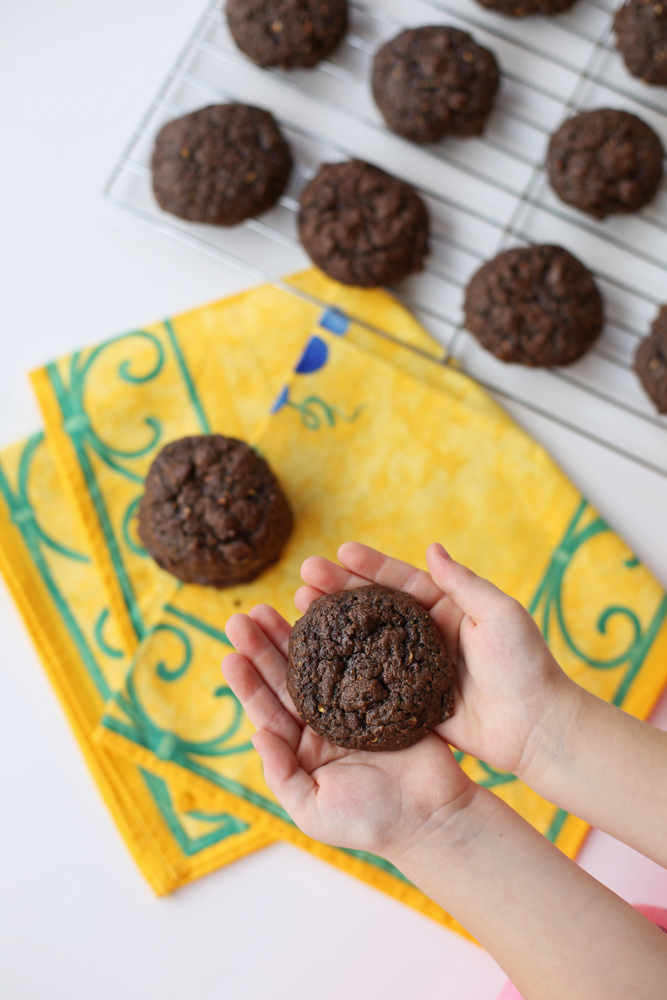 Every Friday night, we have movie night as a family.
We pick some animated movie, I make pizza, and we all snuggle up on our giant squish couch in the basement.
And at some point in the movie, I make a dessert.
I love to bake, and it's a fun part of the evening for me. And the rest of the family seems to have zero problems eating a little dessert while we finish up the movie.
A few weeks ago, I tried these zucchini cookies which sounded dubious to me but I have enormous trust in Mel and also, I had a couple of zucchini that needed to be used up (that is basically why I do 50% of my baking and cooking – I inherited a massive abhorrence of food waste from my dad).
I've learned, over the years, to make a half or even quarter batch of most desserts. First off, I don't want dozens and dozens of cookies or a huge pan of brownies sitting around, and second, if the recipe is a dud, I don't want to have wasted as many ingredients as a full batch would require.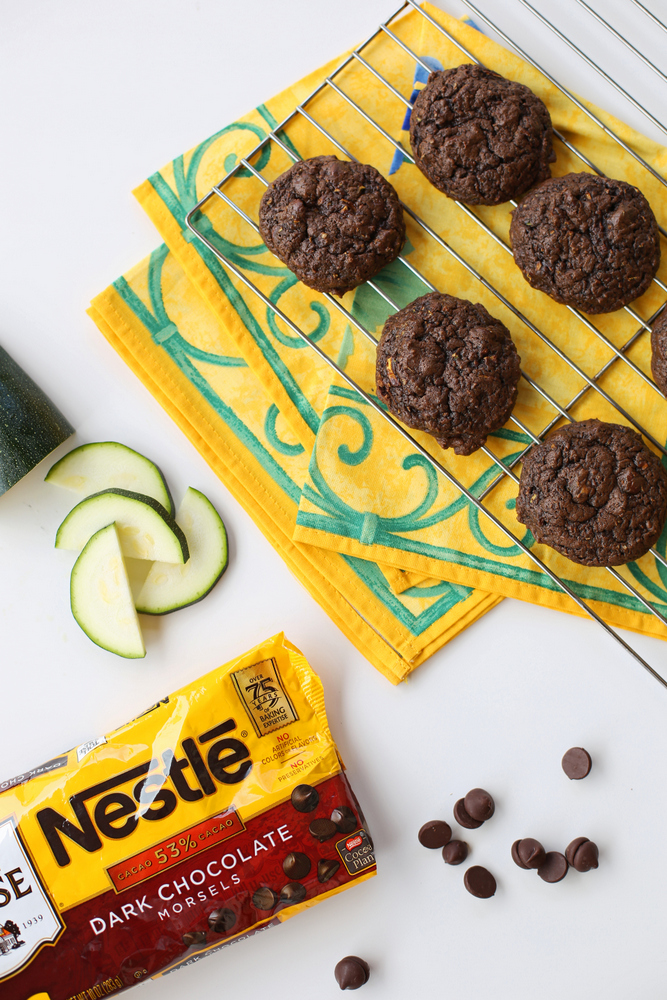 Fortunately, these chocolate zucchini cookies were an enormous hit, so no ingredients were wasted. And we easily plowed through the dozen and a half cookies.
Bart ate the last few for breakfast the next morning and said, because they had vegetables in them, it was a totally acceptable breakfast.
I didn't argue.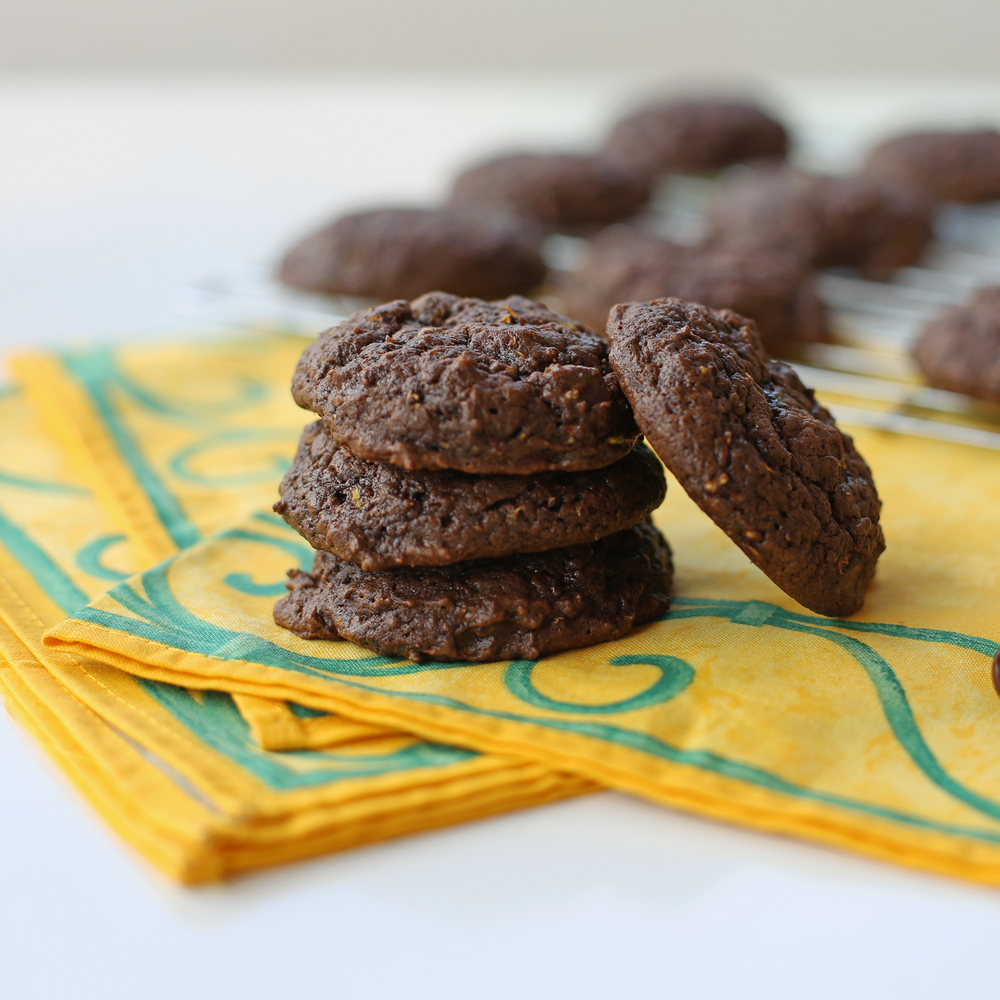 Double Chocolate Zucchini Cookies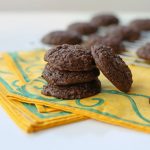 Double Chocolate Zucchini Cookies
Ingredients
1/3

cup

chocolate chips

I like dark chocolate or semi-sweet, but you could use milk too

1

cup

all-purpose flour

2

Tablespoons

unsweetened cocoa powder

1/2

teaspoon

baking soda

1/4

teaspoon

salt

1/4

cup

butter

softened

2

Tablespoons

granulated sugar

1/4

cup

packed brown sugar

1

small egg

1

teaspoon

vanilla

1/2

cup

shredded and drained zucchini

1/2

cup

NESTLÉ® TOLL HOUSE semisweet

bittersweet or milk chocolate chips
Instructions
Preheat the oven to 325 degrees.

In the bowl of an electric stand mixer with the paddle attachment, whip the butter and both sugars, for 2 minutes. Add the egg and vanilla and mix for another minute, scraping the sides down if needed. Stir in the zucchini gently, then add the melted chocolate and mix until well-combined.

Pour the flour, cocoa powder, baking soda and salt on top of the other ingredients and mix on low until almost combined. Add the chocolate chips and stir just until incorporated.

Scoop the cookie dough into golf ball-sized rounds and place about 2 inches apart on cookie sheets. Bake for 10-12 minutes until they are just set and remove from oven.

Let them rest on the cookie sheet for 5-10 minutes before eating.
If you liked this recipe for chocolate zucchini cookies, you might also like these recipes: