Since returning from vacation, we have really tried to cut back on desserts (so far, so good with two desserts a week), but sometimes I just want something sweet at the end of the day. And my standby frozen banana ice cream is out since I burned out the motor on my food processor and have yet to buy a replacement.
This recipe was a complete winner on one of those nights where I needed something quickkkkly. Ella might have liked these, but I can't say for certain since Bart and I scarfed down an entire half-batch before she had a chance to give them a whirl.
I seriously thought these were just as good, if not better, than the regular no-bake cookies I've had in the past, and these ones have no sugar added to them (just some honey).
Also, one saucepan? I love it.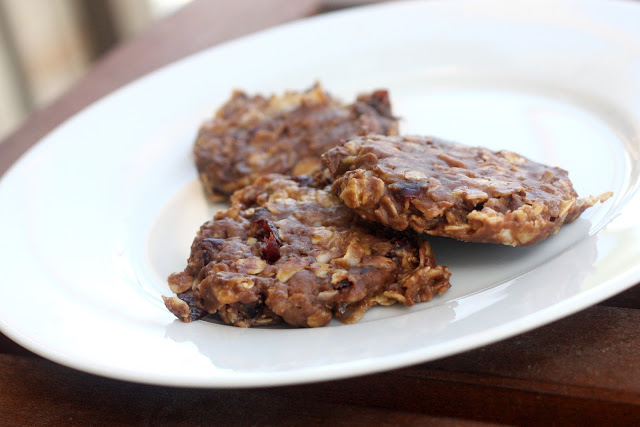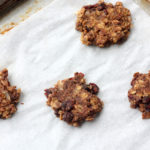 Healthy (or at least healthier) No-Bake Cookies
Ingredients
1/2

cup

peanut butter

I used natural

1/3

cup

honey

1/4

cup

butter

1

cup

old-fashioned oats

2

tablespoons

ground flaxseed

1/2

cup

unsweetened coconut

1/2

cup

chocolate chips

I used milk chocolate because that's the bag that was open

1/2

cup

dried cranberries or cherries
Instructions
Melt the butter, peanut butter and honey in a pot over medium heat, until smooth.

Remove from heat and add all remaining ingredients, stirring to combine.

Lay a piece of wax or parchment paper on the counter or on a cookie sheet and scoop golf ball sized rounds of mixture on to the paper.

Spray the bottom of a drinking glass or measuring cup with cooking spray and press each ball flat until it's about 1/4-1/2 an inch thick.

Let cool on the counter or, my preferred method, stick them in the fridge. Once they are set, eat them all in one sitting.

Or don't. They'll be good the next day too. And probably the day after that, but I can't vouch for that particular detail because I've never had them last that long.