That title is proof enough that I have a child. Nineteen months ago, I'm not sure I'd ever heard that song. Now, thanks to Pandora, I can sing pretty much every word (no fear, I'll spare you the horror).
I made these cookies for the first time last year when Bart and I were limiting ourselves to two desserts a week but we still wanted something a little sweet in the evening. And I totally don't count these as a dessert, chocolate chips notwithstanding.
Recently, I made them for a little playgroup I was hosting and they got scarfed up. Even when I tossed around the words "no sugar added" and "gluten-free" and "vegan." I know, have you ever heard such unappetizing words? But I swear, these are delicious.
So much so that two of the girls asked for the recipe and made them the next day. Yes, the next day! Healthy food win.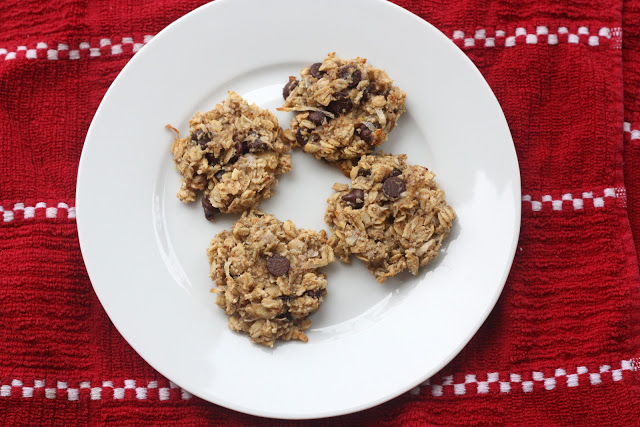 Cookies
Ingredients
2

cups

old-fashioned oats

2/3

cup

almond meal

if you don't have almond meal, you can just pulse regular almonds in a blender or food processor until they arrive at a flour-y texture

1/3

cup

sweetened

shredded coconut

1/2

teaspoon

cinnamon

1/2

teaspoon

salt

1

teaspoon

baking powder

3

ripe bananas

mashed

1

teaspoon

vanilla extract

1/4

cup

coconut oil at liquid state

or butter although then they won't be vegan, but really, how many of my readers are vegans? That's what I thought

1

cup

chocolate chips
Instructions
Preheat oven to 350 and put your oven rack on the second row (so it'll be fairly high).

Place oats, almond meal, coconut, cinnamon, salt, and baking powder in a bowl and whisk well. Add bananas, vanilla and coconut oil and stir until combined. Fold in chocolate chips.

Place heaping spoonfuls (I use a

medium cookie scoop

) of dough on a cookie sheet and flatten them slightly with your finger (they won't bake down like regular cookies do, so if you want them more flat, which I always do, you'll need to make them the general shape you want them when they come out of the oven).

Bake for 15 minutes. Let cool slightly and eat all of them yourself because, hey, no added sugar.