I don't really go for mega-fussy recipes. I don't like things that make an enormous mess or that take forever to make and clean up. I also don't want every treat I make with Ella to be super-sugary or that her only cooking memories with me are of desserts.
This recipe fits the bill perfectly for me.
These biscuits are kind of a cross between a cracker and a cookie – slightly sweet, full of texture, crisp on the outside, and soft on the inside. They freeze beautifully and, start to finish, the whole thing takes about thirty minutes.
Plus, you can use your cookie cutters without having to make sugar cookies (blah. I loathe sugar cookies because of the chilling and then the rolling and the getting too soft and then the baking up into unrecognizable shapes. Perhaps I have issues).
Either way, when they came out of the oven, the house smelled wonderful, and Ella and I enjoyed a little tea party in her room. These biscuits were a huge improvement over the wooden hamburgers we've been eating since Christmas.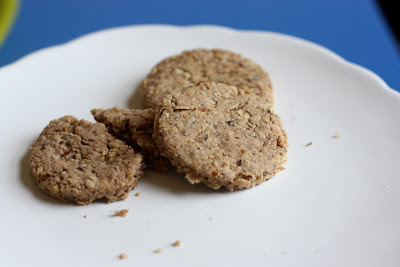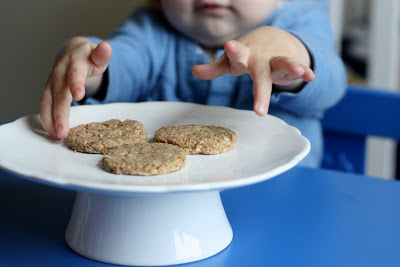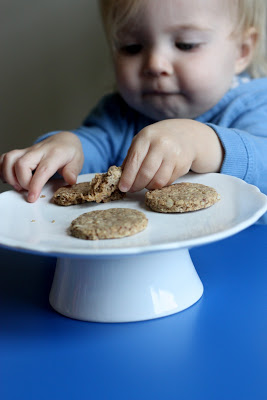 Cinnamon Almond Biscuits
(slightly adapted from Perry's Plate)
Makes about 30 2-inch cookies
1 cup wheat flour (I use white wheat flour)
1/2 cup oats
1/2 cup almonds
1 T ground or whole flax-seed
2 tsp cinnamon
1/2 tsp salt
1 tsp baking powder
2 T brown or turbadino sugar (I like turbadino because it is so coarse and has a great texture).
5 T cold butter, diced
1/3 cup milk
Preheat oven to 400 degrees F.
In a food processor or blender, blend the almonds until they form a coarse flour. Add oats (and flaxseed if you're using whole flaxseed) and blend a bit more until they are pretty broken up. Pour into a mixing bowl or bowl of a stand mixer.
Add the remaining ingredients except for the butter and milk and combine. Add the butter chunks and mix until well incorporated. With the mixer running, pour in the milk. Let the mixer run until the dough starts clumping up (kind of like if you were making the crumble topping for an apple crisp).
Dump the dough onto a clean surface, pat it into a rectangle, and roll out to a 1/4 inch thickness.
Cut the dough with cookie cutters (or just use a pizza cutter to cut it into squares. Lay them on a greased or parchment-covered cookie sheet. They don't expand really at all, so you can put them quite close together (I can do about two dozen on a single sheet).
Pat remaining dough back together, re-roll and repeat.
Bake for 12 minutes. Let cool for a few minutes on baking sheet before eating.