I love Pinterest, but I can't stand it when people leave other people's notes about a recipe on their pin.
Because I don't really want to know that someone 84 repins ago "loved this more than anything I've ever made." I want to know if YOU loved it, because I actually know you and trust your opinion.
In that spirit, here are 6 recipes I've made recently and can vouch for myself. Not "one pinner says, 'My family scraped the pan.'"
(By the way, I'm sometimes feel like my blog makes me sound unbelievably crabby. I'm actually somewhat pleasant in real life. And if you repin someone else's text, I won't judge you for it because I sometimes do it too, when I'm on my phone and just can't be bothered, or if I accidentally hit the repin button too quickly and am unwilling to make the effort to go back in and edit something).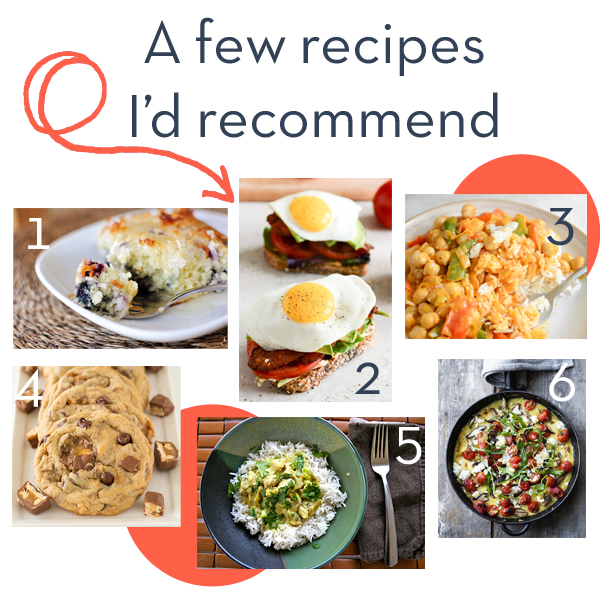 1. Blueberry Coconut Cake with Lemon Sauce: A Sunday night scramble to figure out what to make for dessert when we were having company over. This was a huge winner. That Mel, she never lets me down (and I should know – I've probably made 50 or more recipes from her blog).
2. BLTs with Spicy Mayo & Fried Eggs: Whoa. You guys. I'm not much of sandwich maker, but we had an impromptu dinner party with Landen & Adam and our dear friends, James and Allison, a few weeks before we moved, and made these because we had so many eggs and also a bunch of bacon, and these were mindblowingly good sandwiches. Do not skip the sriracha sauce. Also, it was a great way to break in our new-to-us electric griddle, which the Cavanaughs offered us because they got two for their wedding. Score
3. Chickpea Curry: I way overcooked my chickpeas in the crockpot, but even so this was really really ridiculously good. I didn't bother with the coconut rice – I just used brown jasmine rice.
4. Snickers Chocolate Chip Cookies: We got an embarrassing amount of mini Snicker bars from a Duke event, and then it took me AGES to figure out which recipe I wanted to use them in. I settled on this one, and Bart and I were both pretty astounded by how good they were. It wasn't just a mediocre cookie jammed with candy bars; the cookie itself was really delicious.
5. Coconut Lime Chicken with Green Chiles: This was one of those, "everything-on-my-menu-looks-lousy-time-to-search-Pinterest-boards" and it was a smash hit. I meant to save some to eat the next day . . . but we failed. I added zucchini because I had two in the fridge looking very sad.
6. Baked Polenta with Feta, Tomatoes & Mushrooms: I can tell I've completely lost my taste for fake chicken stock, because this recipe was kind overwhelmed by the fact I used chicken bullion cubes (I had a couple in my pantry that I found when we moved and I hadn't yet made any vegetable broth myself), but aside from that, this was EXCELLENT. I put spinach on top because I didn't have arugula.
Any recipes you've loved lately? Share the wealth.