The desserts. They just keep on coming. I couldn't ever find a swimsuit I liked this year anyway, so hey, bring on the heavy whipping cream.
After I made these cupcakes, I had some egg yolks sitting in my fridge, and obviously it would have been wrong to let them go to waste.
I don't make the rules. I just use up the food.
Also, posting this recipe means I can finally get rid of the torn manilla envelope label that's been sitting on my desk for two weeks with the recipe written on the back of it. It's a really professional operation around these parts. Deliciously professional.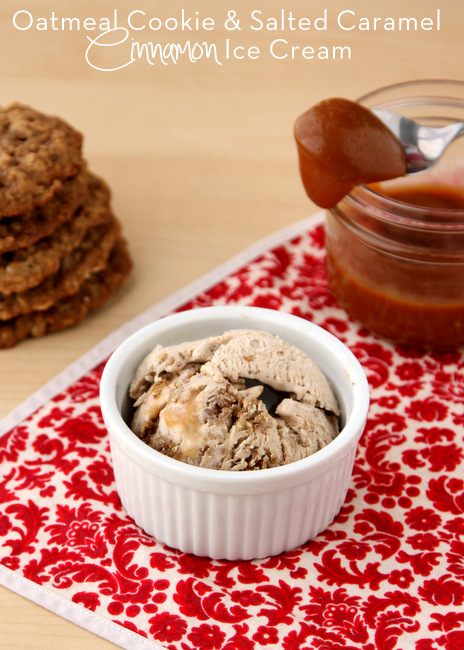 Oatmeal Cookie and Salted Caramel Cinnamon Ice Cream
(very loosely adapted from dinner or dessert)


Makes about 1 1/2 quarts
3 cups half-and-half
4 egg yolks
3/4 cup granulated sugar
2 teaspoons cinnamon
2 teaspoons vanilla
About 10 oatmeal cookies (storebought or homemade), broken into large chunks
1/2 cup salted caramel sauce (storebought or homemade)
In a saucepan, bring the half-and-half to a simmer.
Meanwhile, whisk the eggs and sugar together in a bowl until very well combined and thick.
When the half-and-half is simmering gently, scoop out about 1 cup of it and pour it slowly into the egg mixture, whisking the egg mixture constantly. When it's completely combined, pour it carefully into the saucepan with the remaining half-and-half and cook over medium-low until it thickens and coats the back of the spoon.
Remove from heat and stir in cinnamon and vanilla. Chill completely (at least a couple of hours).
Mix in your ice cream maker according to manufacturer instructions, crumbling half of the oatmeal cookies in while it churns.
Transfer to a resealable container, stir in the other half of the crumbled cookies and swirl in the caramel sauce. Freeze for a few hours before serving.