If you are looking for the best dairy free ice cream, this post is for you! We taste-tested 13 different non diary ice cream brands and scored them from best to worst. Read on to find our favorite dairy free ice cream flavors!
Tally has many great qualities. But one of her shortcomings is that she does not like dairy very much.
In the last six weeks, I've cut out my (ahem, many) daily bowls of yogurt and granola, cold cereal, and smoothies that included yogurt or milk.
Frankly, it hasn't been too bad, since she seems to do okay with some cheese and butter and anything that's baked with milk or buttermilk (like pancakes or waffles).
About a week after I went off dairy, we bought some ice cream on a Saturday night and, because I wasn't used to thinking about it, I had a big bowl and didn't think about it until four hours later when we went to bed and then the baby was up ALL. NIGHT. LONG.
So it was time to start exploring dairy-free ice cream.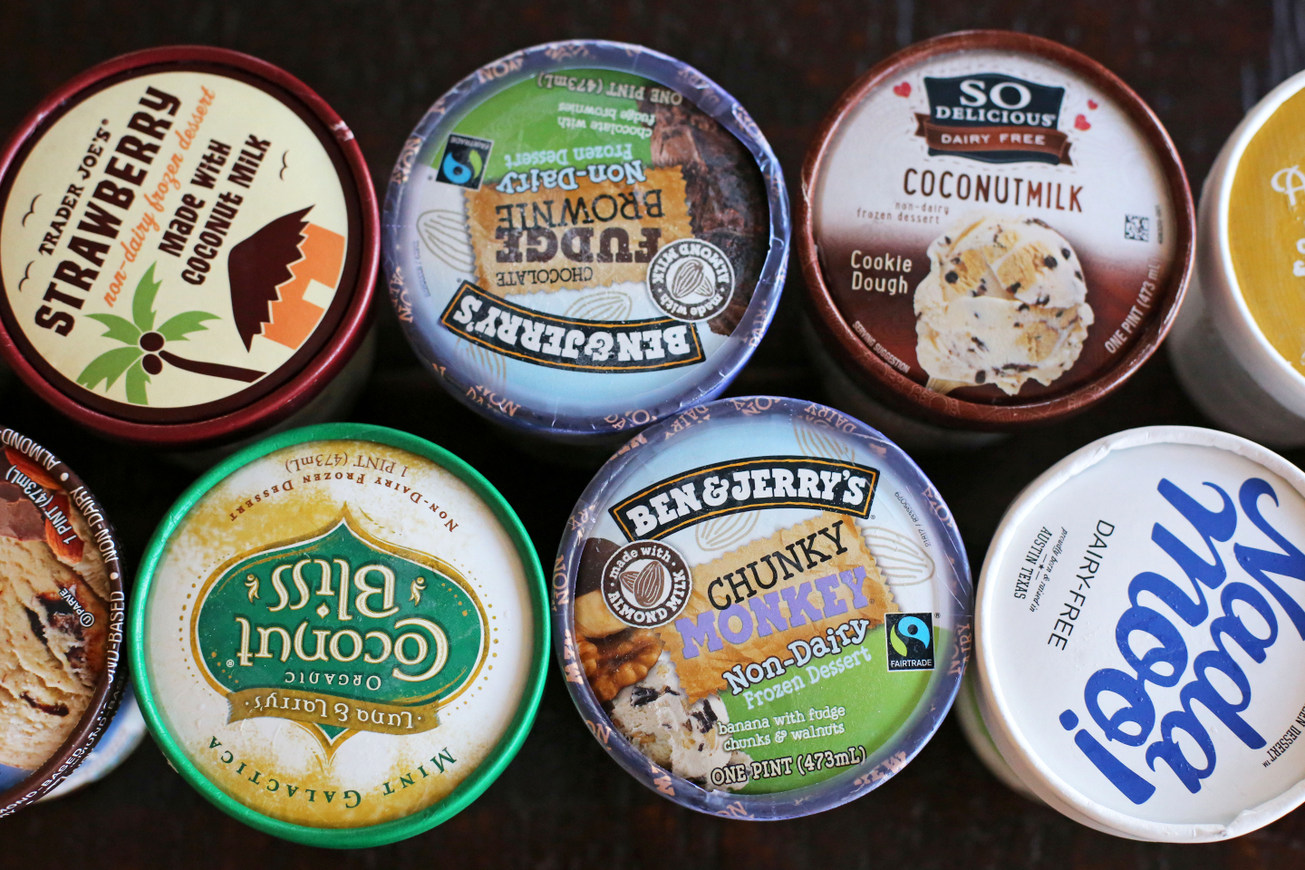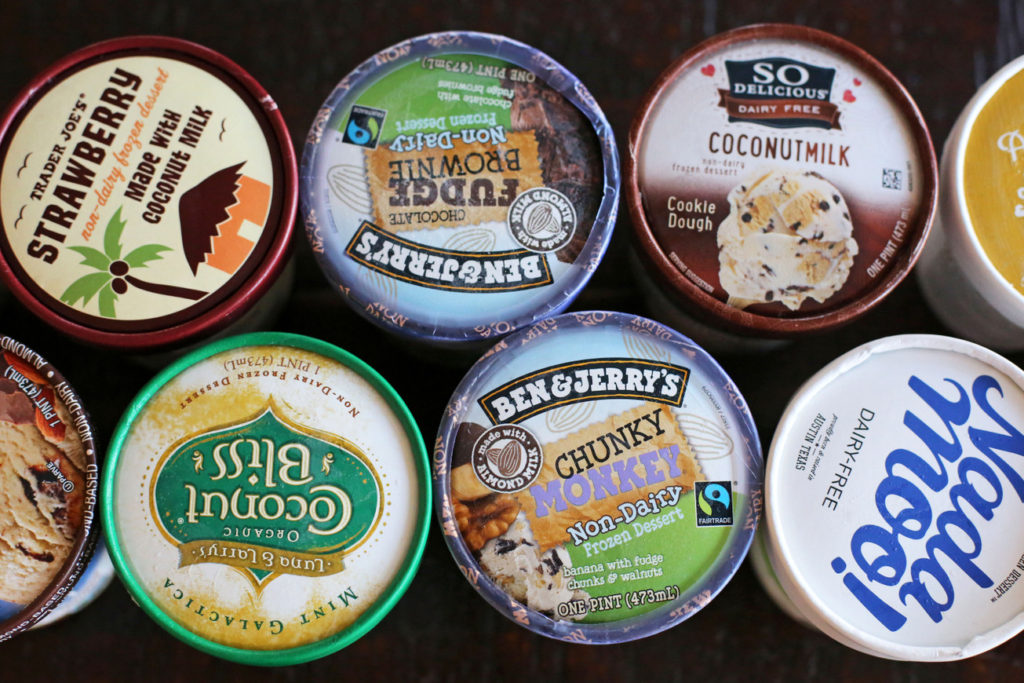 When my in-laws were here after I got back from New York City, we went to a few grocery stores and bought 13 different kinds and on Sunday afternoon, we had a big taste test, complete with ballots (you can download them here and edit them with the flavors you get, if you're so inclined).
It was ridiculously fun and we had such a great time sitting around making judgements and taking notes. My girls are dying to do another taste test with some other product (I'm trying to think what to do. . .).
But before I tell you which ice cream flavors we liked best, are you ready for ten million disclaimers?
Because here we go.
First, I'm not a professional taste tester (I know this comes as a huge shock that I'm not moonlighting as an ice cream tester). So you're getting what you pay for here.
I will say, though, that I am a MASSIVE ice cream fan. I worked at Cold Stone Creamery for three years in high school and after my freshman year of college and I've made hundreds and hundreds of batches of ice cream for Cold Stone, plus made thousands of combinations of ice cream for various customers, and ate ice cream for breakfast many many days during high school (since we got a free medium ice cream every time we worked and usually I'd just take it home with me and then take it to school the next day).
And ice cream is a toss-up with cookies for my favorite dessert, so almost any time we have dessert, it involves buying ice cream and we've tasted a lot of brands and flavors over the years.
So I do love ice cream and have many opinions about it.
Obviously, the most fair thing to do would have been to do all the same flavor of ice cream (probably chocolate or vanilla), but . . . plain chocolate and vanilla ice creams whether they are non dairy ice cream  brands or regular ice cream are not my favorite. So we bought a whole bunch of different flavors that looked good. So we weren't exactly comparing apples to apples, which isn't totally fair.
The other issue is that this wasn't a blind taste test – we knew which brands we were trying each time and we also knew what they were made from, which probably created plenty of bias. So it goes when you're working with amateurs like us.
Also, I think some of them suffered deeply from being compared to other ones. Meaning, if I'd eaten it alone, it might have been a lot better, but after eating a REALLY good one just before it, it seemed pretty terrible.
So, here are the non diary ice cream brands we tried and what we thought of each of them.
The Best Dairy Free Ice Cream
So Delicious Cashew Milk Chocolate Cookies N Cream (A+)
We started with this dairy free ice cream and at the end everyone (except me) had a scoop of the Tillamook Mud Slide ice cream  in our freezer and then another scoop of this one and everyone said there was almost no difference in texture or chocolate flavor. It was phenomenal. Plenty of cookie chunks, amazing chocolate flavor, and a really really good texture. Cashew milk for the win, definitely. We all agreed it made for the best dairy free ice cream.
So Delicious Soy Milk Peanut Butter Zig Zag (A)
This one was a soy milk ice cream (I think the only one we tried) and it was very good. Not QUITE as creamy as the cashew milk ice cream, but really delicious. Great chocolate flavor and good peanut butter swirls. We were starting to think every one of the ice creams would be an A. And then we had. . . .
Ben & Jerry's Fudge Brownie (C) 
We were all inclined favorably toward this one because it's Ben & Jerry's and we are all big Ben & Jerry's fans. But this one was a clear loser. The chocolate tasted really chemically/artificial and the texture was very icy. None of us were impressed. But when my neighbor mentioned to me that she couldn't eat regular ice cream either, and I sent three of them over to her house, including this one, she said this was their favorite (although I didn't send either of the other two that were chocolate ice cream, so they weren't comparing it to the much better ones).
Almond Dream Toffee Almond Fudge (B) 
Unlike the Ben & Jerry's, I was disinclined toward this lactose free ice cream, since it was made with almond milk (which I find to skew pretty icy) and because it was the cheapest at $3.69. But the flavor was excellent and although it was a little icy, it wasn't enough to really turn me off to it. This is a solid option with lots of swirls of fudge through it.
So Delicious Cashew Milk Salted Caramel Cluster (B)
When I mentioned I was on the lookout for dairy-free ice cream options on Instagram, MANY people mentioned this as their favorite. So I assumed it'd be great. It was more like. . . fine. I thought the flavor was overpowering. In fact, a few days later, I went back to taste it in a vacuum instead of in comparison to everything else, and I still didn't think it was amazing. But know that this lactose free ice cream is widely loved.
Ben & Jerry's Chunky Monkey (D) 
This was the first true loser of the dairy free ice cream brands. The banana flavor tasted super artificial. My girls wouldn't even finish their tiny scoops and Bart thought it was the absolute worst of everything we tried (he went and spit out his spoonful).
New Barn Banana & Chocolate Chip AlmondCrème (F)
If we'd thought the Chunky Monkey was bad, this non dairy ice cream was one just AWFUL. It was the very clear loser of every flavor we tried. It had almost no flavor at all, the texture was lousy, and there was very little chocolate. We were using a mini cookie dough scoop to scoop out servings (so about 1 Tablespoon) and I'm not sure ANYONE finished this one. I have a very small freezer and it's always jammed, and with all these ice creams, it was extremely full, so we just threw the whole pint, minus the six small scoops, in the garbage. It wasn't even worth the freezer space.
Sprouts Mango (A)
It's hard to compare fruit flavors with chocolates, especially in a family like ours where we are all strongly inclined toward the chocolate flavors, but this one was excellent. It really tasted like eating a fresh mango and the price was reasonable too ($3.99). The texture of this lactose free ice cream was more like a gelato and this was definitely the winner for the non-chocolate ones.
This one I actually bought before our taste test and had eaten about half of it, and it's very good. I usually put granola and chocolate chips and cashews in it to make this non dairy ice cream go further, but the texture is excellent and it has a very nice flavor – not too strong and not too weak. Definitely a solid (and affordable) choice. I'll pick up another one or two of their flavors next time I'm there.
Ben & Jerry's Cherry Garcia (B)
We were all wary of this one after the last two Ben & Jerry's dairy free ice cream flops, but this was the best of the three. The cherry flavor was nice and there were a fair amount of chocolate chunks. The texture still didn't compare at all to some of the other flavors, but it was less horrible in this version.
Many people recommended Nada Moo! and originally this was the only one I bought. But this lactose free ice cream was pretty terrible. All of us gave it our lowest score. There was almost no flavor and very few nuts. But since it'd been so raved about, I wondered if the problem was the flavor, so I went back and bought two more flavors to try, which were significantly better. The pistachio, though, was the other one we just threw away.
So Delicious Coconut Milk Cookie Dough (B)
This was the other one I'd bought before the taste test and I quite liked it, but there weren't enough chunks of cookie dough and the texture wasn't QUITE right. The coconut milk ice cream from Trader Joe's had a much better texture.
This lactose free ice cream was quite good, with lots of cookie chunks, and a nice flavor, but I did think the texture of the cookies was a little gritty.
Luna & Larry's Organic Coconut Bliss Mint Galactica (C) 
This one said "exhilarating mint" but it had such minimal flavor, you could hardly tell it was mint at all, exhilarating or otherwise. Also, not a ton of chocolate flakes. We all gave this middling marks. This brand is well-liked but since it's fairly expensive ($5.99 a pint), I'll probably just stick to the brands that were more consistently excellent. (But I'm highly tempted by the Ginger Cookie Caramel)
Nada Moo! That Snickerdoodle Dough (A-)
One of my all-time favorite ice creams is Ben & Jerry's Cinnamon Buns. Back before I had kids, if Bart was gone over night, I'd go buy a pint and eat it for dinner. Those were the days. This one reminded me a lot of that, with the cinnamon ice cream and big chunks of dough. There was a LOT of cookie dough, which I loved, and the texture of this dairy free ice cream was quite good. Now I see why people love Nada Moo!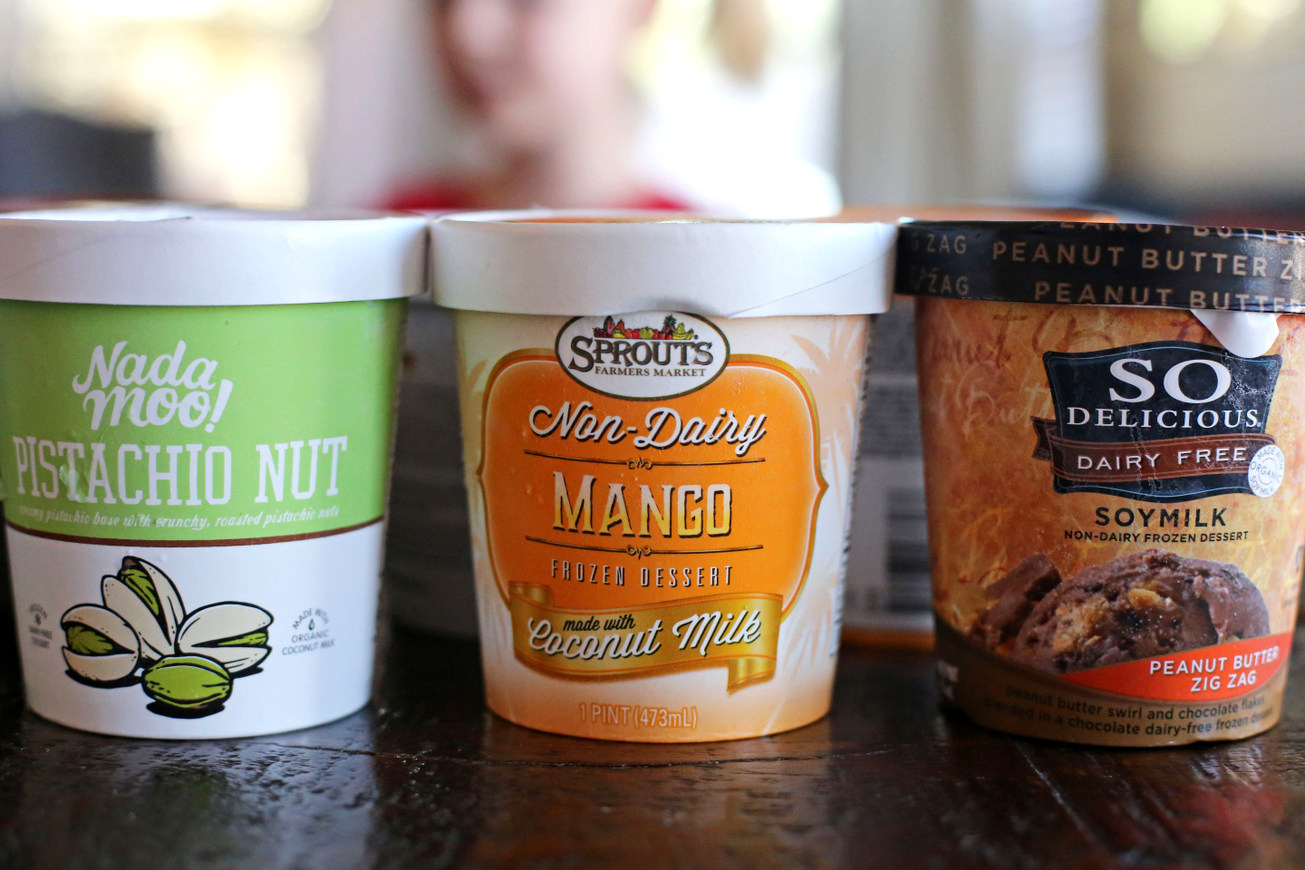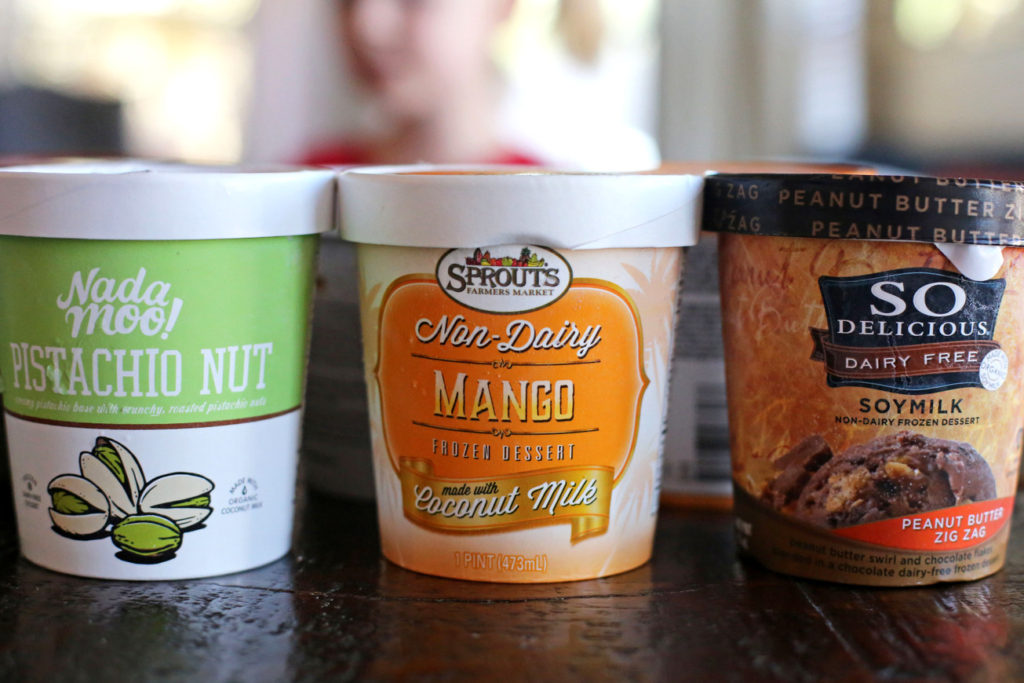 Have you tried any dairy free ice cream?
I'd love to hear your favorite dairy free ice cream brands and flavors because clearly, I'm going to try every single flavor I can before this baby stops nursing (or outgrows her dairy sensitivity).
If you liked this post about the best dairy free ice cream, you might also enjoy these posts: