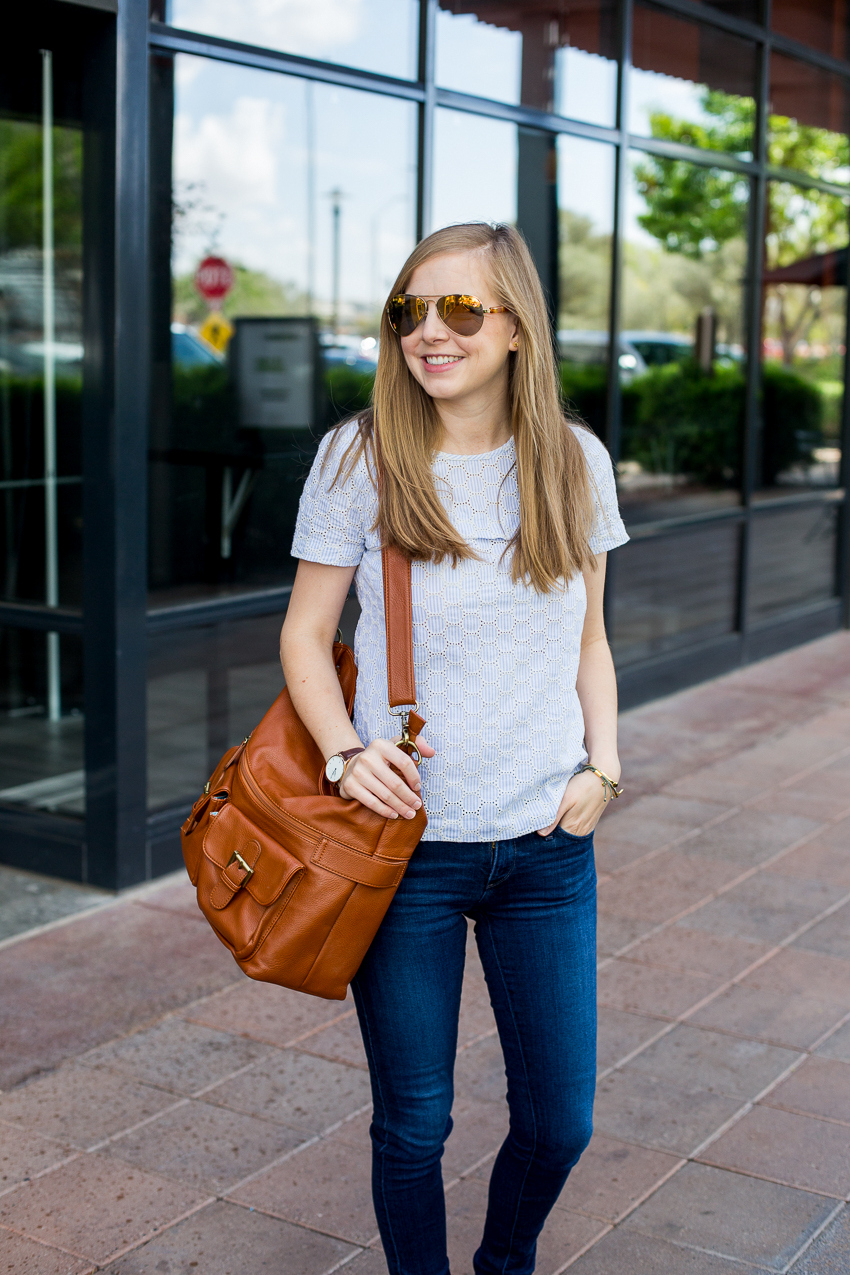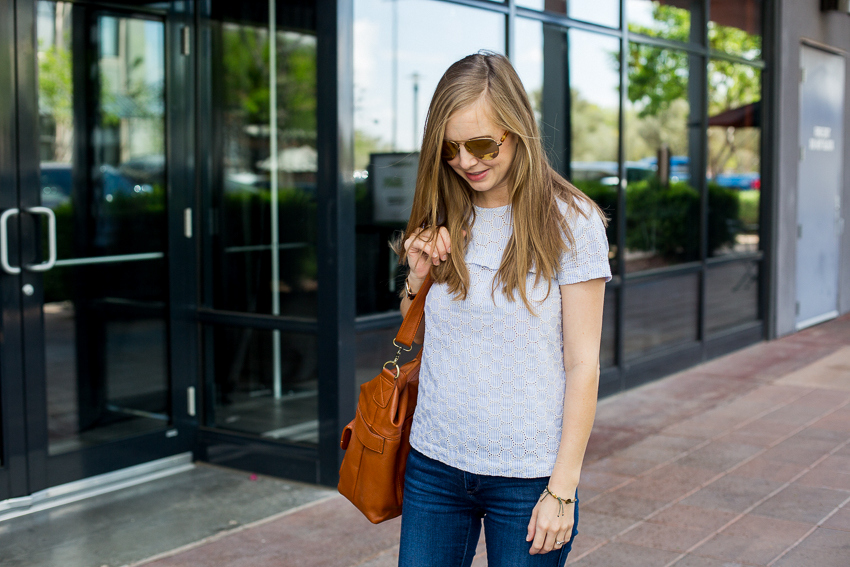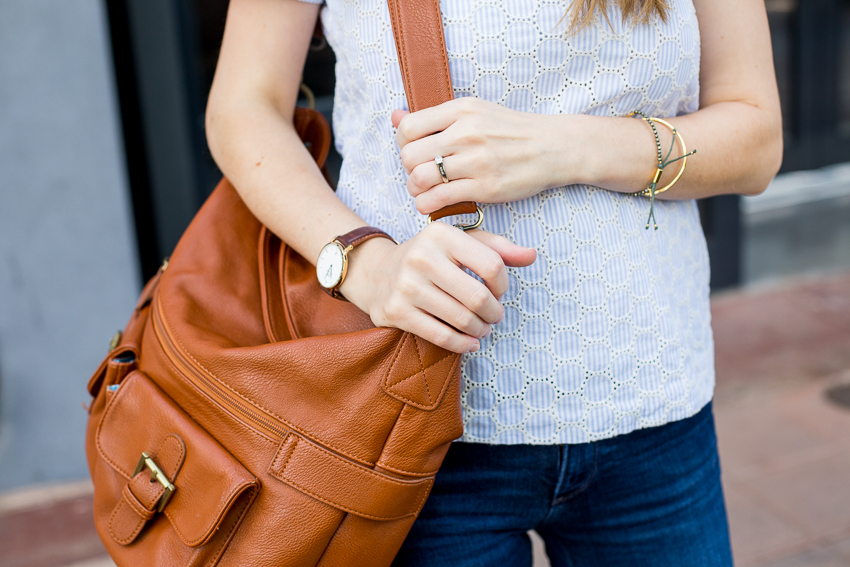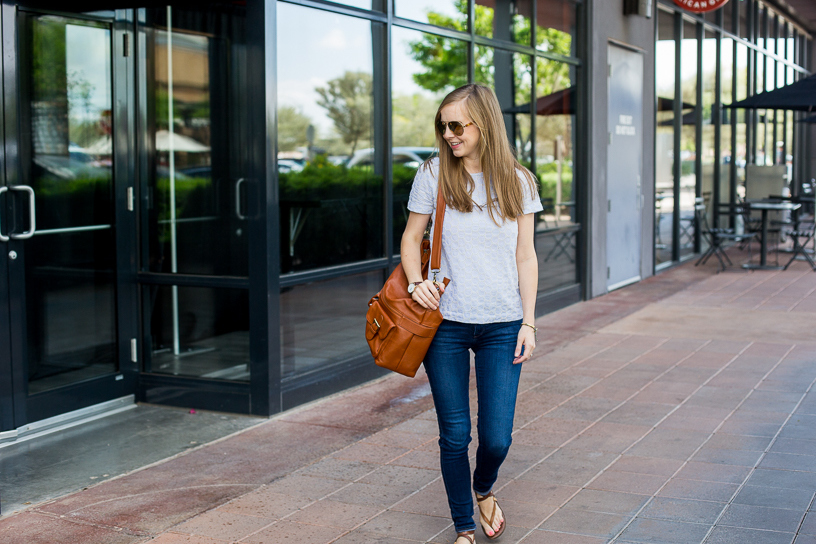 Isn't signature style a funny thing?
I feel like it shouldn't be that hard, but I think it can be really hard to nail down what your style really is.
Part of the problem for me is that a lot of what I gravitate toward is NOT everyday wear. I love full skirts and dresses and heels.
You know what I'm FOR SURE not wearing every day while I nurse babies, check math problems, and make dinner?
Heels and dresses, that's what.
But ever since Star was born two years ago and I started weeding out my closet like crazy, I feel like I've been much more successful at buying things that work for my daily life and that generally make me feel pretty happy about how I look.
I've never been super enamored with a capsule wardrobe (well, I like to READ about capsule wardrobes, but I don't want to do one myself), but I really like the concept of a uniform instead, where you figure out what you like to wear and then get various iterations of that s(whether that's two pairs of jeans or twenty pairs of jeans) so you can easily get dressed and your closet actually fits your life.
I've been reading and re-reading The Curated Closet: A Simple System for Discovering Your Personal Style and Building Your Dream Wardrobe as I revamp my closet post-pregnancy and also as summer comes barreling toward us, and it's been really helpful for me to think through what I really want to add and where my pain points are.
For me, the most important part of my "uniform" is a pair of well-fitting jeans. I discovered AG Jeans while I was pregnant, and I'm basically obsessed with them now (even if they cost a ridiculous amount, which is why I usually try to find them on ThredUp where they're more like $30-$40 instead of $180 – $230).
Then a blouse that I don't need to wear anything underneath (layers are death in Arizona summers), usually with enough detail that they don't look completely boring, like the bow on the back of this one and the embroidered eyelet. I have a lot of luck with J.Crew or J.Crew Factory tops. Plus they're basically always having a sale.
And then a pair of sandals I really love. This pair has been going strong for two years now, and I just ordered this pair yesterday.
My favorite watch, a pair of nice sunglasses, a bag to hold the essentials (diapers, wipes, Kindle), a thin bracelet and some tiny gold earrings, and I'm good to go.
It's definitely not flashy, but it's a look that works for me and my lifestyle, that I'm comfortable in, and that I think looks pretty pulled together without trying too hard.
In my book, there's not a lot more you can ask for.
TOP • JEANS • SANDALS • SUNGLASSES
BAG • BRACELET • EARRINGS • WATCH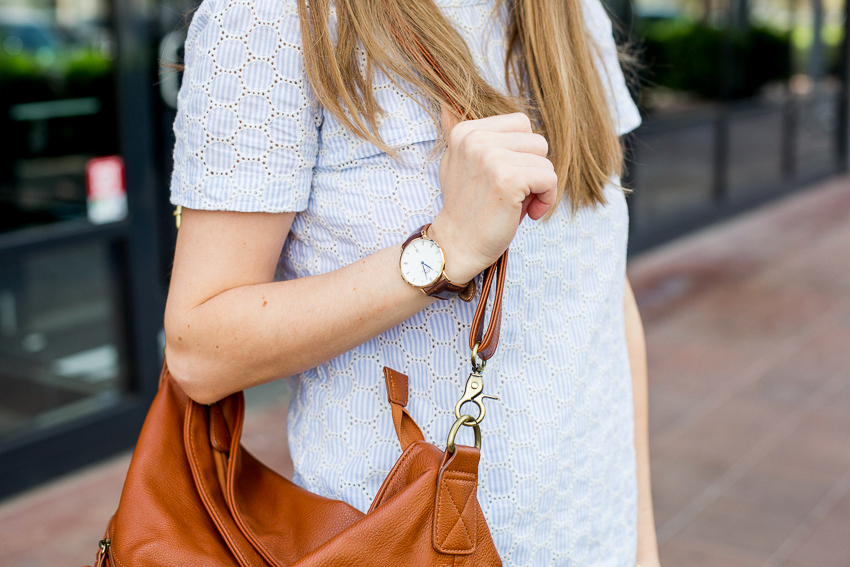 Check out Merrick and Landen's signature styles:
Photos by Grace + Vine