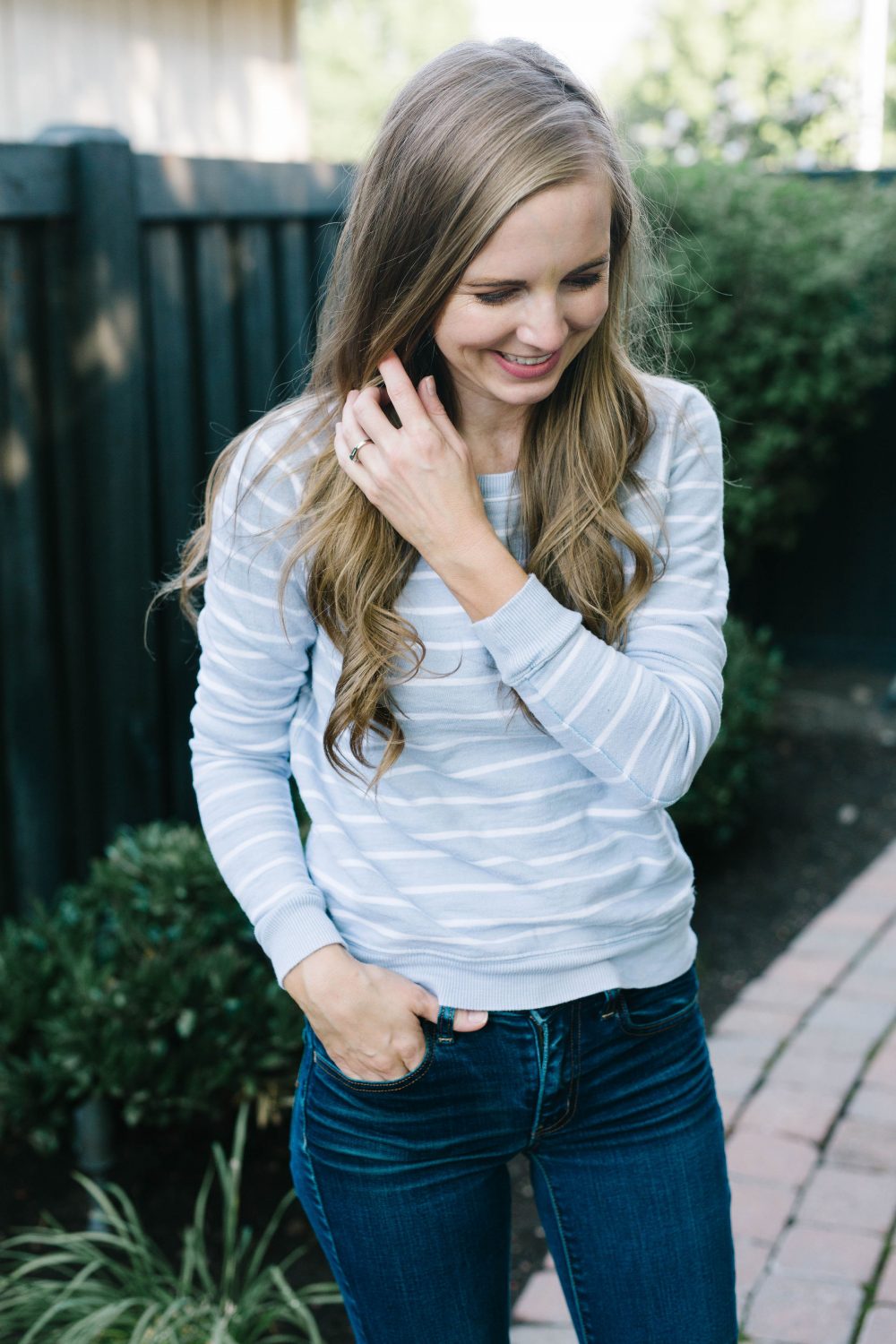 This post is sponsored by thredUP, my very favorite place to shop and the place where 90% of my clothing comes from.
Our last year in Arizona, we went to a holiday train park with another family.
It was our third year to go together and it had become a fun little tradition to go together and ride the Polar Express train with all our little children.
It's a hugely popular attraction and you usually wait in line for an hour or more (this is why you bring friends). Since it was mid-December and in the evening, I brought a coat and as we stood in line to buy tickets, I put my hand in my pocket and pulled out two tickets for the train.
It was cheaper to buy them in sets of 10 and we'd only needed eight the year before, and now, a year later, there they were waiting for me.
I was both delighted at having just found basically the equivalent of $5 in my pocket AND amused that I had literally not worn that coat since the year before. You just almost never need a coat in Phoenix.
And then we moved to Utah.
Where you don't leave the house without a coat for months on end.
If you've been here half a second, you know that I LOVE thredUP.
Over the past five years since I discovered it, I'd say that 90% of my clothing comes from there. I love being able to get my favorite higher-end brands for a fraction of the price and it absolutely saved me last year when I realized I owned almost no warm clothing at all.
Suddenly, instead of filtering thredUP for sandals, short-sleeve tops and breezy skirts, I developed an overnight interest in sweaters, boots, and coats.
With summer coming to an end, I've been gearing up for a second winter here and, as usual, thredUP has my back.
The prices are crazy good and I love that I can shop from such a wide variety of brands all in one place. And the fact that these are clothing items staying OUT of the landfill feels like an extra bonus.
Let me show you a couple of items I've snagged for fall and winter – they're ALMOST making me wish for cold weather.
My number one thredUP win in the last few weeks was this pair of Timberland boots.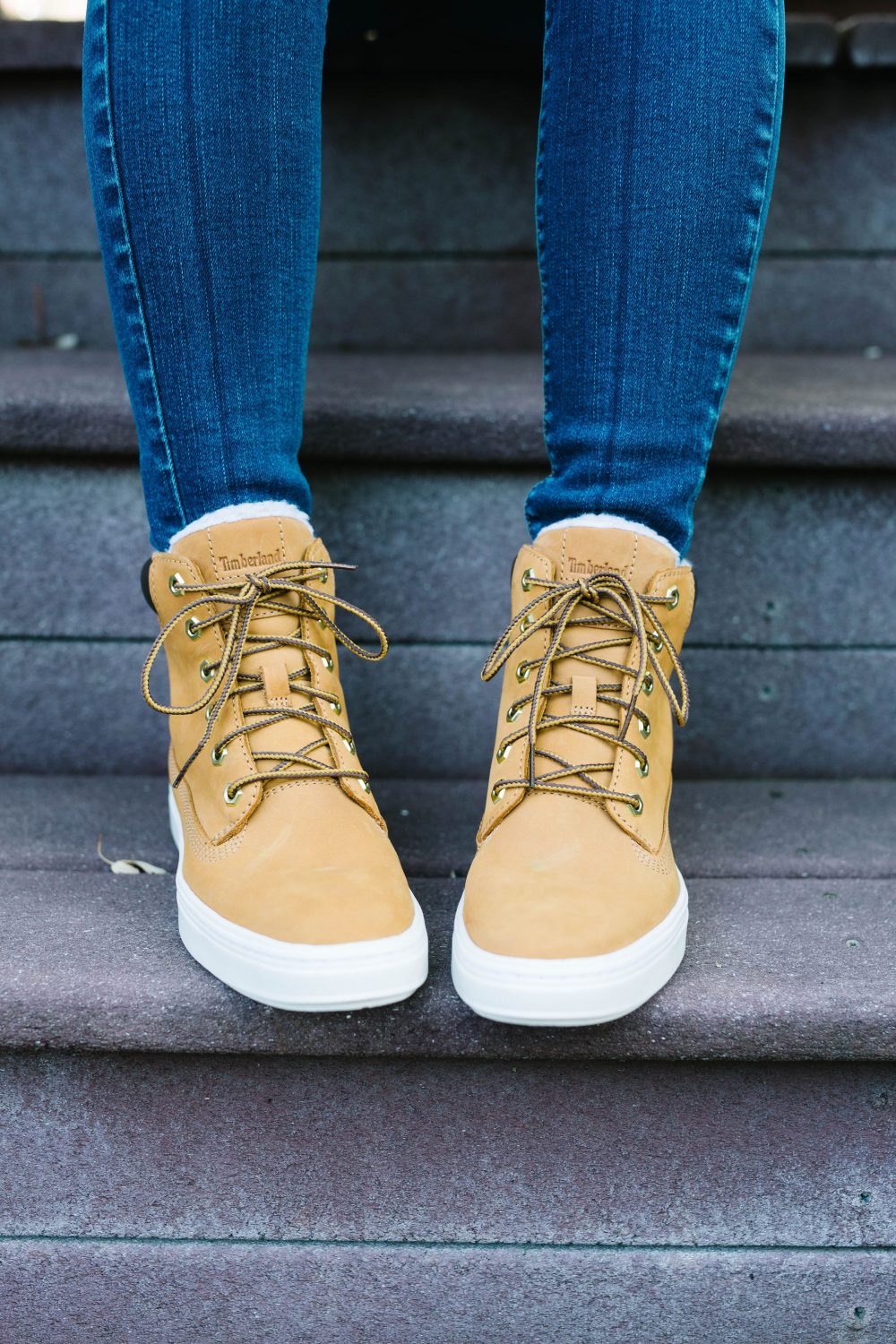 I spent all of last winter eyeing boots like these, but never could quite get myself to pull the trigger on a pair of $150+ boots.
And then, a few weeks ago, when I was casually browsing thredUP's shoe selection (my evening wind-down activity of choice), I saw a pair in my size for $45.99 – 75% off the original price.
And when they arrived, not only did they fit perfectly, they also seemed to never have been worn. The bottoms of the shoes were completely white!
I already know I'm going to be wearing them allllllll winter long. That shearling lining? I cannot wait.
I've also mentioned in the past that I LOVE buying jeans from thredUP. Jeans are one of the clothing items that have the most environmental impact on the earth and since thredUP has SO MANY JEANS on their site, it's a no brainer to buy them there instead of new.
I haven't bought a pair of new denim (aside from my maternity jeans) in the last four years, and I've discovered that American Eagle jeans are one of my very favorites. I've bought probably six pairs in the last couple of years and I wear them all on a weekly basis.
I bought a new pair for fall and I've already been wearing them non-stop. They were $14.99 instead of the usual $50. Huge win.
I own one sweatshirt that I got for free at a blog conference about five years ago, and I've been anxious to get another one or two because they're so soft and one of my favorite things to wear in the winter.
My sister had mentioned that American Eagle made amazingly cozy sweatshirts, and when I spotted this blue striped one for $11.99, it was an easy choice to say yes.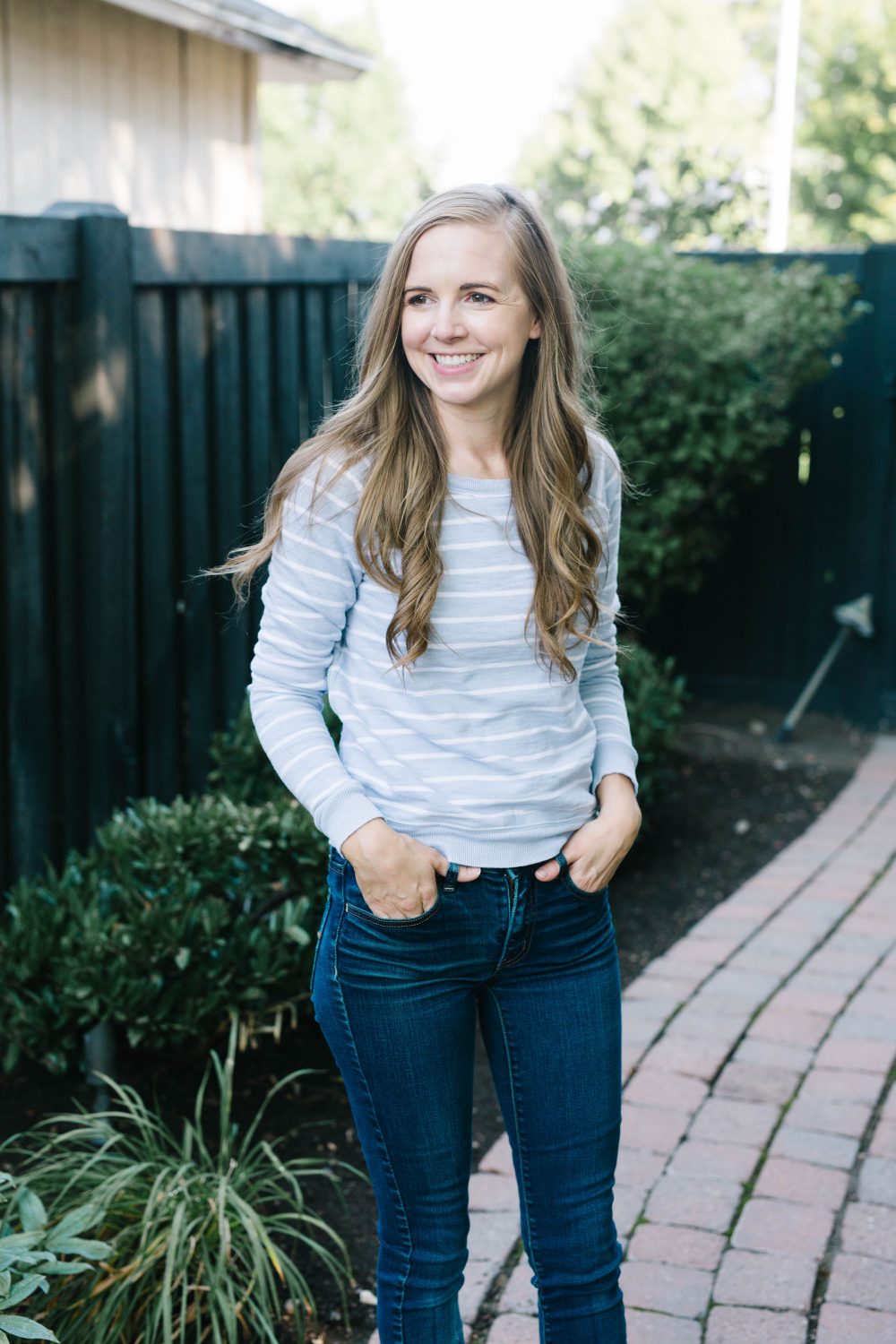 Bring on the winter weekends.
And animal prints are HUGE this fall, so I just typed in "animal print" in the thredUP search bar and grabbed a pair of leopard print heels from Banana Republic for $37.99 instead of $138, plus this cute leopard skirt for $10.99 (which was 69% off the original price).
I'm planning to wear those leopard heels with this velvet Madewell dress I got for $37.99 instead of $149 (I bought that dress SO FAST, you wouldn't even believe it).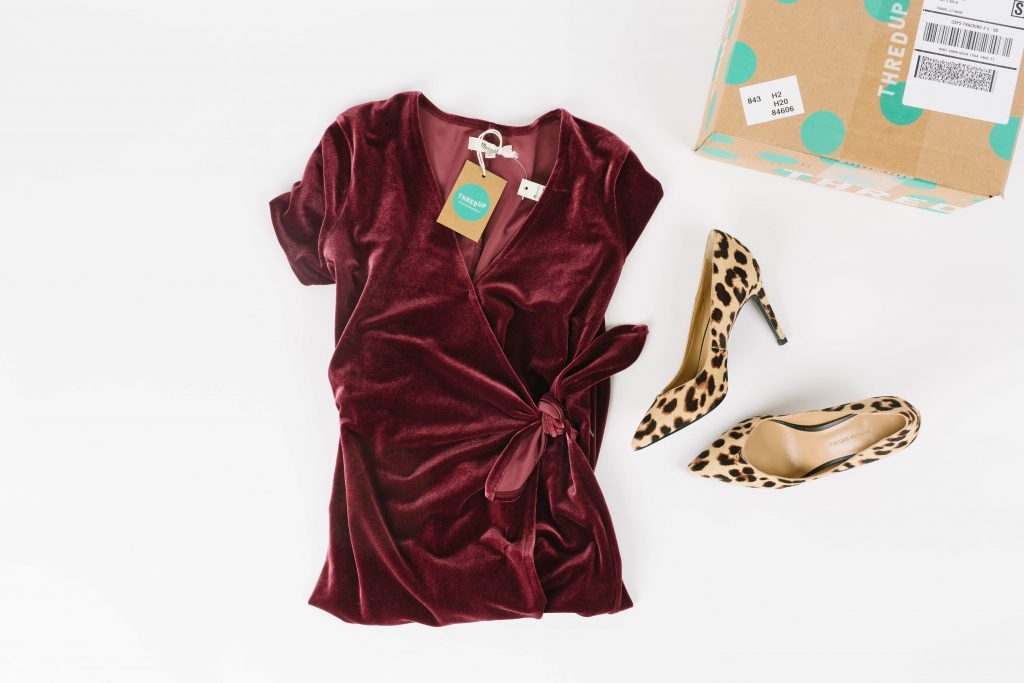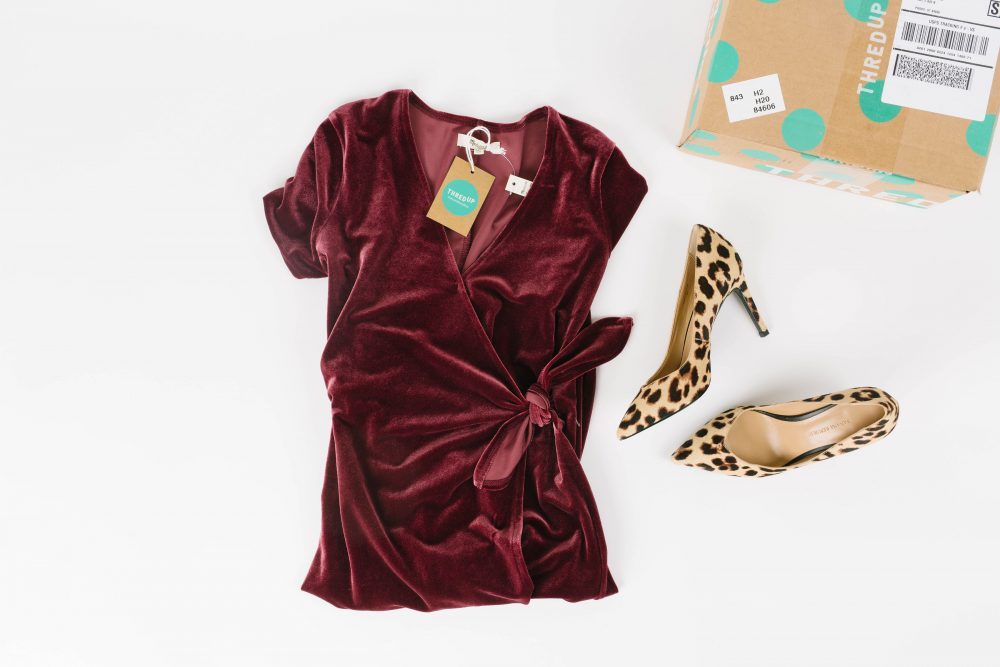 The icing on my thredUP winter cake?
This J.Crew dress which I got for $39.99 instead of $158.
Right now, while it's still fairly warm, I'm wearing it with these open-toed booties I bought from thredUP when I was pregnant with Tally (a fact I only remember because I remember how challenging it was to bend over to put them on when I bought them) and as it gets colder, I'll be wearing them with tights and these black ankle boots I bought for $46.99 instead of their original price of $238.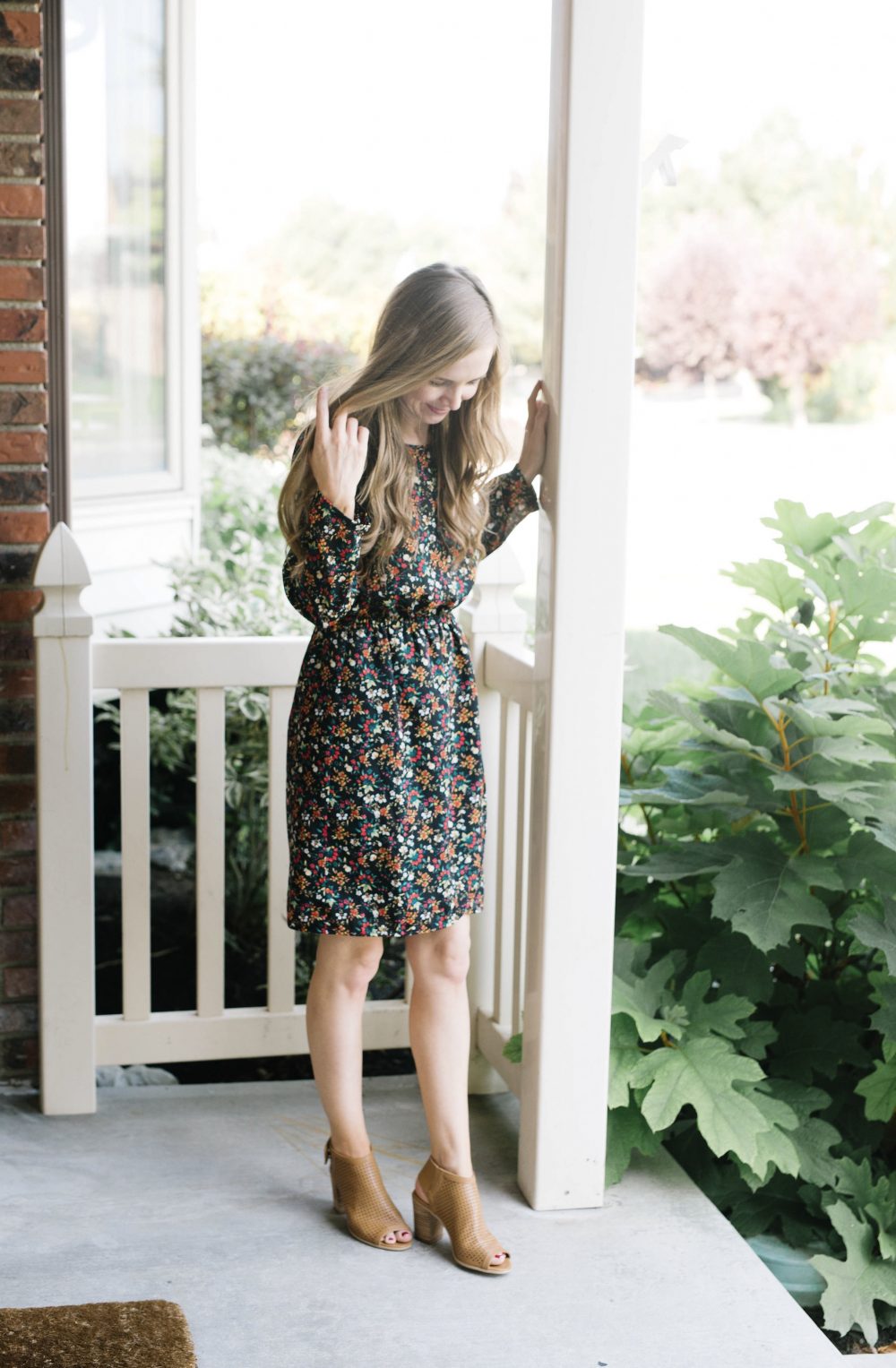 Sign me right up.
thredUP just gets me.
I legitimately don't know why every single person isn't shopping on thredUP. The prices are so good, it's way better for the environment, and their selection is absolutely unmatched.
AND, if you've been wanting to give it a try (or if you already know that thredUP is basically the best thing that's ever happened to your closet), I'm giving away a $100 shopping credit on Instagram. Hop over to enter!
And then go find yourself a crazy good deal on a pair of winter boots or a sweater or a new coat.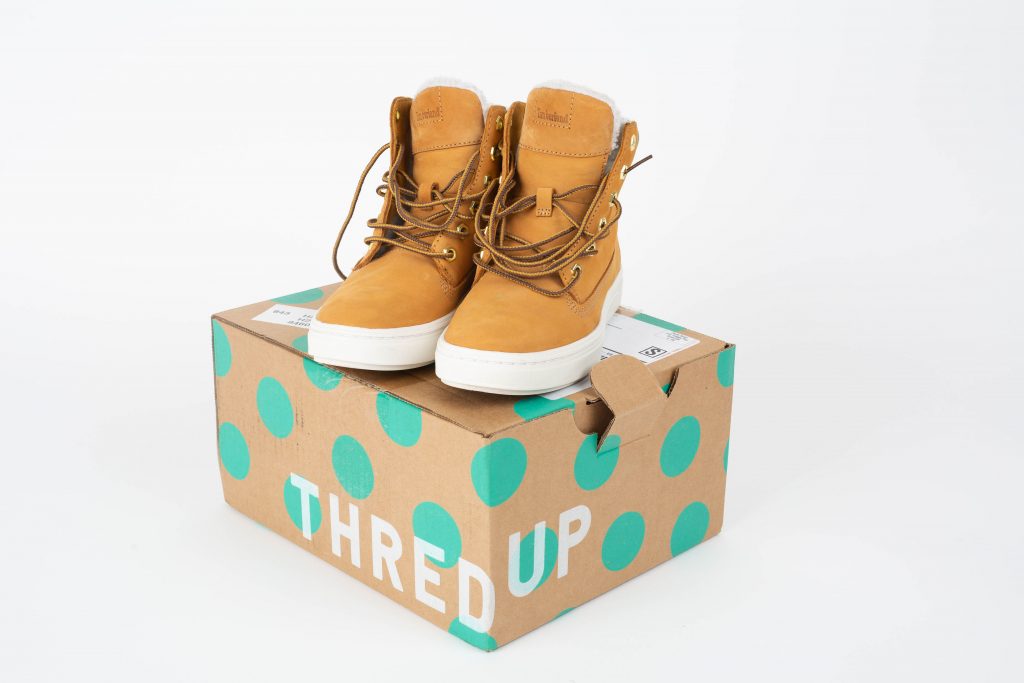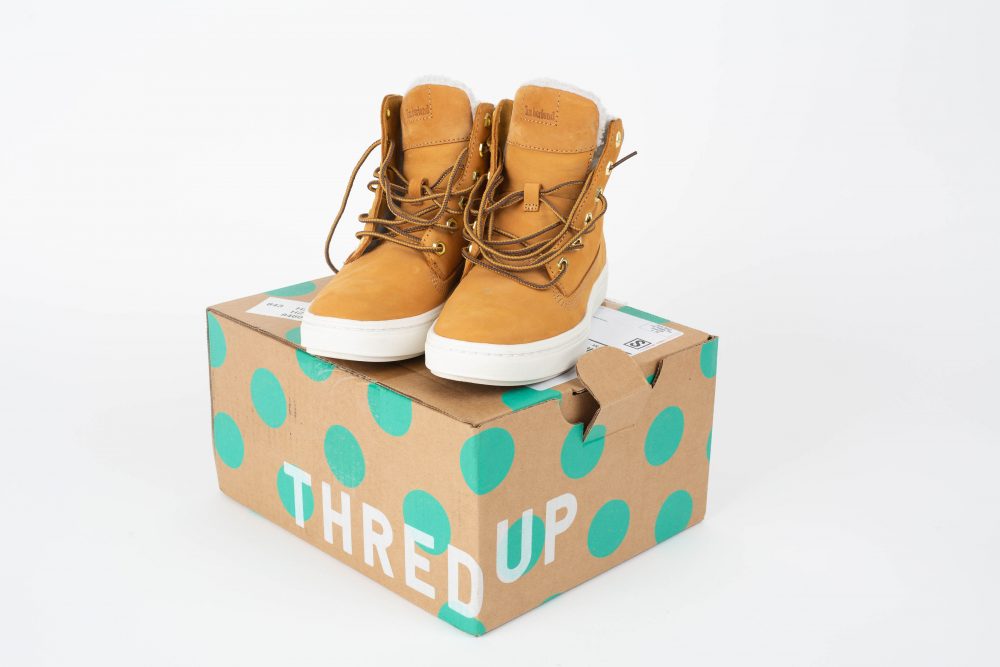 Photos by Heather Mildenstein