I feel like whenever I mention using buttermilk, someone says either "You know you can just add vinegar/lemon juice to regular milk, right?" or "what do you do with the leftover buttermilk?"
In response to the first question: I am not a fan of adding vinegar/lemon juice to regular milk and calling it buttermilk. It is not the same. You will absolutely notice a difference. You'd be better off using plain yogurt, possibly thinned with a bit of milk, because you'll get a better consistency and a more near flavor to real buttermilk.
But really, you should just use real buttermilk. One, it's cheap. Two, in my experience, it lasts forever. In the three or four years since I started keeping it around as a staple, I have never once had a bottle of it go bad. Even after two or more months. Three, it is just not an ingredient that really substitutes well. You'll get the best flavor, texture, and height when you actually use buttermilk instead of a substitute. I obviously feel way too strongly about this.
So now you've bought yourself a quart of buttermilk. And here's answer to question number 2 – How do I use up buttermilk?
If you are looking for a way to use up leftover egg whites, pop in your email and I'll send you a list of my favorite ways to get them out of your fridge!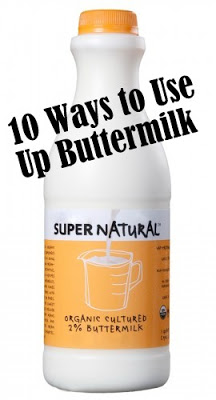 10 Recipes to Use Up Buttermilk
Homemade Ranch Dressing – So amazing, I want to weep when I don't have any around.
Waffles – I've mentioned these waffles before but they are my favorite favorite waffles of all-time. I go 100% white wheat flour and use coconut oil and they are delicious. But I used vegetable oil for years and they were great that way too.
Maple Oat Scones – The first scones I ever made. Delicious and got me over my fears of scone-making.
Coconut Buttermilk Syrup – I love this recipe, and Bart and I both scarf it down whenever I make it. We don't even buy regular syrup anymore.
Perfect Pancakes – These are my very favorite pancakes. Seriously the best I've ever had.
Buttermilk Biscuits – I love these slightly-sweet, flaky biscuits. Easy and delicious every time.
Pumpkin Scones – For when you want to use up your buttermilk in a festively seasonal way.
Perfect Potato Salad – I love the idea of potato salad, but find that most recipes fall a little flat. This one, though? I'm scraping the bowl.
Double Chocolate Muffins – These are some really great muffins. Definitely a weekend favorite in this house.
Buttermilk Banana Bread – Bart doesn't really like this recipe (although he'll still eat several slices), but I LOVE this stuff and the first time I made it for Ella, she ate half a mini-loaf on her own.
Something I'd like to try with buttermilk? Ice Cream. I'll return with full details when I get around to it (so, you know, in a year or so).