I feel like whenever I mention using buttermilk, someone says either "You know you can just add vinegar/lemon juice to regular milk, right?" or "what do you do with the leftover buttermilk?"
In response to the first question: I am not a fan of adding vinegar/lemon juice to regular milk and calling it buttermilk. It is not the same. You will absolutely notice a difference. You'd be better off using plain yogurt, possibly thinned with a bit of milk, because you'll get a better consistency and a more near flavor to real buttermilk.
But really, you should just use real buttermilk. One, it's cheap. Two, in my experience, it lasts forever. In the three or four years since I started keeping it around as a staple, I have never once had a bottle of it go bad. Even after two or more months. Three, it is just not an ingredient that really substitutes well. You'll get the best flavor, texture, and height when you actually use buttermilk instead of a substitute. I obviously feel way too strongly about this.
So now you've bought yourself a quart of buttermilk. And here's answer to question number 2 – How do I use up buttermilk?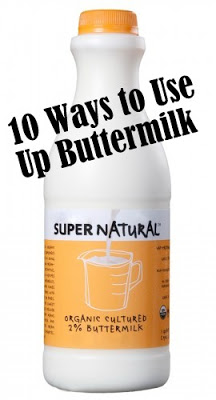 Something I'd like to try with buttermilk? Ice Cream. I'll return with full details when I get around to it (so, you know, in a year or so).